_________________________________________________________
Shades of the Past between SCSCS Racing Friends; Pack and Kromer Split September Jennerstown Twin 50s
Jennerstown, Pennsylvania (September 15, 2019) – Saturday night's Super Cup Stock Car Series championship rounds three and four at Jennerstown Speedway Complex featured a number of different players in ultimately figuring out who would take home the pair of trophies. In the end it came down to one driver who returned to victory lane with a car he referred to as "Old Faithful" and a driver who through hard work restored a car to winning form, all while rekindling respectful spirited battles from the past between each other.
Qualifying in the mid-afternoon was tight with 0.37 seconds separating the fastest eight drivers. Ben Ebeling, from Hickory, North Carolina, took the Pole Award honors for the fifth time in 2019, navigating the

1/2-mile oval in 20.50 seconds. Logan Harrison redrew the first starting position for his grandfather, Renick, West Virginia's Harvey Harrison, a winner at Jennerstown in September of last year.
Harrison broke out into the early lead and aside from a few challenges from Ebeling, maintained a decent advantage throughout most of the Bill's Wood Stoves 50 presented by National Appliance. JJ Pack, making his first start since Shenandoah in early June, was dead even with one of his former cars, driven by Northern Division point leader Kevin Kromer, for multiple circuits before Kromer prevailed. The front eight cars were closely matched, often running nose to tail with competitors searching for a way to find an advantage from the standard middle grove most were utilizing through the corners.
The complexion of the race would change though with a yellow flag in the late stages. Racing through the first turn for third position, contact ensued between Kromer and Bill Ashton, who turned in a best career second fastest qualifying run earlier in the day. Kromer went around and made contact with the outside wall. The Walnutport, Pennsylvania driver was able to pull away and with help from multiple crew members, including a few from his championship adversary Ron Langdon, went back out and brought the wounded ride to a salvageable seventh place finish.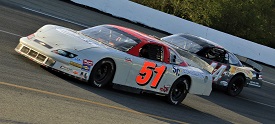 On the restart, Harrison's No. 51 Southern Coal Corporation / John 3:16 / Harrison's Motorsports Chevrolet was not the car it had been the first 36 laps and slipped back in the order, eventually retiring from the event one lap before the finish. Outside of Harrison was Ebeling, who rocketed into the top spot, but as the laps wound down it was Pack that began to show more speed.
With four laps remaining, Pack's No. 61 IceBoxx Customs / Black Draft Distillery / JP Racing Chevrolet maneuvered around Ebeling for the lead and went on for his sixth career victory.
"I saw everybody else getting a little tight and we were tight too," Pack, whose soon-to-be five-month-old son Jason made his debut watching dad at the track,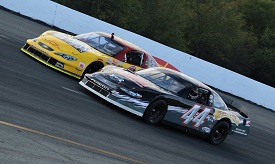 indicated. "I just started moving the car around, trying to find that sweet spot. Once I finally found it that seemed to do it."
Interestingly, Pack was driving the same chassis and engine combination that netted him his most recent win in 2014, which was also at Jennerstown and earned him the SCSCS championship that year.
"It was pretty special because I have a love-hate relationship with this car," the Midland, Virginia driver continued. "I honestly can't stand it, but it always seems to perform when I want it to. No matter what you do to it, it just keeps wanting to go. This thing was sitting in the weeds a couple weeks ago, pulled it out, set it up, and to be honest I'm pretty happy with the way it ran."
Ebeling retained second, his best result at the Pennsylvania track to date.
"There were a couple times early in the race when I got underneath Harvey and if I would have gassed up and tried to finish the pass, I was going to take him out," Ebeling mentioned, about the seemingly harder than usual ability to pass in the early evening feature. "We had that caution that played into our hands. We got to start on the outside, which I felt like I was just a little bit better out there, but just didn't have enough there at the end. JJ was coming and he was really hungry for a win. We got a little loose going into three and he just got past us."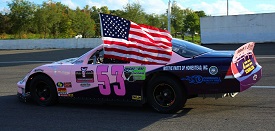 Lauren Butler qualified seventh and was riding around that position for much of the distance, but the No. 53 Edlin Automotive Services / Roof Repair Experts / Night & Day Sealcoating / Hillsview Landscaping / Ligonier Trucking / Pink Zebra / Motive Parts of Homestead Chevrolet came alive in the last few laps and excelled to a third place result.
"I was actually not feeling so sure about it for the first half of the race," the West Mifflin, Pennsylvania racer in her first full season with the series admitted between races. "We were all just kind of tight-bunched up there and then the car came to and people started making moves and the opportunity was there so I took what the track gave me."
Ashton continued on to finish fourth in the first of two races in which his Hopwood, Pennsylvania businesses were title sponsors. Langdon dodged a bullet with Kromer's misfortune, but could only do fifth best in this one.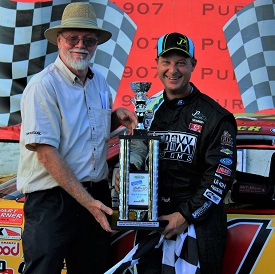 Pack's luck continued in advance of the Medved Transfer Co. 50 presented by National Appliance, as he redrew the pole. The start of the night's concluding race turned riveting from the moment the green flag fell. Ashton did not get through the gears as quickly as Pack, tightening up the field among frontrunners.
Jason Schue, who recorded a lead lap ninth place outcome in his No. 3 Bobcat of Frederick / Peckie's Auto Body / Larry's Lawn Mower Repair / 1st Choice Computer Solutions / Littlestown Car Wash / Jason Schue Racing Chevrolet earlier on, spun on his own in turn two. Harrison would brush the wall in avoidance of the Littlestown, Pennsylvania driver, but all would resume and the race remained green.
A lap later; however, in the continued tight battle for the runner-up spot, Ashton was sent around and backed hard into the outside wall between turns one and two, collecting Ebeling and Langdon in the process. The latter two had their repairs fixed before the red flag period was lifted, but Ashton's night would be done.
Getting on the brakes hard and narrowly escaping a second incident of the night, Kromer's repaired No. 77 Lehigh Valley Cancer Institute / Mission R.A.C.E.R. / Sal's Pizza / Mahoning Valley Speedway / K2 Motorsports Toyota was the car on the move. Six laps in he took the lead and despite Pack being close by in his rear view was able to hold him off for the remainder of the feature for a record-tying sixth checkered flag of the year.
"Starting seventh was going to be tough, but I figured if I could get within striking distance we had a good chance," Kromer noted. "When I got next to JJ I thought, man, here goes Midvale (2014) all over again. I just got a good run on him and got by him. That's all there was to it. Almost suffered a bad point night and it turned out to be a good point night with a twisted racecar."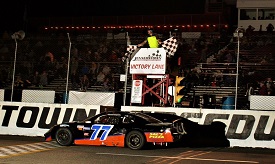 The time from the conclusion of the first race to almost the start of the second Twin 50, Kromer and team thrashed to fix damage, take measurements to ensure the car would handle alright. The track and series allowed two courtesy hot laps to make sure everything was okay to take the green, and from that moment he felt that the car was capable of being a frontrunner once again.
"We had to straighten the front end out; it's still a little crooked," Kromer described. "The rear was over to the left and the toe was way out. There's still something not right. I had sparks flying in the car from the left front. We'll check it out when we get home."
Pack finished second and echoed Kromer's thoughts about an incredible fight for the win they had five years back.
"I thought it was Midvale all over again," Pack repeated. "Kevin's a good driver and it's good to see him in a good piece now. I had a lot of fun racing against him. I just had nothing for him at the end."
Butler registered another third place finish, making her a perfect four for four when it comes to podium finishes in 2019 at her home track in which she is a former Street Stock division champion. Based on preliminary calculations, she was able to overtake Mike Potter for third in the overall standings by only 11.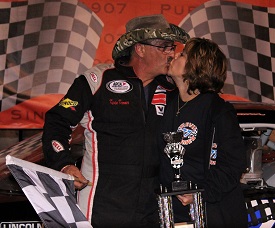 "I think we were definitely able to take back third place given what happened at Midvale," Butler, who suffered a motor issue a month back that resulted in a brief setback in the points, stated. "One more race to go and I think we're going to finish out our season in third and I'm totally happy with that for a rookie."
Stahlstown, Pennsylvania's Jerod Brougher quietly stayed out of trouble all night, ending up finishing fourth in the No. 71 Make It Spark Ltd. / Donegal Auto Body / TNT Embroidery and Screening / Gen-Mark / Builders Unlimited / JKB Motorsports Chevrolet. Ebeling recovered from the early incident to round out the top five.
Although the No. 44 Startown Carpet and Flooring / SwannysAutoSales.net / Battery Specialists / ShoTime Motorsports Ford was absent from victory lane on this night, the respectable finishes and an uncharacteristically average night from Johnson City, Tennessee's Potter leaves Ebeling simply having to start the next race to lock up the Southern Division title.
"Ultimately we come to win races and improvements are good," Ebeling added. "Second race we needed a caution or something to play into our hands. I'm still not sure what happened at the beginning of that race. (Ashton), (Brougher), me, and I'm not sure who was behind me; just kind of bummed especially for those guys who got involved too. After that, after clearing some of the guys in the back we didn't have enough time to get back up there. There's something that I'm missing about the setup for this track, but I feel like we've got a good handle at Dominion."
Next up in three weeks is the 2019 season finale being held Virginia's Dominion Raceway where the first twin race will decide the Northern and Southern Division championship, while the second race will name the Overall SCSCS champion.
Both the north and overall are extremely tight between Kromer and Langdon, and might very well come down to the driver who finishes better. Kromer now leads both, with the margin in the north being 65 but the overall standings separation a mere four points.
"We've got a pretty good setup for Dominion," a confident Kromer remarked, despite beginning the season at the same facility with motor issues while in contention for the lead. "As long as we don't get caught up in anything and have any mechanical failures, I think we're going to be pretty strong there."
Langdon remained optimistic even though he lost a little ground in the championship battle. The Freeport, New York driver of the No. 17 National Appliance / Oval Speed Unlimited / Langdon's Automotive Chevrolet started his smoothly consistent year at Dominion with a pair of third place finishes.
"I think we're going to have a lot of fun at Dominion. One of us is going to come out the winner. Which one? I don't know," Langdon predicted.
The Sopwith Motorsports Television Productions crew was on hand to film both the Bill's Wood Stoves 50 and Medved Transfer Co. 50 presented by National Appliance. The first race is slated to premiere on MAVTV in mid-October. The 2019 season premiere from Midvale Speedway will premiere this coming Thursday, September 19 at 12:30 p.m.
The unknown outcome that is the 2019 SCSCS championship commences on Saturday, October 5 at Dominion Raceway. More information will be available leading up to the event at the official series web site at www.supercupstockcarseries.com as well as the Super Cup Stock Car Series Facebook, Twitter, and Instagram.
Twin 50 No. 1

1 61 JJ Pack
2 44 Ben Ebeling
3 53 Lauren Butler
4 35 Bill Ashton
5 17 Ron Langdon
6 71 Jerod Brougher
7 77 Kevin Kromer
8 14 Mike Potter
9 3 Jason Schue
10 51 Harvey Harrison
11 2 Quincy Sponseller
12 05 Rob Hindt
13 33 John Komarinski
14 41 Andrew Kostelnik

15 27 Hayden Brothers

16 80 Brent Nelson

Pole - 44

Laps Led - 51, 44, 61

Most Laps - 51

Halfway - 51

Hard Charger - 53

Twin 50 No. 2:

1 77 Kevin Kromer
2 61 JJ Pack
3 53 Lauren Butler
4 71 Jerod Brougher
5 44 Ben Ebeling
6 17 Ron Langdon
7 14 Mike Potter
8 33 John Komarinski
9 51 Harvey Harrison
10 3 Jason Schue
11 05 Rob Hindt
12 41 Andrew Kostelnik
13 2 Quincy Sponseller
14 35 Bill Ashton

15 80 Brent Nelson

16 27 Landon Brothers

Pole - N/A

Laps Led - 61, 77

Most Laps - 77

Halfway - 77

Hard Charger - 77
_________________________________________________________