_________________________________________________________
Championship Contenders Seeking Crucially Important Results during Upcoming Jennerstown Twin 50s
Statesville, North Carolina (September 9, 2019) – Each of the past five years, Jennerstown Speedway Complex has played a pivotal role toward determining who stays in the hunt for the season-long championships with an encouraging outcome and who may falter upon fortune not going in their favor. 2019 has already been no different, with a pair of races held at the 1/2-mile oval in July.
This Saturday, National Appliance presents the Super Cup Stock Car Series championship rounds three and four, consisting of the Bill's Wood Stoves 50 and Medved Transfer Co. 50 twin features, which will continue the pursuit of many toward an acceptable eventual year-end result.
The pendulum has swung back and forth at the top of the overall standings, predominantly between two drivers. Ironically, the momentum that one has over the other leading into the weekend's event, which will be joined by the touring Must See Racing Sprint Cars for the second straight year and all five local weekly divisions, was the other way around following the event earlier this summer.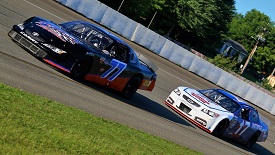 Ron Langdon has a 37 point advantage after a pair of runner-up results last time out at Shenandoah Speedway. The Freeport, New York driver's top five total of 14 is a single-season record, but his Jennerstown results from earlier in the year were not satisfying given his statistics every other race weekend and the miniscule room for error as 2019 winds down. Langdon will be focused on improving upon a fourth and eighth place result, perhaps mirroring or bettering a third place finish in his SCSCS and Jennerstown debut in 2017.
Kevin Kromer won both races in July, his first ever victories in front of the supportive Laurel Highlands region crowd. The Walnutport, Pennsylvania series veteran certainly has not been pleased with his most recent finishes though, salvaging a sixth place at Midvale in another competitor's car and then a third and another sixth at Shenandoah three weeks ago. Those results would be satisfactory for many, but not for someone with a series title or two in sight. Kromer has been working night and day in the shop in an effort to find any inconsistency in order to potentially replicate success from the first half of the year.
As if the margin was not already close enough in the overall battle, the Northern Division points is the other way around with Kromer ahead by an even tighter 20 over Langdon.
A trio of home state drivers additionally remain within view on the division end. Lauren Butler impressed in the multi-groove corners back in July, bringing home a pair of career-best runner-up finishes. Jerod Brougher led the most laps in the second race of the night, proving he can be a threat for the victory.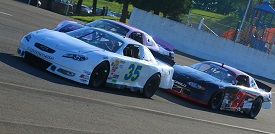 Bill Ashton has won before, using the same strategy on the outside line as Butler to maneuver around multiple veteran racers. If any of these three hit on the setup on Saturday night, the key duo of championship contenders will certainly have to look out.
With the September event offering points toward the Southern Division standings as well, a competitor who was not on hand earlier this year will look to keep up his winning ways. The mystery about Hickory, North Carolina's Ben Ebeling entering Jennerstown is that he has won on every other track he has competed on, including the most recent event at Shenandoah where he took home both trophies. Nevertheless, his best outing around the nine-degree banked turns is only a sixth during a most recent appearance in 2017, not resembling his dominating record elsewhere. Will the two-time defending south champion discover what it takes to figure out the puzzle of this place too?
A few racers are hoping that Ebeling's run of tremendous luck can slow down some so that they can catch back up in the division points. Johnson City, Tennessee's Mike Potter has a win this year, but it came at a race where the event was not south-denoted and a bad break sidelined him last time out. John Miller, Marc Jones, and Larry Wilcox all hope to register their season bests as well if they can make it up to Pennsylvania.
Then there is the group that wishes to play the spoiler on this penultimate summer Saturday night. Brent Nelson has five previous wins at Jennerstown, but has been shut out of victory lane so far in 2019. The Petersburg, West Virginia driver is coming off his best showing of the year three weeks back and seeks redemption after having issues under the hood in final practice that prevented him from even competing in July.
Another Mountaineer State driver, Harvey Harrison, is always a factor when he shows up, as was evidenced when he did so unannounced in the September 2018 event and proceeded to win. The 2016 champion has not finished off the podium in four 2019 starts, including a couple third place finishes in July.
Virginia's JJ Pack has not competed since early June and has not been behind the wheel at Jennerstown since 2015, but is a former winner at the site where he was named series champion in 2014 and has no other plans but to grab the checkered flag. Local favorites Andrew Kostelnik and John Komarinski have stayed on their game over the last couple months competing in other divisions on a limited basis, and their familiarity with navigating the track will surely come into play.
More members of the Keystone State such as Quincy Sponseller, Jason Schue, and Hayden and Landon Brothers each had one of their most competitive runs last time out and hope to carry that over into this weekend. Rob Hindt will also make the trek over from Maryland, his first Jennerstown appearance since suffering drive shaft issues on his qualifying warm up lap in 2015.
With quite the agenda scheduled for Saturday, first SCSCS practice is slated to begin promptly at Noon with qualifying taking place shortly after 3:00 p.m. The Bill's Wood Stoves 50 presented by National Appliance will be ready to go green at 6:00 p.m. A Meet and Greet with the drivers will be part of the festivities in between races behind the Jennerstown Speedway Complex grandstands, while the Medved Transfer Co. 50 presented by National Appliance will conclude the night of racing.
The Sopwith Motorsports Television Productions crew will be filming round three and four of the Super Cup Stock Car Series championship series with a premiere of the first race slated for mid-October on MAVTV.
For a complete weekend schedule and more information please visit the official web site at www.supercupstockcarseries.com. Interactive updates throughout race day will be available on the Super Cup Stock Car Series Facebook, Twitter, and Instagram pages.
_________________________________________________________