_________________________________________________________
Another Sweep for Ebeling; Dedicates Shenandoah Wins in Memory of Team Owner's Son
Shenandoah, Virginia (August 25, 2019) – Shenandoah Speedway was one of only two Super Cup Stock Car Series tracks in which Ben Ebeling has previously competed but has yet to win. That changed on Saturday night in another sweeping fashion as the Hickory, North Carolina driver turned out to be the one to beat during the second 2019 visit to the 3/8-mile oval.
Ebeling's No. 44 Startown Carpet and Flooring / SwannysAutoSales.net / L & C Truck Repair / Battery Specialists / ShoTime Motorsports Ford set fast time for a fourth occurrence this year, bettering his top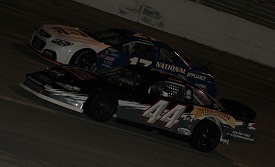 qualifying effort in June with a best lap of 16.468 seconds. Not only that, his daughter the number one pill for him to start in first position for the feature.
Ebeling kept the lead for the duration of the first 50-lap feature, which went without a yellow flag until 10 laps remained. Despite series championship contenders Ron Langdon and Kevin Kromer staying within striking distance and having two chances on restarts, Ebeling held them off for his first win at Shenandoah and fourth of the year.
The win was a sentimental one for the group, as team owner Mike Kurkowski was absent from the track. Kurkowski's son Jamie lost his life on this exact day a year ago.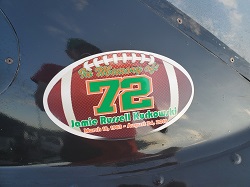 "We felt like we had an angel riding with us today," Ebeling reflected. "They've been on our mind and in our hearts and in our prayers all day. I'm thankful to Mike and ShoTime Motorsports for the opportunity to be out here and be able to do this."
Langdon extended his point lead by five in the overall road to the championship by finishing second, ahead of Kromer. The battle for fourth was the one that the fans in the stands were certainly watching toward the end. Lauren Butler made the high side work to her favor in the No. 53 Edlin Automotive Services / Roof Repair Experts / Night & Day Sealcoating / Hillsview Landscaping / Ligonier Trucking / Pink Zebra / Motive Parts of Homestead Chevrolet, but was edged to the line by Brent Nelson, returning to the series for the first time since Jennerstown last month.
Ebeling would have his work cut for him a little more in the second of the SCSCS Twin 50s at Shenandoah. The redraw would not be as kind and he would line up sixth. Kromer drew the pole with N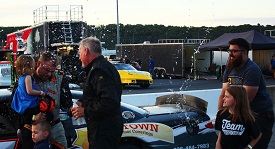 elson outside. Petersburg, West Virginia's Nelson led the opening lap, but it was Kromer who accelerated ahead for a few circuits in his No. 77 Lehigh Valley Cancer Institute / Mission R.A.C.E.R. / K2 Motorsports Toyota.
Nevertheless, Ebeling was on the move with the aid of a few early cautions and took the lead on lap seven. His work was far from over in this race as another restart on lap 15 resulted in Langdon getting the top spot with an outside pass. Ebeling muscled his way back under Langdon shortly before halfway though and never looked back to sweep the night.
The win ties Ebeling with Kromer for most wins in 2019, with a total of five, and catapults him to second all-time in career victories.
"Definitely the second race was a lot more difficult," Ebeling, who takes quite the lead in the Southern Division standings after main challenger Mike Potter had a rough night, recapped. "We were the ones starting deeper in the field this time. We had that one restart starting side by side with (Langdon) and I spun the tires real bad. He got us on that restart and he was making it real hard to try and get back past him. Thanks to those guys for running clean and just so much fun coming out here and racing hard."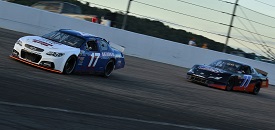 Langdon pressed on to maintain his second runner-up finish of the night and received ever important bonus points for those few laps led.
"The two of us were kind of out of control a little bit going into the corner and I just decided that I think I wanted it worse than he did," the driver of the National Appliance / Oval Speed Unlimited / G Force Collision / Langdon's Automotive Chevrolet described about taking the lead briefly. "I knew Ben had a better car on the long run, but I figured if I could stay out front I'd make it real hard for him to pass. I had to run a higher line than I wanted, which gave Ben the bottom, so that's how he got past me and I started getting a little loose. I drove it for all I could, but I'm getting closer to him."
Even though the Freeport, New York racer has been on a roll since his first win two weeks back at Midvale, there were numerous repairs that had to take place before Shenandoah. It was a collective endeavor with his team in which he is incredibly grateful.
"They're like family to me," Langdon, who increased his overall point lead to 37 and is now within 20 of the Northern Division lead, said. "I love these guys. Ian, Devin, and Scott that work on the car, Joel who doesn't come with us but does a lot of the painting and stuff on the car, Ray who comes and spots for me. I wouldn't be here without those guys. I can't say it enough times. They should be doing these interviews, not me."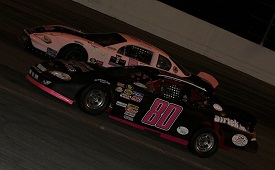 In another fantastic display of intense but clean dueling for the third position, Nelson and Butler continued their valiant fight for numerous laps. Nelson ended up ahead of Butler again, but praised the West Mifflin, Pennsylvania driver's skills while still in her first full season with the series.
"Lauren has found something on the outside and I don't care which track we go to," the driver of the No. 80 Precision Auto Collision / Airtek Inc. / Atkinson Welding / QH Design / Nelson Motorsports Chevrolet commented. "I watched her at Jennerstown and then here tonight, man, she ran me hard. I had to work hard for it and our car was not perfect by any means. Congratulations to her. She's got that car figured out and Ben and all of them better look out because she is going to be a contender up front."
His first podium finish of 2019 is the turnaround that Nelson hopes will provide a strong conclusion and perhaps a win or two into the final two events at tracks that hindered his early part of the season.
"I'm looking forward with this momentum now to go back to Jennerstown and hopefully we run well there, but I'm looking for Dominion," Nelson added. "Dominion owes it to me after destroying and wasting a car down there. I'm looking forward to going back."
SCSCS first-timer Jason Kitzmiller brought the No. 47 Grant County Mulch / CR7 Motorsports Garage Chevrolet home to a quiet but impressive fifth place finish in his debut.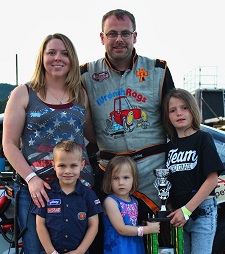 Kromer struggled in the final race with the car's handling and pitted from third place under yellow early on to resolve an issue. Unfortunately, the result was a disappointing sixth.
"I think the wreck at Midvale did something to it that we're missing," the Walnutport, Pennsylvania series veteran indicated. " At least it's not tore up and I can take it home, put it on the plates, and see exactly where we're at here and try to get it fixed up for Jennerstown."
The second stop of 2019 to Jennerstown Speedway Complex will occur on Saturday, September 14, a race in which Ebeling may not necessarily be the favorite. It is the only track remaining on the schedule that he has not won before, which will surely be leaving him studying and trying to figure out ahead of time what it takes to contend.
"It's definitely one that I have personally circled just because I never felt like I've been really good up there," Ebeling, who was not in attendance for the July race, admitted. "I'm looking forward to going and looking forward to trying to see if I can compete. (Butler) was really tough there last time and she's going to be good since that's her home track. Kevin (Kromer) is really good up there and I'm sure Ron (Langdon) will be good too."
Langdon has a little bit of breathing room in the overall standings, but knows it will not be easy with Kromer being the driver who swept both features at the Pennsylvania 1/2-mile in July.
"I feel bad Kevin had problems (tonight)," Langdon, who had his worst results of the year at Jennerstown last month, mentioned. "He's a good guy to race with. We've been consistent all year, which is what we wanted to do. We'll see how it all works and shakes out after this.
Visit the official web site www.supercupstockcarseries.com and the Super Cup Stock Car Series Facebook, Twitter, and Instagram for more information and continued updates throughout the season.
Twin 50 No. 1:

1 44 Ben Ebeling

2 17 Ron Langdon

3 77 Kevin Kromer

4 80 Brent Nelson

5 53 Lauren Butler

6 47 Jason Kitzmiller

7 14 Mike Potter

8 35 Bill Ashton

9 3 Jason Schue

10 2 Quincy Sponseller

11 27 Landon Brothers

12 15 Brian Harrison

13 05 John Miller

Pole: 44
Laps Led: 44

Most Laps: 44

Halfway: 44

Hard Charger: 3

Twin 50 No. 2:

1 44 Ben Ebeling

2 17 Ron Langdon

3 80 Brent Nelson

4 53 Lauren Butler

5 47 Jason Kitzmiller

6 77 Kevin Kromer

7 15 Brian Harrison

8 35 Bill Ashton

9 2 Quincy Sponseller

10 3 Jason Schue

11 27 Hayden Brothers

12 05 John Miller

13 14 Mike Potter

Pole: N/A

Laps Led: 80, 77, 44, 17

Most Laps: 44

Halfway: 44

Hard Charger: 15
_________________________________________________________