_________________________________________________________
Shenandoah Speedway Begins Trend of Repeat Visits in Determination of 2019 SCSCS Champions
Statesville, North Carolina (August 20, 2019) – The stage is set. Drivers have put forth their best effort in the preliminary months of competition, which are reflected in the adjusted standings for the North, South, and Overall leading into the final three twin feature events of this Super Cup Stock Car Series season.
Each of the facilities will be familiar to competitors, having hosted the series on one occasion before in 2019. First up and building upon the success of June's Veterans Classic, Shenandoah Speedway was added late in the game for a return visit as part of the picturesque 3/8-mile's season finale festivities, but can possibly play a role in who hoists the year-end trophies.
Kevin Kromer, despite being sidelined early last time out at Midvale Speedway, won the evening concluding 50-lap race back in June and is prepared to rebound on Saturday. The Walnutport, Pennsylvania series veteran maintains the lead in the Northern Division standings but slipped to a mere 12-point deficit in the overall championship battle.

The preliminary overall points were calculated based on a driver's best 12 results over the first seven twin-race meetings since April. Each divisional point tally was figured with respect to a particular venue's geography, some of which counting toward both north and south totals. The best six finishes were tabulated as a participating driver's preliminary total. The remaining races held in Shenandoah, Virginia, Jennerstown Speedway Complex in Pennsylvania, and another Virginia racetrack Dominion Raceway will count toward north, south, and overall points with the divisional titles being declared after the first race at Dominion and the overall champion following the second on Saturday, October 5.
With Shenandoah being a compound banked surface with 12, 10, and eight degree turns, momentum is certainly a keyword entering the weekend, and at least two racers have that going in their favor.
Earlier in the month, Ron Langdon and Mike Potter both achieved a long-awaited first career SCSCS victory. Langdon's performance launched him back into the overall points lead and has the Freeport, New York driver within striking distance in the north as well. His incredibly consistent year included a third and a runner-up at Shenandoah in June, his first time seeing the facility, including some laps led late in the going in the first race of that evening.
Potter's Shenandoah debut was not as stellar, which gives all the more reason to come back loaded for bear. The Johnson City, Tennessee is racing for the potential South division title and is 16 points back in that race as he looks to keep Ben Ebeling from capturing that accolade for a third straight year.
Ebeling got off to a slow start in 2019, involving an altercation at Shenandoah while racing for the lead, but has been on a spectacular resurgence. Despite running a limited schedule, the Hickory, North Carolina resident is undefeated ever since when competing on the track, winning at Kingsport Speedway and Salem Speedway. He along with teammate and car owner coming back to the driver seat, Mike Kurkowski, are no doubt looking for a satisfying outcome.
In the Southern Division, Mocksville, North Carolina's Marc Jones, Miami, Florida's John Miller, and Denver, North Carolina's Larry Wilcox remain in the hunt and each ran within the top half of the field earlier in the year. West Mifflin, Pennsylvania's Lauren Butler and Uniontown, Pennsylvania's Bill Ashton will respectively be representing the Northern Division with York, Pennsylvania twins Hayden and Landon Brothers still eligible with an outside shot.
Additionally, a number of teams and drivers are focused on turning their season around and a win would be exactly what the doctor ordered. Primarily, Petersburg, West Virginia will have quite the cheering section with Brent Nelson trying to shake off a most recent issue under the hood at Jennerstown in July, plus CR7 Motorsports announcing a two-car endeavor in search for their first win since 2017. Nelson finished in the top five twice in the June visit to Shenandoah and is looking for his first victory of 2019 after winning three times a year ago.
Littlestown, Pennsylvania's Jason Schue was back behind the wheel at Midvale after a lengthy break that dated back to the season opener at Dominion, but relinquished the ride for the second race in order to help fellow home state racer, Kromer, gain ever important points toward the championship. Schue hopes that the feedback attained from the five-time series winner in 2019's sixth place result will make for some added improvement in advance of his Shenandoah debut.
Quincy Sponseller from Fairfield, Pennsylvania will be in attendance as well for his first race since Jennerstown a month back. The teenage first year SCSCS driver steadily gained speed and stayed out of trouble in his initial Shenandoah appearance.
For those looking forward to being at the track on race day, practice begins at 3:00 p.m. with SCSCS qualifying taking place at 4:30 p.m. after the local divisions partake in their sessions. The first feature race of the evening takes the green flag at 6:00 p.m. with the first of the Super Cup Stock Car Series Twin 50s set to go approximately an hour later.
For a complete weekend schedule and more information please visit the official web site at www.supercupstockcarseries.com. Interactive updates throughout race day will be available on the Super Cup Stock Car Series Facebook and Twitter as well as the new Instagram page.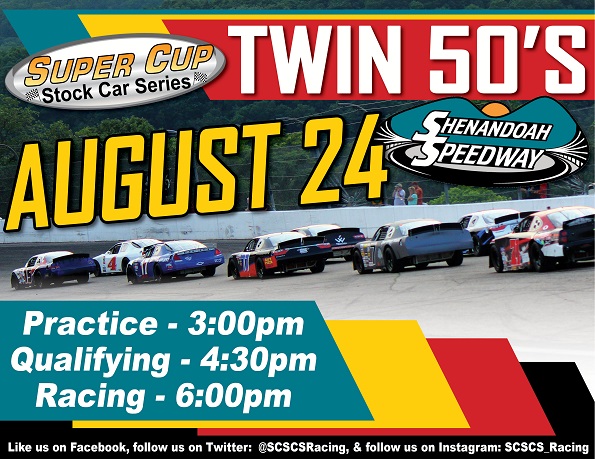 _________________________________________________________