_________________________________________________________
Finally:
Fortune Smiles Upon SCSCS First-Time Winners Langdon and Potter at Midvale

Midvale, Ohio (August 12, 2019) – With more than half of the starting field in Saturday's My Water Doctor "Night at the Races" presented by Racing Radios being composed of non-winners in Super Cup Stock Car Series competition, the likelihood was high that one could break through into victory lane. After all the dust from the twin 50-lap races settled at Midvale Speedway though, there were two who celebrated such a feat.

Current point leader Kevin Kromer established himself as the car to beat early, pacing practice and then setting his third fast time of the year with a time of 14.919 seconds, a scant 0.071 margin over Harvey Harrison. 2009 SCSCS champion Tyler Nuckles was on hand to compete in the Open Modified 50-lap race that was also part of the 3/10-mile oval's festivities and holds the record for most wins in a single season, a mark that Kromer is on track to possibly tie or even break.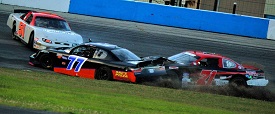 The previous two-time Midvale winner redrew the fourth starting position in his No. 77 Lehigh Valley Cancer Institute / Mission R.A.C.E.R. / K2 Motorsports Toyota. Stahlstown, Pennsylvania's Jerod Brougher and Harrison lined up on the front row for the first feature of the night in which it would not take long for drivers to take evasive action in the opening laps.
Harrison was able to edge Brougher's No. 71 Make It Spark Ltd. / Donegal Auto Body / TNT Embroidery and Screening / Gen-Mark / Builders Unlimited / JKB Motorsports Chevrolet at the line to complete the first circuit, but by the time they returned to turn three both frontrunners as well as Kromer were involved in the first incident of the evening. A promising race for both Brougher and Kromer had ended abruptly.

The ensuing restart had Stephen Cox inheriting first position, making his 2019 debut driving the No. 21 104+ Performance / STA-BIL Brand Fuel Stabilizer sponsored ride for Potter Racing. That top spot would be short-lived as only two laps later the Indianapolis, Indiana racer suddenly went around in the same turn with everyone behind avoiding him.
That would then give the lead to New York's Ron Langdon. With 47 laps still remaining, the No. 17 National Appliance / Oval Speed Unlimited / Langdon's Automotive Chevrolet had a long way to go to keep a consistent pace while also picking it up when the opposition closed the gap. Nevertheless, after four runner-up results in 2019 he was able to "finally", as was exclaimed upon climbing out of the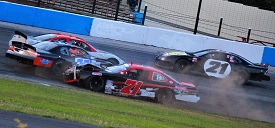 vehicle, grab the previously elusive first checkered flag at the facility in which he first came to spectate and check out what the SCSCS was all about back in 2016.
Even over this race weekend, Langdon's victory was not a smooth path. Not only did he have a season-worst seventh place qualifying run, but during Friday's optional practice session a spin into the outside wall between turns one and two had the team immediately playing catch-up. Without hesitation, his crew members went to work to patch up the damage and make sure the car was in working order.
"The most satisfactory thing is seeing how happy they are," Langdon noted about the resilience of his team, who ironically all showed up on race day wearing Kevin Kromer t-shirts to shake any excess bad luck they had going. "For me, it's like a lifetime dream fulfilled, because I always wanted to be a stock car driver. I wanted to run Winston Cup, but I get to race the same kind of cars against some really good competitors. I've said it before: the stage may not be that big, but it's pretty damn big enough for me."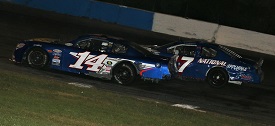 Despite toe-in issues suffered in the lap two skirmish causing his car to dart around and lose its handle, Harrison still fought back for a second place finish. Mike Potter, Cox, and Lauren Butler rounded out the top five.
Potter, a two-time second place finisher in the past, showed his strength during the latter parts of the first twin 50, recording the fastest lap of anyone with only six laps remaining. Redrawing third for the second race, the Johnson City, Tennessee veteran was definitely setting himself up as a factor once again.
West Mifflin, Pennsylvania's Butler, in her Midvale debut, was scheduled to start from the pole. However, an issue under the hood of the No. 53 Edlin Automotive Services / Roof Repair Experts / Night & Day Sealcoating / Hillsview Landscaping / Ligonier Trucking / Pink Zebra / Motive Parts of Homestead Chevrolet sidelined her for the remainder of the night.
This placed teammates Cox and Potter on the front row with the team owner accelerating into the lead on the opening lap. Langdon advanced from the second row to second position rather quickly, but would visit the outside wall for a second time over the weekend to bring out the first and only yellow flag of the race with eight laps completed.
Harrison utilized his Midvale experience to temporarily get to the front on the restart, but three laps later Potter took it back with a dive into turn one and made it stick. Langdon was not done yet and rallied back to second. He worked up to the back bumper and even made a quick bid to the outside during the closing laps, but it was Potter's race as in his 39th try can now call himself a SCSCS winner.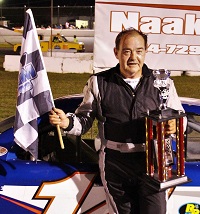 "I knew he was coming and I had to run as hard as I could run the whole race, about burned my brakes up," Potter remarked regarding his No. 14 SLB General Contracting / Potter Racing Chevrolet which did briefly have a small flame ignite under the car upon parking in victory lane.
The 70-year-old seasoned racer who ran the 1992 Daytona 500 as well as 59 other NASCAR Cup Series starts tried recalling his most recent victory, which was likely at his home track Kingsport Speedway more than 15 years ago, and named off a laundry list of those who have helped him along the way to get to this point.
"There are a lot of people that help me, you know," Potter continued. "You can't do this by yourself, especially when you get old like me. It's special to have good people to help you."
Langdon had to settle for second in this one, but regained the lead in the overall standings by only 12 points after Kromer's misfortune.
"I could've dirtied Mike up, but that's not my way of racing," Langdon expressed. "Winning is important, I love it, but having a hard fought battle and giving the fans a hell of a show, I like watching races like that. Hopefully the fans liked that. That's real racing to me, not I had to knock the guy out of the way on the last lap. Don't think it didn't cross my mind, but that's not what I do."
Harrison achieved his second podium of the night with a third place result.
"In the second race we were good, but we had to spend the time working on the car trying to fix the damage so we didn't get to change the setup like we wanted to," the 2016 series champion indicated. "On the restarts my car was awesome, but as we ran it started going away from me and started getting worse and worse. Actually, I needed a caution to catch up."
All in all, it was a satisfying night, considering the Renick, West Virginia driver was not intending to compete until the last minute. His youngest son Brandon Harrison was entered to run the team's No. 5 car, but a family commitment had him electing not to make the trip. Harvey was offered to drive the freshly painted ride, but brought his own No. 51 John 3:16 / Southern Coal Corporation / Harrison's Motorsports Chevrolet instead.
Harrison was complimentary after a total of 100 hard green flag laps of racing to his fellow competitors who took home their first winning trophies.
"It was an honor to get to race with them," Harrison added. "I knew them guys were going to run me clean and rubbing a little bit, that's racing. A little bit of side by side action. That's great for the series."
Cox never ran outside the top five the entire evening and finished the second 50 lapper in fourth.
Brougher was able to fix the damage from earlier to get the car back out and was as far up as third in the running order. Unfortunately, a spin on the final lap would relegate him to a disappointing yet still respectable fifth.
In a late breaking development, Littlestown, Pennsylvania's Jason Schue offered his No. 3 Bobcat of Frederick / Peckie's Auto Body / Larry's Lawn Mower Repair / 1st Choice Computer Solutions / Littlestown Car Wash / Jason Schue Racing Chevrolet ride to Kevin Kromer for the second green flag, salvaging a potential major hit in the points with a sixth place finish.
Kromer does maintain first in the hunt for the Northern Division title by 45 points over Langdon.
The Super Cup Stock Car Series is now making its final push for the 2019 season, with the races as part of each of the last three events having implications for the north, south, and overall points all up for grabs. On Saturday, August 24 the drivers continue their quest with a return trip to Shenandoah Speedway in Virginia.
The Sopwith Motorsports Television Productions crew filmed all the action with the first My Water Doctor "Night at the Races" presented by Racing Radios twin 50-lap race scheduled to premiere on MAVTV on Thursday, September 19 at 12:30 p.m..
Please visit the official web site at www.supercupstockcarseries.com and the Super Cup Stock Car Series Facebook, Twitter, and Instagram for more information.
Twin 50 No. 1 Results:

1 17 Ron Langdon

2 51 Harvey Harrison

3 14 Mike Potter

4 21 Stephen Cox

5 53 Lauren Butler

6 27 Hayden Brothers

7 3 Jason Schue

8 6 Larry Wilcox

9 35 Bill Ashton

10 71 Jerod Brougher

11 77 Kevin Kromer

Pole - 77

Laps Led - 51, 21, 17

Most Laps - 17

Halfway - 17

Hard Charger - 17

Twin 50 No. 2 Results

1 14 Mike Potter

2 17 Ron Langdon

3 51 Harvey Harrison

4 21 Stephen Cox

5 71 Jerod Brougher

6 3 Kevin Kromer

7 27 Landon Brothers

8 6 Larry Wilcox

9 53 Lauren Butler

10 35 Bill Ashton

11 77 Jason Schue

Pole - N/A

Laps Led - 14, 51

Most Laps - 14

Halfway - 14

Hard Charger - 71
_________________________________________________________