_________________________________________________________
Ebeling's First Salem Trip a Success; Two Wins Surge Him to South Division Title Lead
Salem, Indiana (July 28, 2019) – Ben Ebeling knew he had to show up and perform at Salem Speedway in order to continue defending his Super Cup Stock Car Series Southern Division title from 2017 and 2018. The Inaugural "Super Cup 100" was a necessity in order for the Hickory, North Carolina driver to meet the minimum eligibility of six races by the conclusion of the event in the Hoosier State to stay in the hunt after a slow start to get going in the 2019 season.
Ebeling, entering with an incomplete total only good enough for seventh overall in the south, immediately picked up five bonus points by claiming his third Pole Award of the year with a blistering best time of 18.463 seconds around the 0.555-mile facility.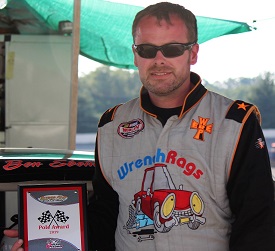 A six-car redraw placed current series runner-up Ron Langdon and newcomer Joe Cooksey on the front row. Langdon chose the advantageous outside on the initial start and powered into the early lead to initially gain five points on his main challenger overall and in the Northern Division, Kevin Kromer. Cooksey, who had competed previously around the treacherous 33 degree banked corners on multiple occasions, would run in the top five the entire distance in the opening Eddie Gilstrap Motors 50, but coming on strong behind him was a local favorite among the fans in the stands, New Albany, Indiana's Josh Clemons.
The driver who lives 45 minutes from Salem Speedway accelerated to the lead on lap six and held his own out front past halfway. Around that point, Ebeling, who drew a five for the first 50-lap race, showed his strength after some practiced patience and was able to get around Clemons on lap 32. A lap later, the night for Clemons would go from promising to worse when he came to pit road with a right side tire issue on the No. 14 Clark Memorial Wound Healing Center / General Waterproofing / Clemons Racing Ford and eventually potential trouble with a brake caliper or rotor sidelined him during the second race of the night.
Ebeling never looked back and earned his second win of 2019. It was one that involved relentless mental preparation and focus as well as some pointers received from his team owner Mike Kurkowski, who raced at Salem multiple times including in the old ASA Series, drivers from the local Great American Stock Cars class, and many more.
"Following (Clemons) taught me a few things, even," the driver of the No. 44 Startown Carpet and Flooring / SwannysAutoSales.net / Battery Specialists / ShoTime Motorsports Ford noted. "He made it hard to pass. It's such an awesome racetrack, but man does it work you out. You've got to be on top of it every single split second. To get three poles and now win at Salem it's just been a tremendous year. God has blessed us to have this success."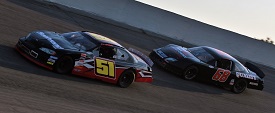 Langdon and Kromer were taking a conservative approach entering the weekend, but fans in the stands would have never known that. Both drivers that were making the longest tow among any competitors fought for every position to gain the maximum points possible. By the end of the first race, Freeport, New York's Langdon held off Walnutport, Pennsylvania's Kromer by a small margin, even after a few brushes with the often unforgiving Salem outside wall in qualifying and during the race.
"All these racetracks I run they move the walls too close," Langdon, a former Riverhead Raceway 1/4-mile regular, brand new to navigating a track this big and banked, joked. "This place is a blast. I learned some things that I wouldn't learn anywhere else. I actually got aero tight. I couldn't believe it. I went into a turn behind Kevin (Kromer) and the whole nose just went up and I've just never experienced that."
Behind Kromer at the line were Cooksey and Lauren Butler to conclude the top five in race number one.
The second feature, the Ford Dealers 50, had many of the same players waging for the top positions, but one driver in particular made quite a rally from the back. Dominion winner from April, Allen Purkhiser, brought a different car for the high banks and had it dialed in, but contact when trying to pass Cooksey in the opening laps of the first race resulted in an early exit.

"We were just coming off four and the guy left a hole up above him and I tried to fill it and his spotter apparently cleared him when he was not clear," Purkhiser explained. "It stuffed me in the wall and cut my right front. We got it back to the pits, started looking it over, and had a bent shock and the toe was way off, but other than that it wasn't too awful bad."
The driver of the No. 68 Clear Choice Auto Glass / Premiere Motorsports Ford started from the fifth row and was in the top five before halfway. Meanwhile, Kromer, who started from the pole after the redraw accelerated out to the lead from the start and gained back five points for those laps led. Nevertheless, it did not take long for Ebeling to find his way back to the front.
The second 50 laps went caution free, but that did not slow down Purkhiser from catching the top three – Ebeling, Kromer, and Langdon – from almost half a lap back. Slicing his way past Kromer and Langdon and then making up a tenth or two of a second per lap on Ebeling, who had pulled away from his challengers in the second half, was the show to watch during this one.
Coming to two laps remaining, Purkhiser was within two car lengths. After the white flag was displayed, he peeked his way under the leader, but coming back to the stripe for the checkers, it was Ebeling narrowly ahead for the sweep of the night.
"I could barely hear the spotter, but I caught enough to know that the 68 was coming," Ebeling recounted. "I had tried to save a little bit early in that run, but 50 laps green to checkered is just rough. If it had been five more laps I don't know if it would have been enough.
"We drove down into turn three and I saw the 68 come up beside of me and his right front brake rotor just a glowing. I said 'alright, it's time to gas up whether it sticks or not'. I love racing like that. It's a lot of fun."
The nearly perfect night launches Ebeling all the way into the lead in the Southern Division standings, by a slim 16 point margin over Mike Potter, who had an average-at-best night, salvaging seventh and ninth place results.
"We did what we needed to do," Ebeling continued. "We needed to get up here and get as many points as we could and we definitely did that. I've got to thank all the people that got me here, especially RE Suspension. They helped us get dialed in. Also, Chad Bryant with Chad Bryant Racing in the ARCA Series helped me get a handle of this place before we even got here."
For Purkhiser, a driver who only runs a limited schedule in the SCSCS, coming up short of the win was slightly disappointing, but remarked afterward that he definitely put in every ounce of effort to take home another trophy.
"I left everything out there, but just too little too late," Purkhiser, a runner-up once before at Salem in the Pro Cup Series more than a decade ago, stated. "I got under him going into three down here and I pretty much knew I wasn't going to be able to pass him but I gave it all I had and just tried to run him down the straightaway."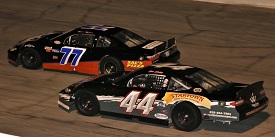 Kromer had to be on his toes every lap to stay ahead of Langdon for third and felt that his mission coming into Salem had been accomplished. In doing so, the overall point battle turned out to be a wash, with Kromer having the same 45 point advantage over Langdon as before.
"We're pretty satisfied with tonight, considering I never ran here," the driver of the No. 77 Lehigh Valley Cancer Institute / Mission R.A.C.E.R. / K2 Motorsports Toyota said. "We came here with a game plan, we stuck to it, and it worked out. Next time we come back I think we'll have a little something for the 68 and the 44 because I learned a lot. I'm leaving here with a pair of thirds and the point lead and in one piece."
Butler achieved her second fifth place finish of the night and moves to third in the overall standings, ahead of Potter and Bill Ashton with little room for error going into her first start at Ohio's Midvale Speedway in two weeks.
Midvale is a track that Kromer has won at twice before, and is confident he can win again.
"As long as we do our homework for Midvale and as long as I don't go on vacation and change the car around in 24 hours I'll be good," Kromer quipped, referencing a family trip that occurred between Jennerstown and Salem.
Langdon will make his second Midvale appearance, and also brings optimism.
"We have a setup for that already," the No. 17 National Appliance / Oval Speed Unlimited / Langdon's Automotive Chevrolet driver indicated. "We learned stuff when we went there last year, so we have high hopes for that one. We think that we might pull a win off at that one."
Visit the official web site www.supercupstockcarseries.com and the Super Cup Stock Car Series Facebook, Twitter, and Instagram for more information and continued updates throughout the season.
Twin 50 No. 1:

1 44 Ben Ebeling

2 17 Ron Langdon

3 77 Kevin Kromer

4 51 Joe Cooksey

5 53 Lauren Butler

6 35 Bill Ashton

7 99 Mike Potter

8 68N Dale Shearer

9 27 Landon Brothers

10 14 Josh Clemons

11 68S Allen Purkhiser

12 69 Will Kimmel

Pole - 44

Laps Led - 17, 14, 44

Most Laps - 14

Halfway - 14

Hard Charger - 99

Twin 50 No. 2:

1 44 Ben Ebeling

2 68S Allen Purkhiser

3 77 Kevin Kromer

4 17 Ron Langdon

5 53 Lauren Butler

6 51 Joe Cooksey

7 99 Mike Potter

8 35 Bill Ashton

9 68N Dale Shearer

10 27 Hayden Brothers

11 14 Josh Clemons

12 69 Will Kimmel

Pole - N/A

Laps Led - 77, 44

Most Laps - 44

Halfway - 44

Hard Charger - 68S
_________________________________________________________