_________________________________________________________
Kromer Takes Two in Jennerstown; Acquires SCSCS Point Lead
Jennerstown, Pennsylvania (July 14, 2019) – A picture perfect evening had a similar final result to a couple earlier events in the 2019 Super Cup Stock Car Series, but the journey toward that outcome thrilled the packed Jennerstown Speedway Complex audience with intense side by side racing throughout the field.
Late Saturday afternoon, Kevin Kromer picked up his second Pole Award of the year with a strong second qualifying lap, 0.120 seconds faster than his main opponent in the season-long championship, Ron Langdon.
It was clear sailing for the Walnutport, Pennsylvania driver in the first of the Twin 50-lap races at Jennerstown presented by Racing Radios, as on the opening lap he accelerated ahead of Mike Potter, who claimed the first starting position during the redraw.
Despite numerous participating racers that called Jennerstown home in the past on a weekly basis also in attendance, Kromer's win was a favorable one in front of the Keystone State fans. Cheering him on from the first series appearance in 2014, through his cancer diagnosis in 2016, and in the recent years following his recovery has been something very meaningful for the K2 Motorsports team and family.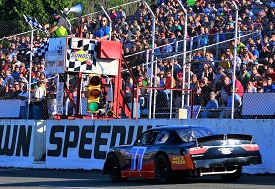 "It's a big deal," the driver of the No. 77 Lehigh Valley Cancer Institute / Mission R.A.C.E.R. Toyota who also accomplished victory in 2012 at nearby Motordrome Speedway noted. "They've been waiting for me to win, I assume. Winning in the home state is always good. It goes to show the fan support the drivers in this area have in this division and the fan support I have. I don't live here and I don't race here every weekend, but the fan support they give me here is just astronomical."
Behind Kromer, the SCSCS stars entertained the thousands in attendance. The outside groove came into play and worked like a dream for many, including local favorite Lauren Butler. The West Mifflin, Pennsylvania former Jennerstown Street Stock champion's No. 53 Edlin Automotive Services / Cornwell Tools / 3C Signs / Night & Day Sealcoating / Pink Zebra / Roof Repair Experts / Motive Parts of Homestead Chevrolet came to life from ninth starting position and passed numerous cars with more than double the series experience using the longer way around.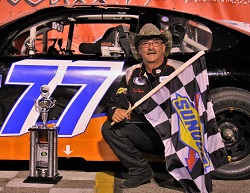 The end result would be a best career runner-up finish with Harvey Harrison returning to competition for third. Point leader entering Saturday, Langdon, held on for fourth with another driver from nearby, Jerod Brougher, rounding out the top five after a side by side fight with fellow Street Stock graduate Andrew Kostelnik up until the final turns.
The first race may have been a somewhat easy ride toward the sunset for Kromer, but the second 50 lapper was a far different story. After redrawing a six, he could not as easily find his way to the front.
Harrison led early in hopes of repeating a winning performance from last September at the 1/2-mile oval, but the car to watch was Brougher's No. 71 Make It Spark Ltd. / Donegal Auto Body / TNT Embroidery and Screening / Gen-Mark / Builders Unlimited / JKB Motorsports Chevrolet. Much like Butler in the first race, he used the high line to his advantage and took the lead for a brief moment on lap 13 and then cleared the Renick, West Virginia veteran for good 20 laps in following a thrilling duel with Harrison.
A yellow flag prior to halfway allowed Kromer to come down pit road for an adjustment. From the restart to the checkered flag, it was a four car battle for the victory, often nose-to-tail with drivers powering inside and outside on almost every lap.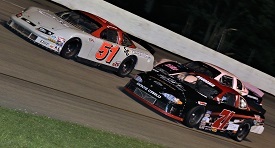 Brougher protected his position out front, but it was noticeable that the car was not as strong as earlier. Kromer had advanced to second in the meantime and peeked his way under the Stahlstown, Pennsylvania driver with five circuits remaining.
The evening sweep would bring Kromer's total to five wins this season and possession of first in both the Overall and Northern Division standings.
"Somebody changed their car around and didn't think about it ahead of time," Kromer quipped about the adjustments he made between races that made him loose off the corners. "That's why I came in and pitted. I had to undo what I did. Harvey set a good pace and I figured I would just follow for a while, but next thing you know (Brougher) and (Butler) go by us, so now you've got to pick the pace up. The car started coming to me but the other guys ran their tires off and I was still good."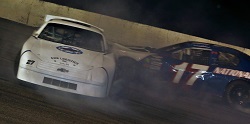 Conservation is always part of the strategy on SCSCS race day, with teams having to run the same set of American Racer rubber across final practice, qualifying, and both races. In the end, Kromer played the game right.
"These tires, when they heat and they cycle, the second race they work good but not as well and you've got to know how to save them a little bit and that's what I was trying to do, but Jerod and Lauren had other ideas. So when they come by you and pick the pace up, me and Harvey had no choice but to pick it up. Then next thing you know we're running side by side for the lead and it ended up in my favor for once."
Brougher still held on to second right up until the final corner of the final lap, when his machine snapped around on him. Diving underneath to avoid him was Butler, who achieved another second place finish at the line.
"This is huge," Butler remarked following an enthusiastic applause from the crowd. "I was not expecting any of this. Obviously a win would be perfect, but this is just as great now for us."
In her first year running the full schedule, much of it has been about gaining knowledge for the team, including her father Eddie Butler who puts in a majority of the work at the shop during the week, but the series rookie has proved that the hands-on lessons she has been receiving are paying off.
"A lot of these guys are so brand new to me, but I know they've been around for a while, so they've all taught me a lot," Butler continued. "It's all about setting up, watching what they do out there while I'm falling behind, and setting them up to either pass or just to follow and wait and try to be patient. I have so much respect for these guys. It was amazing racing with them, door to door, racing clean. This is unlike anything I've ever experienced. This was so much fun on so many levels."
Harrison backed off to avoid Brougher in the final corner and settled for his second consecutive third.
"I trusted the drivers I was running with," the former series champion in the No. 51 Southern Coal Corporation / John 3:16 / Harrison's Motorsports Chevrolet commented. "Lauren, Jerod, and Kevin – they're good drivers. We had a blast running side by side. I was giving it all I possibly had, but the harder I ran the looser it got. One time I got into the marbles, into the loose rubber, and boy, you're talking about a ride. All in all, it was a good night."
Brougher recovered to finish fourth, but it definitely was a few spots off from the stellar performance he showed much of the race.
"We made some adjustments for that second feature and it dialed it right in," Brougher explained. "It was perfect. We didn't have the best car, but we acted like we did for 20 laps or so. We were able to hold off those guys behind us, but not for the last five laps. It was a battle to keep that thing down low and whenever Kromer got inside of me I figured, I'm going for it on the outside and if it holds, it holds, and I might get a chance at the win. If it doesn't hold, I spin out and take out the whole field. So I went to the outside and tried for it.
"I pushed the whole way into the corner and whenever I got back in the throttle to try and straighten it up it spun me out. I wiped out on my own. It was just because I was gunning for the win on the outside."
Not only was it a positive run at his home track, but also keeps Brougher within striking distance in the Northern Division title battle. He is currently 65 back from Kromer within a top five that is separated by less than 150 points.
"We're right there and we're just happy to be there," a humbled Brougher said. "This really shouldn't be happening. I shouldn't be leading these races. We're happy about it and I'm proud of my whole team – my dad for taking care of the car and helping getting it ready and everything and my wife Tina for putting up with it. It's all good."
Potter rounded out the top five and keeps himself within having a shot in the overall points race, currently in third.
Langdon entered Jennerstown without a finish worse than third, but this particular night would not go in his favor. He actually started the second Twin 50 out front, but inexplicably spun in front of the field in turn two of the opening lap. In addition, the No. 17 National Appliance / Oval Speed Unlimited / Langdon's Automotive Chevrolet was swept up in the aftermath of an altercation that involved contact between lead lap frontrunner John Komarinski's No. 33 Hands-On Concepts / Marsula Electric Inc. / Wire Stik / Advance Auto Parts / Auto Dynamic Specialities / Komarinski Racing Chevrolet and the freshly painted and decaled car of Landon Brothers.
The Freeport, New York driver still salvaged a result of eighth and trails Kromer in the standings by 45 points overall and only 25 in the north.
Many teams will now head to uncharted territory, Indiana's Salem Speedway for the inaugural Super Cup Stock Car Series appearance on Saturday, July 27. Multiple drivers from the Midwest with numerous laps around the high-banked facility are expected to join the series for the first time.
Visit the official web site www.supercupstockcarseries.com and the Super Cup Stock Car Series Facebook, Twitter, and Instagram for more information and continued updates throughout the season.
Twin 50 No. 1:

1 77 Kevin Kromer

2 53 Lauren Butler

3 51 Harvey Harrison

4 17 Ron Langdon

5 71 Jerod Brougher

6 14 Mike Potter

7 35 Bill Ashton

8 33 John Komarinski

9 41 Andrew Kostelnik

10 16 Edward Adams III

11 27 Hayden Brothers

12 0 John Miller

13 2 Quincy Sponseller

14 80 Brent Nelson

Pole - 77

Laps Led - 77

Most Laps - 77

Halfway - 77

Hard Charger - 53

Twin 50 No. 2:

1 77 Kevin Kromer

2 53 Lauren Butler

3 51 Harvey Harrison

4 71 Jerod Brougher

5 14 Mike Potter

6 35 Bill Ashton

7 33 John Komarinski

8 17 Ron Langdon

9 29 Landon Brothers

10 0 John Miller

11 41 Andrew Kostelnik

12 16 Edward Adams III

13 2 Quincy Sponseller

14 80 Brent Nelson

Pole - N/A

Lap Led - 51, 71, 77

Most Laps - 71

Halfway - 71

Hard Charger - 35, 33, 0
_________________________________________________________