_________________________________________________________
SCSCS Teams Ready for Saturday's July Battle at the "Big J"
Statesville, North Carolina (July 9, 2019) – Twin 50-lap races at Jennerstown Speedway Complex presented by Racing Radios complemented by a complete five-division weekly program will be sure to light up the intensity within the Laurel Highlands of Pennsylvania this Saturday evening. Featured will be the first of two appearances in 2019 and the sixth consecutive year that the Super Cup Stock Car Series has graced the popular 1/2-mile facility.
In terms of most recent SCSCS history at the track, two drivers enter July's event with a good amount of momentum. Brent Nelson has won at the "Big J" on five occasions, three of which occurred in 2018.
The Petersburg, West Virginia driver is searching for his first victory of 2019, after taking a couple races off due to a tough wreck at the opening event of the season at Dominion Raceway. He did; however, get back out to shake down a different car in the fleet at Shenandoah Speedway last month with respectable results in preparation for a possible return to glory this weekend.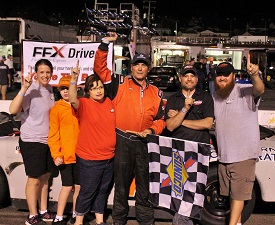 Harvey Harrison showed up unannounced last September and accomplished the almost unfathomable, a checkered flag in the second race after previously sitting out the entire 2018 season. Saturday will also mark his 2019 debut, following turning wrenches for his son Brian at Shenandoah, and fans can potentially look for the Renick, West Virginia racer to favor the exciting outside groove once again.
Bill Ashton also took the longer way around when he won at Jennerstown in 2016. The home state resident from Uniontown will certainly play a factor. There are others who have not won in a SCSCS machine in the past, but will be supported by former winning drivers. Codie Rohrbaugh has visited victory lane six times and is expected to be on hand to provide expertise to both his sister Samatha and his grandfather Larry Berg. The CR7 Motorsports team has shown on numerous occasions this year that they have a car capable of running up front, but looks for their first trophy since 2017. 2014 champion JJ Pack will have his team in attendance with fellow Virginian Edward Adams III competing for a best career result or two.

Although they haven't taken home the winning earnings before on the track also known as The Motor Mountain, New York's Ron Langdon and Pennsylvania's Kevin Kromer are no strangers to the podium. Not only are they one-two in the overall standings, but they sit in that exact order in the Northern Division, which for the first time in 2019 takes center stage among competitors battling for that title.
Not far behind these two veteran drivers in the North standings are a pair of favorites among the local crowd. Jerod Brougher of Stahlstown, Pennsylvania has impressed in limited starts, including a runner-up at Jennerstown last August as well as earlier in 2019 at Dominion. Lauren Butler will join him in finding a path to an initial SCSCS victory. The West Mifflin racer is a former track champion in the Street Stock division.
Five more drivers currently can boast that their highest ever SCSCS result happened at Jennerstown. Mike Potter finished second in one of last July's Twin 50s and is fresh off another runner-up in his home state of Tennessee at Kingsport Speedway. Another former Street Stock track champion Andrew Kostelnik finished third on three occasions during his maiden voyage in the series a year ago and will look to shake off some recent bad breaks. John Komarinski raced Late Models and Street Stocks for years at Jennerstown and will be back for his 2019 debut after achieving a top five finish last July. More Pennsylvania residents, Jason Schue and Landon Brothers, also call this track one of their best after positive performances in 2018.
Landon's twin brother Hayden Brothers will additionally be competing and sets his sights on improving upon a 10th place finish last August as both intend to sport a new look to the car they will be driving this weekend. Fairfield, Pennsylvania's Quincy Sponseller is the only driver currently expected that has never competed on the fairly flat corners of the track's asphalt surface before.
Practice is slated to begin at 2:00 p.m. with qualifying taking place at 5:00 p.m. The first of the Super Cup Stock Car Series Twin 50s at Jennerstown Speedway presented by Racing Radios will take the green flag shortly after 6:00 p.m. with an autograph session in the grandstands for fans between races.
For a complete weekend schedule and more information please visit the official web site at www.supercupstockcarseries.com. Interactive updates throughout race day will be available on the Super Cup Stock Car Series Facebook as well as Twitter and Instagram.
_________________________________________________________