_________________________________________________________
Ebeling Outlasts the Competition and Remains Undefeated at Kingsport Speedway
Kingsport, Tennessee (June 22, 2019) – In a night filled with what turned out to be a game of musical driver seats there was one constant – Ben Ebeling continuously showed that he was the driver to beat when the Super Cup Stock Car Series comes to the "Concrete Jungle".
While the Hickory, North Carolina driver paced practice on more than one occasion, SCSCS Friday Night Thunder presented by Patrick Miller Photography would by no means be a runaway. In qualifying, Ebeling needed every ounce of speed to best his former car owner and last year's Pole Award winner Mike Potter around the 3/8-mile oval. His time of 15.806 seconds was only five one-thousandths of a second quicker, good enough for his second straight SCSCS Pole Award.
A redraw of three for Ebeling put Mocksville, North Carolina's Marc Jones and Uniontown, Pennsylvania's Bill Ashton on the front row, but it would not take long for the No. 44 Startown Carpet and Flooring / SwannysAutoSales.net / Battery Specialists / L & C Truck Repair / ShoTime Motorsports Ford to find the front. Ashton got the better start from the outside, but washed high into the second turn, allowing Ebeling to capitalize and find his way by both racers on the low side down the backstretch and coming back to the line to lead lap one.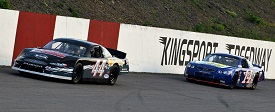 A yellow flag in the middle stages bunched the field; however, it was an ensuing longer green flag run that made things interesting. Potter worked his way around current series point leader Ron Langdon for second and each time by had steadily narrowed the margin on Ebeling. Within two car lengths of the leader, to the excitement of the crowd, the Johnson City, Tennessee driver peeked low entering the corner a couple times. Nevertheless, another caution flew when Samatha Rohrbaugh, who was running in fourth, came to a stop in turn one.
Following one more stoppage after a restart for an expiring engine on the No. 00 Office of Special Investigations / CBDmctOilProfits4U.com / Matt Metheney / Jones Motorsports Dodge of Jones, Potter had seven laps to search for a way to get his first career SCSCS victory. Unfortunately for him, time was short and Ebeling held off challenges to remain undefeated at Kingsport Speedway.
"That last caution really played into our hands," Ebeling, who became only the third driver in SCSCS history to win at least one race over four consecutive seasons, noted. "I really felt like his car looked, in the rear view mirror, like it was coming on in the longer runs, so when we got that caution with seven to go I really thought that was to our benefit and let us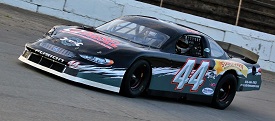 cool our tires and stuff down. He gave me a run for everything it was worth, that's for sure. We would've made a good race for it and (Shenandoah winner) Jon (Kerley) was on the radio with him, so I know Jon was egging him on and giving him all the hints. It would've been fun and would've been a good race to have been side by side, but Potter beat me out for the pole by a little bit last year so it's good to race with him like that. I enjoy that.
"It was going to be interesting in the second race. I hate that we missed it."
What Ebeling alluded to was right when the field lined up on the front straightaway to begin pace laps for the next Twin 50 of the night; out of nowhere a sudden and unexpected storm came through. As a result, the second race was washed out and canceled. Further clarification will be available in the coming weeks in regard to the calculation of South Division points with one less race now available.
Potter matched a career best second place effort, and took home some additional winnings for the performance. The Beer Run, a local Kingsport business, put up an additional amount if he could finish in the top three.
"I was a little better than (Ebeling) on the long runs and they had these bunches of cautions and he'd get away from me a little bit and I'd reel him back in," driver of the No. 14 SLB General Contracting / Potter Racing Chevrolet recapped. "I just didn't want to get into him. He's a friend, anybody I race with is my friend, but I didn't want to turn him or anything. If I was passing him I was going to pass him clean. We had a shot there, but just didn't have quite enough time to let him wear himself down a little bit."
Potter was also thankful for the all-star cast that assisted him in working toward having a win-contending caliber car at his home track.
"I had the best crew I could've had," Potter, who additionally prepared a car in which Nathan Archer debuted for a seventh place result, continued. "(Mike, David, and Tim) Blevins, Kerley, (former Pro Cup Series champion) Caleb (Holman) and Ron Turner, Dale (Schlobohm) that helps Nathan (Archer) who goes to all the races with me – I had a good bunch and had a good car. Just a little bit too loose in that first race. If I could have gotten up off the corner a little better, I probably would have beat Ben. Just needed a little bit more rear bite."
L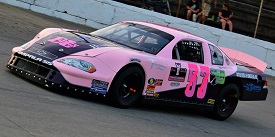 angdon padded his points lead and salvaged his fourth third place of 2019 in the No. 17 National Appliance / Oval Speed Unlimited / Langdon's Automotive Chevrolet in a night where simply finishing at the end of 50 laps was a battle. His closest competitor in the overall standings, Kevin Kromer, was one of those who were not as fortunate.
"That's the name of the game this year, being consistent," Langdon indicated. "I feel so bad for Kevin though. I really do. I don't want to have a points lead because somebody else breaks. That's kind of the way it goes sometimes."
The Freeport, New York veteran racer had one more comment in jest about being just short of running right with Ebeling and Potter.
"I think I'm going to bring my car to them and let them set it up and then we'll get it fixed."
Ashton and Larry Wilcox rounded out the top five finishers.
Kromer was one of the quickest competitors throughout the day, but come qualifying any chances of a positive night came derailed. The No. 77 Lehigh Valley Cancer Institute / Mission R.A.C.E.R. / K2 Motorsports Toyota went up in smoke on his warmup lap.
Without hesitation, teams came forward proposing different options in order for the Walnutport, Pennsylvania series stalwart to attempt at staying in the points race.
"I can't say a whole lot because it just goes to show the respect that a lot of people have for you when you've been in the series this long and the appreciation that you get from the series and the sportsmanship," Kromer explained, regarding the camaraderie that assembled together after hopping in Lauren Butler's No. 53 Edlin Automotive Services / Cornwell Tools / 3C Signs / Night & Day Sealcoating / Pink Zebra / Roof Repair Experts / Motive Parts of Homestead Chevrolet. "They offered me the car and the first thing, (team owner) Eddie (Butler) came over to me and said 'get your butt in the car' and I said 'is Lauren okay with it' because I didn't know if she knew about it. I got fitted in here and I'm waiting and Larry Berg (team owner of CR7 Motorsports) came up and says 'come on down, you can drive this one'. I said, 'well, I took the ride here'. Those two people are two good teams in this series and that's what this series is about."
Unfortunately, a power steering box failure relegated Kromer to 11th in the final order, but turned out to be a couple positions better than it would have been if he had not started at all in a series where every point can certainly count come year end.
While waiting for the next race, a first of two appearances at the always popular Jennerstown Speedway Complex in Pennsylvania on Saturday, July 13, fans will be able to watch the SCSCS Friday Night Thunder first Twin 50 presented by Patrick Miller Photography early next week thanks to Speedway Videos Production being on hand and filming all the action.
Head over to the official web site www.supercupstockcarseries.com and the Super Cup Stock Car Series Facebook, Twitter, and Instagram for more information and continued updates throughout the season.
Twin 50 No. 1:

1 44 Ben Ebeling

2 14 Mike Potter
3 17 Ron Langdon
4 35 Bill Ashton
5 6 Larry Wilcox
6 0 John Miller
7 99 Nathan Archer
8 29 Landon Brothers
9 00 Marc Jones
10 7 Samatha Rohrbaugh
11 77 Kevin Kromer

12 53 Lauren Butler

13 27 Hayden Brothers

Pole - 44

Laps Led - 44

Most Laps - 44

Halfway - 44

Hard Charger - 6, 0

Twin 50 No. 2:

Canceled due to rain
_________________________________________________________