_________________________________________________________
Summer Kickoff at the "Concrete Jungle" On Tap for SCSCS Competitors
Statesville, North Carolina (June 17, 2019) – The only Friday function of the year for the Super Cup Stock Car Series is up next as the teams and their 3,300 pound, 600 horsepower rides ring in the official start to summer at Tennessee's Kingsport Speedway on June 21st.
Thundering into the "Concrete Jungle" ahead of the pack to start off 2019 are two drivers separated by only three points for the season-long overall championship, in which both are likely making the longest tow of any competitors. The best Ron Langdon could do at the 3/8-mile oval last year was a sixth place result, but the Freeport, New York racer has collected an incredibly consistent record in the first six races with a trio of runner-ups and three third place finishes. He will most certainly keep focus on that trend continuing with maybe another step up on the ladder and a trophy or two to bring 700 miles home.
Kevin Kromer did not end up with the outcome he would have liked last June; however, the Walnutport, Pennsylvania skilled series competitor has put the past behind him in magnificent fashion. He will be the only previous winner during the 2019 season that is entered on Friday and looks to capitalize on an already three-win total in the first six races.
The two point leaders will have plenty more to contend with during the Twin 50s presented by Patrick Miller Photography. Ben Ebeling swept the show in 2018. The Hickory, North Carolina resident is driving for a different team this year, but under the ShoTime Motorsports banner was a threat for the win last time out at Shenandoah Speedway and the group is gearing up to get back into winners circle.
Local favorite Mike Potter will certainly be a factor once again after capturing his initial SCSCS Pole Award and leading many laps at Kingsport one year ago. The current intention is for Jon Kerley, winner of the first race at Shenandoah three weeks back, to serve in a crew member and potentially spotter role for his longtime friend. Potter additionally currently leads the South Division standings, which with Friday being the seventh and eighth eligible races, will begin the process of the best six finishes counting toward those points accumulated from April through August to set the stage for the champions to be named in September and October.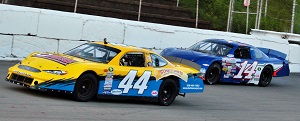 The Johnson City, Tennessee veteran will also be poised to acquire a first notch in the win column as well as provide advice to teammate Nathan Archer, who will be making his series debut after experience working with Potter Racing outside the driver seat on a frequent basis.
Six drivers will join Jonesborough, Tennessee's Archer as making their first ever appearance behind the wheel around the slightly banked concrete corners. North Carolina's Larry Wilcox searches for positive results in order to catch up in the South title race while West Virginia's Samatha Rohrbaugh would like nothing more than a finish to match the performance she has shown in past starts. Pennsylvania's Jason Schue makes a return after a two event absence and current top rookie Lauren Butler sees the Kingsport facility for the first time. Hayden and Landon Brothers were on hand last year learning all they could from the pit stall prior to making their series debut a couple races later. The York, Pennsylvania twins will get their first chance at speed on the surface too.
A quartet of racers, Bill Ashton, Larry Berg, and South Division contenders John Miller and Marc Jones, look to build upon the knowledge gained from the pair of 50-lap races in 2018 as well.
For those looking forward to being at the track on race day, pit gates open at 2:00 p.m. with the first SCSCS practice beginning shortly after. Qualifying will take place at approximately 6:45 p.m. following sessions for some of the supporting local divisions. The first of the Super Cup Stock Car Series Friday Night Thunder presented by Patrick Miller Photography Twin 50s is scheduled to take the green flag at 8:00 p.m.
An optional practice session will be offered to teams on Thursday from 3 p.m. until 8 p.m.
As a bonus for fans, the Super Cup Stock Car Series is offering an experience in which one randomly selected winner (and guest, if preferred) will get to spend the day in the pits and receive an in-depth view at what takes place on a given race day with point leader Ron Langdon and team. Details can be found at www.facebook.com/SCSCSRacing.
For a complete weekend schedule and more information please visit the official web site at www.supercupstockcarseries.com. Interactive updates throughout race day will be available on the Super Cup Stock Car Series Facebook as well as Twitter and Instagram.
_________________________________________________________