_________________________________________________________
Kerley Carries the Flag for the Veterans; Kromer Overcomes at Shenandoah
Shenandoah, Virginia (June 4, 2019) – To say that Saturday night's Veterans Classic Twin 50s at Shenandoah Speedway featured their share of action would be an understatement.
An outstanding field comprised of 20 Super Cup Stock Car Series racers was on hand for what turned out to be two wild 50-lap features. Earlier in the day, Ben Ebeling, making his first appearance of 2019, set a fast time of 16.686 seconds, his first career Pole Award.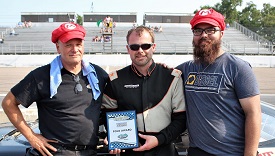 Ebeling was far from home free despite the strong qualifying run though as the ShoTime Motorsports team discovered a brake line issue immediately following the session. Luckily, the CR7 Motorsports team, on hand with driver Samatha Rohrbaugh, lent them the necessary parts n order for the No. 44 Startown Carpet and Flooring / SwannysAutoSales.net / Battery Specialists Ford to make it for the green flag.
Renick, West Virginia's Brian Harrison, making his first start since 2017 in the No. 15 Harrison's Motorsports Chevrolet, and Hiddenite, North Carolina driver Jon Kerley in the No. 4 Monk's Crappie / Potter Racing Chevrolet started the first Twin 50 from the front row after a six car redraw. Kerley jumped to a comfortable lead during much of the first 20 circuits.
Following an incredible battle for second with nearby Midland, Virginia's JJ Pack and after a couple cautions that bunched the field, Southern National

Motorsports Park two-time winner from two weeks ago, Kevin Kromer, showed strength once again and powered to the lead prior to halfway in his No. 77 Lehigh Valley Cancer Institute / Mission R.A.C.E.R. / K2 Motorsports Toyota.
Kromer would not be able to break too far ahead in this one both due to multiple ensuing yellow flags and the competitive racers on his tail. While Kerley and Pack each slipped back in the order, current SCSCS point leader Ron Langdon attempted to use the outside line to challenge the Walnutport, Pennsylvania racer. In addition, Ebeling began to emerge as a contender running a lower line around the 3/8-mile progressively banked speedway.
The pivotal moment came on lap 44 when they went three-wide and in making every effort to hold his line in the middle, Kromer spun in turn three, collecting Ebeling below him. Ebeling, while suffering damage to the right front quarter panel, stayed out on the track but was sent to the rear for attempting to

make the pass on the apron. A warning was relayed to drivers and spotters ahead of time that only two tires could be below the marked white line on the inside of the corners while in the act of advancing a position. Kromer went to the back as well for initiating the caution.
This gave Langdon sole possession of the top spot with his No. 17 National Appliance / Oval Speed Unlimited / Langdon's Automotive Chevrolet for the next few circuits, but it was the aggressive Kerley who made his car stick for the final lead change of the race.
The Veterans Classic was the first SCSCS checkered flag for Kerley, who served in the United States Marines, and was his first trophy in 24 years since his successful Late Model Stock Car racing days.
"Coming down to get the American flag and make a lap is something I always wanted to do," Kerley remarked, referring to the post-race victory lap. "We didn't have the best car; we just persevered and things rolled our way. I've got to thank Monk's Crappie, (car owner and fellow Marine) Mike Potter, my dad, Mark Cash, and my family for putting up with all the hours I'm not at home, working and off doing this. At least I got one more."
Langdon achieved his third straight runner-up finish while Kromer recovered for a podium result. The returning Brent Nelson and Stahlstown, Pennsylvania's Jerod Brougher were fourth and fifth crossing the start-finish line, respectively.
Kerley redrew sixth for the second feature, which put Petersburg, West Virginia's Nelson in the No. 80 Precision Auto Collision / Airtek Inc. / Atkinson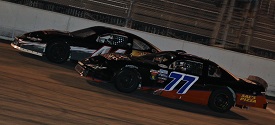 Welding / QH Design / Nelson Motorsports Chevrolet and Lauren Butler in her No. 53 Edlin Automotive Services / Cornwell Tools / 3C Signs / Night & Day Sealcoating / Pink Zebra / Roof Repair Experts / Motive Parts of Homestead Chevrolet on the front row.
Nelson broke out into the early lead, but coming on strong yet again was Kromer, who took over first on lap four. Following a pair of early cautions, the longest green flag run of the night continued past halfway as Kromer and others, including Nelson, Langdon, Rohrbaugh, Ebeling and more, had to navigate lapped traffic.
During the latter portion of this 50-lap feature, it seemed like the next yellow flag would set off one after another. Kromer held the lead with two primary challengers, Langdon and then Ebeling, to the outside of him for every restart. The experienced racer hit the marks he needed and went on for his third victory of 2019.
"It's a pretty big deal because there were a lot of good cars here tonight," Kromer noted about the deep field of talent. "The first 50 lapper you fought for every position. It didn't make a difference if you were leading or were second or third; you were fighting.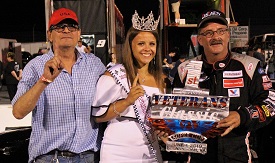 "The second one, the last five laps, they went forever. We just had restart after restart. I told my spotter (Rick Wellek), I don't think I have any good restarts left in me anymore. It's like Ben (Ebeling) said (after the race), 'you had one good one left, and that's all you needed'. It's a big deal to win, especially with winning two weeks ago and coming back and winning another one, it's tough to do in this series."
It was also an exceptional performance because Kromer felt effects of dehydration shortly following the first 50 laps and was in need of medical aid in order to be primed for the second green flag. He was additionally presented, by event promoter Jeffrey Thielscher, with a custom trophy courtesy of Dragonslayer Industries that went to the driver with the best combined result.
Hickory, North Carolina's Ebeling was able to bounce back to finish second after a disappointing outcome to the first race.
"Kevin did exactly what he was supposed to do as the leader," Ebeling commented. "The restart before the last one I thought I got him and I thought we were going to run him right to the checkered flag, but the caution came out again. That last restart he got a little better restart than I did, but congrats to him.
"I'm really proud of the guys. First laps we put on this thing was today. Really good effort with everybody involved with this thing to get it out here. Thanks Mike Kurkowski for giving me this opportunity with ShoTime and to my sponsors and my dad and everybody."
Langdon had a few shots at career win number one, but it appeared that Kromer was able to get off the second corner and accelerate onto the backstretch only slightly better. He would settle for third, which remains his worst finish of 2019, in this one.
"Little by little he creeped away," the Freeport, New York racer said. "I tried. Car just wasn't good enough."
The points tighten up after six races with Langdon holding on to a mere three point advantage overall, but the consistency so far has him feeling thrilled.
"If I could finish top three every week I'd be pretty darn happy with that," Langdon concluded. "Try not to make mistakes. We'll get trophies one of these days. (Director of Competition) Joe (Schmaling) said it's just not my turn yet."
Winner earlier in the night, Kerley, went on to finish fourth despite a couple mishaps with other racers during the closing laps. Nelson held on for a fifth place finish in his first time out with the car he brought to Shenandoah.
The next pair of races will take place on Friday, June 21 at "The Concrete Jungle", Tennessee's Kingsport Speedway. Kromer has inched ever so closer to Langdon in the standings, and while his results and luck at the 3/8-mile were not the best a year ago, he had only a few short words to say about the upcoming visit.
"We'll be ready."
Fans can go back and watch every lap of Saturday night's Veterans Classic action by accessing the on-demand broadcast that aired live on Saturday night. For details, visit PitRow.tv or LegendsNation.tv.
Go to the official web site www.supercupstockcarseries.com and the Super Cup Stock Car Series Facebook, Twitter, and Instagram for continued updates throughout the season.
Race No. 1:

1 4 Jon Kerley
2 17 Ron Langdon
3 77 Kevin Kromer
4 80 Brent Nelson
5 71 Jerod Brougher
6 53 Lauren Butler
7 00 Marc Jones
8 44 Ben Ebeling
9 14 Mike Potter
10 15 Brian Harrison
11 0 John Miller
12 16 Edward Adams III
13 2 Quincy Sponseller
14 7 Samatha Rohrbaugh
15 61 JJ Pack
16 41 Andrew Kostelnik
17 35 Bill Ashton
18 6 Larry Wilcox
19 27 Hayden Brothers
20 29 Landon Brothers

Pole - 44

Laps Led - 4, 77, 17

Most Laps - 4, 77

Halfway - 77

Hard Charger - 53

Race No. 2:

1 77 Kevin Kromer
2 44 Ben Ebeling
3 17 Ron Langdon
4 4 Jon Kerley
5 80 Brent Nelson
6 71 Jerod Brougher
7 6 Larry Wilcox
8 35 Bill Ashton
9 15 Brian Harrison
10 16 Edward Adams III
11 00 Marc Jones
12 0 John Miller
13 53 Lauren Butler
14 2 Quincy Sponseller
15 61 JJ Pack
16 7 Samatha Rohrbaugh
17 29 Landon Brothers
18 14 Mike Potter
19 41 Andrew Kostelnik
20 27 Hayden Brothers

Pole - N/A

Laps Led - 80, 77

Most Laps - 77

Halfway - 77

Hard Charger - 6
_________________________________________________________