_________________________________________________________

Full Moon Doesn't Evade Kromer from Victory Lane, Twice, at SNMP
Kenly, North Carolina (May 19, 2019) – From the start of an optional Friday practice session, it was evident that the first driver to figure out the puzzle that was the Southern National Motorsports Park was going to be tough to beat during Saturday night's Super Cup Stock Car Series Twin 50s.
Walnutport, Pennsylvania driver Kevin Kromer was one of them who ran into trouble initially, spinning in that session but luckily escaping any contact with the wall. From then on, the No. 77 Lehigh Valley Cancer Institute / Mission R.A.C.E.R. / K2 Motorsports team studied the 4/10-mile and proceeded to turn their luck around in a dominating fashion.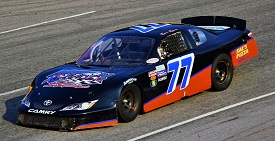 First was his second career Pole Award, setting a blazing fast time of 16.461 seconds. Not even a redraw of sixth would slow Kromer down, as he navigated around front row starters Marc Jones in the No. 00 Office of Special Investigations / CBDmctOilProfits4U.com / Matt Metheney / Jones Motorsports Dodge and John Miller in the No. 0 Diddlefluffin Enterprises / Urgent Property Solutions / CBDmctOilProfits4U.com / Jason Schue Racing / Zero Cents Racing Team Chevrolet as well as his closest competitor for the evening, Ron Langdon, by the time the field made it back to the line to complete lap one.
Kromer went on to lead all of the remaining circuits, hanging on over Langdon, Bill Ashton, Mike Potter, and Jones during a final three lap dash after a late race caution.
The second 50-lap race of the night saw the veteran driver start fourth and would take until the fourth lap this time around to get by early leader Ashton for the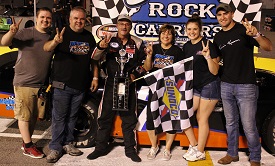 top spot. Langdon and Ashton once again remained within striking distance, but were not able to do anything with Kromer on this particular night.
It was an evening of many firsts for a driver that has won before in the SCSCS, but not since 2014: first time sweeping an event's races, first time winning more than once in a season, first time attaining maximum points on a given night, and the first time for a Toyota-bodied car to reach victory lane.
"I think it was a long time coming, since it's been five years since I've won," Kromer noted. "It feels pretty good, but to sweep like that, that's not easy to do."
Since that 2014 season, there have been all kinds of challenges for Kromer and team. From issues under the hood even most recently in April at Dominion Raceway to overcoming a battle with cancer, the hard work and determination paid off on this night.
"I said it all day Friday, whoever finds grip here is going to be fast," Kromer said. "We worked on the car, we did a couple things to it, and we found it. I was fortunate, because usually I never find that kind of stuff. But we found it this time and we made it count when we had to."
Not even the full moon could turn against him, and perhaps it was a few other luck-related factors that helped them escape any obstacles on this certain Saturday.
"My wife is superstitious and (the hotel WiFi code) was all sevens so that was a good sign, and then I think when we were coming to the track the temperature was 77 degrees," Kromer mentioned. "She figured it was our night to win."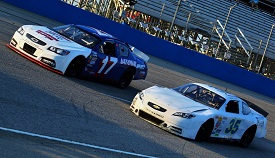 Freeport, New York's Langdon fought an ill-handling car all weekend, including a visit with the wall on Friday evening that resulted in having to patch up the back bumper. Nevertheless, the No. 17 National Appliance / Oval Speed Unlimited / Langdon's Automotive Chevrolet driver and car were good enough to come home second best in both races, a best SCSCS result to date, after a spirited battle on multiple occasions with Ashton's No. 35 Chevrolet.
"Kevin just had us covered, and I knew Bill (Ashton) was actually going to be tough, because he's down on horsepower and at a track like this works to his advantage," Langdon indicated. "I don't think once did I get flat to the floor that whole race, just spun the tires down the straightaway."
What had Langdon the most excited is that he leaves SNMP with the points lead for the first time in his fairly short SCSCS career, something he knows though will take a continued streak of consistent effort.
"I've raced for 41 years and I've never won a championship as a driver," Langdon added. "I've had them as a car owner, crew chief, and everything else you can imagine. If we can take what the car gives us, try and make smart adjustments, try and drive smart, just do the best we can and not make any mistakes."
Ashton entered this event as the most recent SCSCS winner in the field, taking his only checkered flag in 2016 at Jennerstown Speedway. The Uniontown, Pennsylvania driver narrowly avoided extensive damage from an early altercation racing with Miller for position and rebounded for a pair of third place finishes.
"I started up front and the two guys got past me, but after that I was able to catch back up to them," Ashton commented. "Once their tires heated up mine just started coming in, but when they had a caution they cooled their tires."
A strong start to the season has one of the top performing rookies from back in 2014 solidly in the top five standings, but instead of looking too far ahead, Ashton was complimentary of the facility the series debuted at on this night.
"I think Southern National Motorsports Park might have just become one of my favorite racetracks because you can do whatever you want here," Ashton observed. "You can get it as loose as you want, or whatever you want. I wish my buddy from Budget Blinds from Altoona and State College could have been down here with us to enjoy these two third places, which is really good for me. I had a blast tonight."
Potter utilized another late race restart to climb into his second straight fourth place result. The Johnson City, Tennessee driver of the No. 14 SLB General Contracting / Potter Racing Chevrolet sits second in the overall standings and is the early favorite in the South division title hunt.
Series rookie Lauren Butler turned in her best showing; qualifying her No. 53 Edlin Automotive Services / Cornwell Tools / 3C Signs / Night & Day Sealcoating / Pink Zebra / Roof Repair Experts / Motive Parts of Homestead Chevrolet within the redraw and ending the evening with her second career fifth place result.
Next up is a return to Virginia's Shenandoah Speedway in two weeks for the inaugural Veterans Classic. Kromer has competed at the 3/8-mile on four occasions and achieved a finish of third the last time the series visited in 2013. While the momentum is on his side, he is not going to let that mindset necessarily dictate their plan for the next event.
"Everything could go backwards too there," Kromer said. "We take it one race at a time. It's been a long time since we last ran there, so I'll have to look back at my notes and see what we come up with."
Drivers such as Langdon and Ashton will be seeing the track for the first time, in which numerous key players absent from SNMP are expected to be back, and perhaps Ashton summed up his preparations the most concisely. "If my heart can take it, then my mind is ready for it."
Please visit the official web site at www.supercupstockcarseries.com and the Super Cup Stock Car Series Facebook, Twitter, and Instagram for continued updates throughout the season.
Twin 50 No. 1:

1 77 Kevin Kromer

2 17 Ron Langdon

3 35 Bill Ashton

4 14 Mike Potter

5 00 Marc Jones

6 53 Lauren Butler

7 0 John Miller

8 6 Larry Wilcox

9 2 Quincy Sponseller

10 27 Hayden Brothers

11 44 Ricardo Knogan

12 29 Landon Brothers

Pole - 77

Laps Led - 77

Halfway - 77

Most Laps - 77

Hard Charger - 14

Twin 50 No. 2:

1 77 Kevin Kromer

2 17 Ron Langdon

3 35 Bill Ashton

4 14 Mike Potter

5 53 Lauren Butler

6 0 John Miller

7 6 Larry Wilcox

8 00 Marc Jones

9 29 Landon Brothers

10 2 Quincy Sponseller

11 27 Hayden Brothers

12 44 Ricardo Knogan

Pole - N/A

Laps Led - 35, 77

Halfway - 77

Most Laps - 77

Hard Charger - 0, 6
_________________________________________________________