_________________________________________________________
Shake-up in store for SCSCS Wild Card Inaugural Appearance at Southern National Motorsports Park
Statesville, North Carolina (May 14, 2019) – The first event of the year has been in the books for more than two weeks, giving fans and competitors the time to process what to expect for the 2019 season. Nevertheless, this weekend's Super Cup Stock Car Series Twin 50s at Southern National Motorsports Park is only the beginning of what is to come; setting the stage for a probable shake-up atop the leaderboard after all is said and done.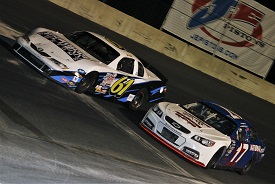 Two of the five drivers that accumulated the most points at Dominion Raceway will be unable to make the first journey for the series since 2011 to the state of North Carolina, meaning all kinds of jockeying in the positioning amid the upper echelon of contention are expected. Not only that, but there are a couple other major wildcard factors playing their part.
Only one driver currently confirmed for this weekend's event, Denver, North Carolina's Larry Wilcox, has previously competed in the 3,300 pound, 600 horsepower stock cars on the 4/10-mile oval surface. That was in a Pro Cup car more than 10 years ago. The remainder of talent will have a short window to figure out the nuances associated with the 17-degree banked turns and seven-degree banked straightaways.
A majority will likely adapt efficiently based on years of experience and success. Entering Saturday, May 18 with the most momentum are Ron Langdon from Freeport, New York, Mike Potter from Johnson City, Tennessee, and JJ Pack from Midland, Virginia. All three are currently in the top five in the overall standings early in the season and would like nothing more than adding a victory or two to their 2019 accomplishments. Potter and Pack are also near the front of the South Division standings, which will award points for finishes during each of the 50-lap features.
Pack is the 2014 SCSCS champion but has not been victorious since the night he was crowned with the title that year. Joining him among those looking to break a winless drought of multiple years include Walnutport, Pennsylvania's Kevin Kromer, Uniontown, Pennsylvania's Bill Ashton, and Petersburg, West Virginia's Larry Berg. Pack and Kromer each led laps in one of the Dominion races three weeks prior.
A diverse quartet of drivers have only competed in a SCSCS ride at either Dominion or Jennerstown Speedway up until now and will be getting their first taste of branching out to a facility they are seeing for an initial time. Lauren Butler from West Mifflin, Pennsylvania recorded a pair of top 10s in the last outing and twin teenage brothers Hayden and Landon Brothers from York, Pennsylvania each achieved a best ninth place finish. Samatha Rohrbaugh, granddaughter of the aforementioned Larry Berg, has shown impressive speed but looks to seal the deal with her first top 10 result.
Littlestown, Pennsylvania's Jason Schue hopes to carry a trend of top 10 finishes to Kenly, North Carolina while Mocksville, North Carolina's Marc Jones, Miami, Florida's John Miller, and Front Royal, Virginia's Edward Adams III will be searching to turn their fortune around for their 2019 campaign. The final of a host of Pennsylvanians is Fairfield's Quincy Sponseller. The multiple-time karting champion will make his series debut after receiving the opportunity to get some track time in the much heavier vehicle during practice at Dominion.
For those looking forward to being at the track on race day, first SCSCS practice begins at 2:00 p.m. with qualifying taking place shortly after 4:05 p.m. A driver autograph session will be part of the pre-race festivities at approximately 5:50 p.m. with the first of the Super Cup Stock Car Series Twin 50s at Southern National Motorsports Park scheduled to take the green flag at 7:00 p.m.
An optional practice session will be offered to teams on Friday from 3 – 7 p.m. as well.
For a complete weekend schedule and more information please visit the official web site at www.supercupstockcarseries.com. Interactive updates throughout race day will be available on the Super Cup Stock Car Series Facebook as well as Twitter and Instagram.
_________________________________________________________