_________________________________________________________
Super Cup Stock Car Series is Wide Open Ahead of Duels at Dominion presented by Patrick Miller Photography
Statesville, North Carolina (April 23, 2019) – Months of tireless preparation have been reduced to weeks, days, and soon, hours and minutes for numerous Super Cup Stock Car Series teams as the 2019 season campaign begins this weekend at Dominion Raceway and Entertainment complex.
With zero former feature winners, halfway leaders, or even fast qualifiers at the Thornburg, Viriginia facility, located immediately off I-95's exit 118, expected on Saturday, it opens the opportunity for a number of possibilities to come forth.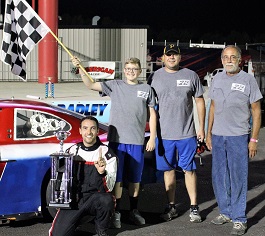 Two racers announcing their intentions to compete have walked away from the 4/10-mile with hardware before. Jerod Brougher captured a victory in a non-points dash among drivers who had yet to win a SCSCS race during the inaugural Dominion appearance in 2017. The Top Performing Rookie award recipient that year from Scottdale, Pennsylvania sat out most of 2018, but did achieve a runner-up result in a start at Jennerstown Speedway and is making final adjustments for an increased schedule this year.
Ron Langdon took a trophy home to New York back in September, also upon being the highest finisher not yet to win a SCSCS race. Now with a full season of touring series experience accumulated, the Long Islander hopes to improve once more and potentially grab that first career points-paying accolade.
While they were not out front at the time of the checkered flag, three drivers enter the upcoming weekend having spent time leading laps throughout the past five Dominion races. Leading that category is veteran Brent Nelson. The Petersburg, West Virginia resident recorded his best overall season performance a year ago, winning on three different occasions. Nelson will bring that same proven ride and certainly could be considered as one to beat.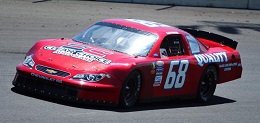 Allen Purkhiser and Kevin Kromer have additionally held the lead over the course of a race or two. Purkhiser's only SCSCS start to date came last April at Dominion in which the South Carolina driver qualified third and finished second. Walnutport, Pennsylvania's Kromer brings the car in which he locked up the 2018 Northern Division title at Jennerstown and followed with a strong runner-up showing at Dominion.
The 2019 kickoff will award points toward Northern, Southern, and Overall championship battles.
Two more that have displayed they can close out a race in contention are Mike Potter and Marc Jones. Both have won the Hard Charger of the race award at Dominion in the past for moving up the most positions from start to finish. Potter, from Johnson City, Tennessee, had a breakthrough season in 2018 with several top fives and will have an updated look to his machine for the opener. Mocksville, North Carolina's Jones will be running a newer car compared to last year and a new number in search of building upon outcomes in his rookie year. If both step it up in qualifying, each could very well be in the hunt when the closing laps come around.
Two others have shown speed by qualifying within the top six redraw at previous Dominion events, but have their fingers crossed for some more fortunate luck this time around. 2014 SCSCS champion JJ Pack lives nearest to the track and will lead a three-car team effort from his Midland, Virginia-based shop, including past series regular Tim Richardson and fellow Virginian Edward Adams III. Adams has previously tested at Dominion and had a respectable debut at Midvale Speedway early last year.
Larry Berg joins Pack as a driver looking to put an end to a winless streak. The Petersburg, West Virginia driver may only get one chance though as it is likely he will split the driving duties with his granddaughter Samatha Rohrbaugh, who finished 11th in her series debut during the 2018 opener at Dominion.
Lauren Butler as well as twins Hayden and Landon Brothers are ready to begin their first full season of competition on a high note, while fellow Pennsylvanians Jason Schue and Bill Ashton plus North Carolina's Larry Wilcox will add their names to the list of those trying to utilize previous knowledge gained to improve their results. Miami, Florida's John Miller will also make his first full-distance Dominion attempt in a car formerly belonging to a championship team after dabbling some in a lesser-powered ride during the inaugural visit in 2017.
Rounding out the field of confirmed entries, but more than likely not doing so for very long on race day, will be a pair of drivers seeing the facility for the first time. Hiddenite, North Carolina's Jon Kerley will be running a team car, which has finished in the top five before, for Mike Potter. Braddock, Pennsylvania's Andrew Kostelnik hopes to parlay a trio of third place finishes at his home track at Jennerstown into another impressive showing in his debut at Dominion.
For those looking forward to being at the track on race day, first SCSCS practice begins at 1:00 p.m. with qualifying taking place shortly after 4:30 p.m. after the local divisions partake in their sessions. A Meet and Greet with the drivers will be part of the pre-race festivities with the first of the Duels at Dominion presented by Patrick Miller Photography set to go at 7:00 p.m.
An optional evening open practice session will be offered to teams on Friday as well.
For a complete weekend schedule and more information please visit the official web site at www.supercupstockcarseries.com. Interactive updates throughout race day will be available on the Super Cup Stock Car Series Facebook as well as Twitter and Instagram.
_________________________________________________________