_________________________________________________________
2019's Championship Structure Increases Opportunities and Flexibility for SCSCS Teams
Statesville, North Carolina (February 21, 2019) – One by one in recent weeks, seven facilities across six states have made their commitment to be a part of the 2019 Super Cup Stock Car Series schedule. With all the pieces in place, officials have announced a few adjustments to the structure in which the naming of champions will be calculated for the new season.
The twin race format remains intact, in which teams will often be facing the challenges that come with competing once in daylight and once following sunset, all the while managing one set of tires through qualifying and both features. With the growing footprint of support in the form of participating racers and partnering venues resulting in an increased slate of races on tap, teams will be provided with extra flexibility yet encourage continued participation throughout the nine event / eighteen race season-long campaign.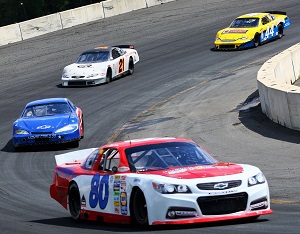 "We've added a few new tracks this year and will continue to add tracks next year as well," SCSCS Director of Competition, Joe Schmaling, commented regarding the goal to have an eventual format that could resemble a championship series that was once established in the heyday of the former Pro Cup series. "We have expanded our presence in several directions for 2019 with the intention of going to a north and south stand-alone series in the near future."
During the scheduled events from April through August, the best 12 of 14 finishes for a competitor will be counted toward their overall point total. This allows for situations, such as a team having an unfixable issue early in the first of twin races or the existence of a complication that prevents one from appearing at an event, not to be as devastating toward their championship hopes.
In addition, while separate North and South division titles return for a third straight year, select events will be denoted as being eligible for either to earn points toward which the driver chooses as their 'home' division.
"Our divisional points system for 2019 will allow teams to compete as we grow our overall program," Schmaling added. "Combined races are a way of achieving our goal."
In other words, the season opening event at Dominion Raceway in Thornburg, Virginia on Saturday, April 27 will be a far cry from a soft launch for the 2019 season. Virginia's Shenandoah Speedway on Saturday, June 1 and Indiana's Salem Speedway on Saturday, July 27 will join Dominion serving as both North and South division points-paying races based on overall finish in each race.
Including the South events at North Carolina's Southern National Motorsports Park on Saturday, May 18 and Tennessee's Kingsport Speedway on Friday, June 21 as well as the North events at Pennsylvania's Jennerstown Speedway Complex on Saturday, July 13 and Ohio's Midvale Speedway on Saturday, August 10, there will be opportunities aplenty for drivers to shine within their division and the bigger overall SCSCS championship picture. The weekend of August 24th will be reserved as a potential rain date.
In all, competitors will have five events / ten races to accumulate the best six finishes in their specific 'home' division. This will give those who are unable to travel for the complete schedule the shot at vying along with the series regulars for an incentive.
An exhilarating bid for the 2019 accolades will promptly commence once the calendar turns the page to September. An adjustment based on the aforementioned parameters will be put forth to the top placers overall in each division as of the end of August; the highest ranked driver starting with the most points, second ranked shortly behind, and so on. Additional specifics will be shared at a later date.
The return trips to Jennerstown and Dominion will truly be a search to conquer the most coveted piece of real estate in Somerset County and Spotsylvania County, respectively. The Saturday, September 14 event at the 1/2-mile track amidst the Laurel Highlands will ultimately position drivers for their final run at the various titles.
On Saturday, September 28 the initial focus at the 4/10-mile facility will be during the first twin race in which the North and South champions will be determined once the checkered flag waves. At the same time, performance will importantly count toward the overall SCSCS championship, which will be decided at the conclusion of the second twin and final race of the season.
Drivers must participate in at least six races in their division or at least 12 races overall from April through August, and compete in all of the September races to remain eligible for any championship.
As it stands every year, the 2019 schedule is subject to change due to weather-related or any other unforeseen circumstance.
Probable national television and online streaming presence is currently in the works for 2019. Interested parties are encouraged to contact SCSCS Director of Competition Joe Schmaling at JoeSCSCS@gmail.com as soon as possible, and a release outlining the official plans is expected to be forthcoming.
More information regarding each event will be available as the start of the new season approaches at www.supercupstockcarseries.com, Facebook (search Super Cup Stock Car Series), Twitter (@SCSCSRacing), and Instagram (SCSCS_Racing).
Super Cup Stock Car Series 2019 Schedule (ALL events feature a twin race format and award points toward the overall championship)
Saturday, April 27 - Dominion Raceway, Thornburg, VA (BOTH North and South Points)
Saturday, May 18 - Southern National Motorsports Park, Kenly, NC (South Points)
Saturday, June 1 - Shenandoah Speedway, Shenandoah, VA (BOTH North and South Points)
Friday, June 21 - Kingsport Speedway, Kingsport, TN (South Points)
Saturday, July 13 - Jennerstown Speedway, Jennerstown, PA (North Points)
Saturday, July 27 - Salem Speedway, Salem, IN (BOTH North and South Points)
Saturday, August 10 - Midvale Speedway, Midvale, OH (North Points)
Saturday, August 24 - Potential Rain Date
At conclusion of August, standings will be adjusted based on driver's best 6 finishes in their division (North/South) and best 12 finishes toward overall championship
Saturday, September 14 - Jennerstown Speedway, Jennerstown, PA (North, South, and Overall Points)
Saturday, September 28 - Dominion Raceway, Thornburg, VA (Race 1 will award North and South titles as well as award points toward overall championship, Race 2 decides overall SCSCS champion)
_________________________________________________________