_________________________________________________________
Two Return Visits to Popular Jennerstown Speedway Complex in Store for SCSCS in 2019
Jennerstown, Pennsylvania (November 29, 2018) – Over the past five years, Super Cup Stock Car Series competitors and fans alike circle a favorite pilgrimage on the calendar to the Laurel Highlands region of Pennsylvania.
Jennerstown Speedway Complex will once again be a premier part of the 2019 schedule with two exciting summer events for the 3,300 pound, 600 horsepower full-bodied touring series teams on Saturday, July 13 and Saturday, September 14.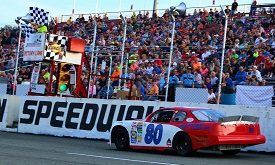 The historic 1/2-mile oval has hosted the SCSCS for a record 18 races on 10 different dates. Drivers show their eagerness on every occasion not only to do battle in front of packed stands, but to meet many of the seasoned enthusiasts and to help introduce and attract community members to short track racing.
"This is home to us," SCSCS Director of Competition Joe Schmaling remarked. "That's why we come to Jennerstown. They love us here and we love to be here. It's one of the finest racetracks in the country."
Jennerstown management has additionally invested an immense amount of effort in recent seasons in converting local casual motorsports viewers into lifelong followers.
"It takes a little out-of-the-box approach, but we found out that if you put the hard work to it, we're getting crowds of five-to-six thousand people weekly, and they're coming back and becoming those race fans," track General Manager, Bill Hribar, explained regarding their marketing strategies.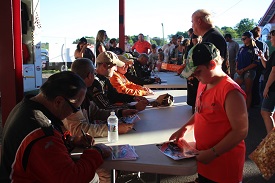 In a time where finances can be tight, the affordable prices that SCSCS facilities and their accommodation and entertainment partners offer results in an alternative for entire families to witness stock car racing at its finest and, if they choose, spend a weekend in the area.
"A simple family of four just can't travel and go to these big races and take a chance at getting rained out or paying hotels and fuel and so on," Hribar continued. "They can get that same experience here at Jennerstown or any of the Super Cup Stock Car Series tracks.
"Jennerstown is the total package. When you come here and see this for the first time, you will realize what a gem it really is in Somerset County, Pennsylvania."
The annual July date will be a crucial event for the Northern title fight and once again will be joined with Jennerstown's invigorating five weekly division evening program. The September date, which will be paired up for the second straight year along with the lightning fast Must See Racing pavement winged Sprint Cars, will have lots on the line for SCSCS

competitors. Currently in the plans is for the event to count toward both North and South points.
Tickets for 2019 events are already available for advance purchase at jennerstownspeedway.tix.com.
While further precise information regarding race format and added offers and chances for fan, driver, and team participation remain in the development stages, any businesses or individuals interested in partnering for either event are encouraged to inquire with Joe Schmaling at JoeSCSCS@gmail.com or Bill Hribar at billhribar@jennerstownspeedwaycomplex.com.
More information regarding each event and a full schedule will be available as the start of the new season approaches at both www.jennerstown.org and www.supercupstockcarseries.com. Be sure to stop by Facebook (search Super Cup Stock Car Series / Jennerstown Speedway Complex LLC), Twitter (@SCSCSRacing), and Instagram (SCSCS_Racing) for updates and announcements that become available.
_________________________________________________________