_________________________________________________________
Nelson Sweeps in Wild Full Moon Night at Jennerstown
Jennerstown, Pennsylvania (August 26, 2018) – Fate smiled upon one particular competitor who has seen his share of disappointments in 2018 during Saturday's eventful Super Cup Stock Car Series Twin 50s at Jennerstown Speedway. Petersburg, West Virginia's Brent Nelson had all the breaks go his way en route to an evening sweep, the second time in which such a feat occurred for him at the Pennsylvania facility.
Nelson's sixth and seventh career SCSCS victories came with a new sponsor on board.
"To come home winning with Royal Purple on the hood, I can't ask for a better night," Nelson remarked. "We've had rotten luck about everywhere we've gone this year. We've run well, but wrong place at the wrong time and as they say, that's racing."
Nelson's No. 80 Royal Purple Synthetic Oil / Airtek Inc. / Steam Turbine Services / Precision Auto Collision / Atkinson Welding Chevrolet qualified a close second to Bob Schacht, who won his season record-tying fifth Pole Award.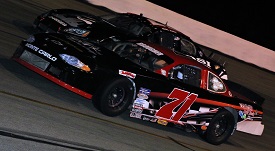 It was 2017's top rookie Jerod Brougher, in his first appearance of the year, who drew the pole. Cars were required to take evasive action almost immediately, as the Scottdale, Pennsylvania driver's machine suddenly slowed in the initial corners on the opening lap. July's second Twin 50 winner J.P. Crabtree was the only car to sustain cosmetic damage as a result of the left front fender falling off his No. 42 USA Tire / J.R.'s Landscaping / Stagger Pros / Support The Troops / Don Gnat Racing Ford.
Crabtree was able to continue and followed Schacht by local former Street Stock champion Andrew Kostelnik for second in the opening laps and then by early leader Toby Grynewicz shortly after. It was a yellow flag for the expired engine of John Komarinski on lap 19 that changed the complexion of the first race and entire night.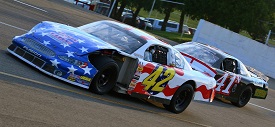 On the restart lap, contact ensued between Crabtree and Schacht, and resulted in Schacht being sent for a spin and his No. 75 Engineered Components / Bob Schacht Motorsports Chevrolet backed into the turn four wall. The aftermath collected an innocent Kevin Kromer as well, ending the Walnutport, Pennsylvania racer's night abruptly.
Crabtree was sent to the rear for the contact, but recovered to a runner-up result. Schacht lost some laps, but the SCSCS overall points leader got back on the track to salvage an eighth place finish in an attrition-filled 50-lap event.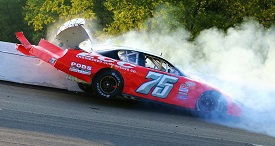 Both drivers, who had a history of contact with each other from earlier in the season, offered their point of view on what they felt had occurred.
"It was just hard racing for the lead," Crabtree explained. "I had my front end down in there on him and I guess he thought he was going to close the door on me and it wasn't going to affect him, but I stayed in it."
"For whatever reason, the 42 car just took me out and I wound up backwards into the fence," Schacht commented. "I don't know what his problem is, if he's got issues with Midvale and what happened or whatever, but if he's got a problem with me then he's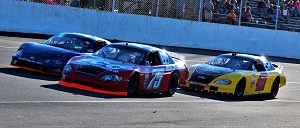 messing with the wrong guy."
All of the mayhem under the full moonlit sky opened the door for Nelson, who was riding solidly in the top five beforehand and led the rest of the way. He would additionally give the birds-eye point of view he had of the altercation after the race.
"Going in I was running my own line and they got in there; I don't know if J.P. slipped up," Nelson described. "He did get into the left-hand quarter panel and turned Bob, but call it a racing incident, call it that he took him out, I don't know the answer. Only J.P. knows that."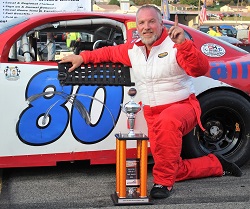 Following Nelson and Crabtree to the line were Kostelnik and Grynewicz. Marc Jones turned in a best career fifth place finish and scored his third Hard Charger award of the season.
Third-year driver Jason Schue survived to finish sixth, earning the driver of the No. 3 Peckie's Auto Body / Larry's Lawn Mower Repair / 1st Choice Computer Solutions / Rage Karts Chevrolet his first ever attempt at participating in the redraw for the front three rows for the second Twin 50, in which the Littlestown, Pennsylvania driver drew the third starting position.
Nelson and Kostelnik redrew the front row, but one driver would be absent from the second feature. Director of Competition, Joe Schmaling, provided the reasoning for his call to park Crabtree following the first Twin 50.
"We went on just watching the 42 knowing what was done and how he does stuff and I decided at the end of the race it's time for him to go home," Schmaling answered. "He's leading our Northern points, which is kind of a shame, but if he calms down he will be welcome back."
Nelson got out to an impressive lead from the get go in the second Twin 50, but maneuvering toward the front with his patched up car was Schacht. On lap 41, Nelson slipped high in turn four which allowed Schacht to speed by for the top spot; however, two circuits later things would turn much worse.
Throughout the course of the caution free feature, Schacht's car noticeably displayed sparks going through the turns. With seven laps remaining, the right front tire loudly popped sending the Mooresville, North Carolina driver hard into the turn four outside wall. Schacht was okay.
Nelson was not home free yet with some new challengers on the final restart, Kostelnik and Brougher, hungry to claim their first victory. The veteran driver held them off over the closing laps to sweep the night.
"I don't know if I got in some marbles up there but honestly I thought I had a right rear tire going down," Nelson said about his car late in the going. "The car was extremely loose after that and I followed Bob and backed off a little bit and just rode it out. I thought, well, he could have a little bit of bad luck and lo and behold going into turn three his night turned pretty bad."
"I knew how my car was driving getting into the corner and I drove it in pretty deep," Nelson added regarding the final restart. "I didn't know if they were going to come in that hard or not. It worked, we were able to get off of two and get to the outside and here we are."
Brougher was able to get by Kostelnik to finish a best career second in his first outing of 2018. After what turned out to be a hydraulic throw-out bearing issue in the first race, the Scottdale, Pennsylvania driver could not have been more thrilled with the rally from the rear to second.
"This thing was flying," Brougher noted about his No. 71 Make It Spark Ltd. / Donegal Auto Body / Parry Custom Homes Chevrolet. "We had fresher tires than everybody out there because we went in with a mechanical failure on the first lap of the first feature, so I knew we had a little bit of an advantage there. I can't thank everybody enough for all the help we got these past couple weeks putting this car together. This thing was in pieces 14 days ago."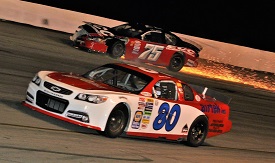 The beginning of Kostelnik's SCSCS career continued on a good note with his third third-place finish in four starts. It was more than an eventful day for the entire Minjock Racing crew behind-the-scenes, changing the rear end gear twice and repairing a fuel pump.
"I knew I didn't have third gear when I lost it in the first race and in the second race I kind of knew on that restart was going to be a little sketchy and on top of that the tires were going away," the driver of the No. 41 Blackberry Smoke / Moody Premium Guitar Straps / Spherical Solutions / Waterway Fire Hose Testing / The Allegheny Group Chevrolet recapped. "It was a bit of a handful there. I think we're definitely getting there now."
Grynewicz turned in another fourth place result in his No. 40 T&T Plumbing / Winsupply / Global Safaris Chevrolet and defending Jennerstown Street Stock champion Lauren Butler stayed out of trouble to round out the top five in the No. 53 Edlin Automotive Services / Cornwell Tools / Motive Parts of Homestead Inc. / Fleegle Graphics / #TeamChampion Chevrolet.
The cars and stars of the Super Cup Stock Car Series come back to Jennerstown Speedway one more time in three weeks as part of the complex's highly-anticipated championship weekend. The Sopwith Motorsports cameras will be returning as well for future air dates on MAVTV.
Two champions will be determined among the SCSCS crowd too. The first Twin 50 will award the Northern Division title. Crabtree continues to hold more than a 100 point advantage, but second through fifth between Kromer, Bill Ashton, Jeff Zillweger, and Schue in that order are separated by a mere 20 points.
Despite some setbacks, the overall SCSCS championship to be decided at the conclusion of the second Twin 50 on Saturday, September 15 is still Schacht's to lose. His closest competitor, Mike Potter, struggled with both an electrical issue and an ill-handling car on Saturday night and will look to rebound. Nelson sits within less than five points of Potter after the most recent stellar performance.
The morning after the event there the annual series trophy presentation will take place in Somerset, Pennsylvania. Nevertheless, there will still be one more title to be settled two weeks following Jennerstown. Dominion Raceway will host the final Southern Division event as well as an additional special feature with details to be announced very soon.
Please visit the official web site at www.supercupstockcarseries.com and the Super Cup Stock Car Series Facebook, Twitter, and Instagram for further updates.
Twin 50 No. 1:
| | | |
| --- | --- | --- |
| 1 | 80 | Brent Nelson |
| 2 | 42 | JP Crabtree |
| 3 | 41 | Andrew Kostelnik |
| 4 | 40 | Toby Grynewicz |
| 5 | 22 | Marc Jones |
| 6 | 3 | Jason Schue |
| 7 | 27 | Landon Brothers |
| 8 | 75 | Bob Schacht |
| 9 | 14 | Mike Potter |
| 10 | 18 | Jeff Zillweger |
| 11 | 35 | Bill Ashton |
| 12 | 53 | Lauren Butler |
| 13 | 77 | Kevin Kromer |
| 14 | 33 | John Komarinski |
| 15 | 71 | Jerod Brougher |
Pole - 75
Laps Led - 40, 75, 80
Halfway - 80
Most Laps - 80
Hard Charger - 22
Twin 50 No. 2:
| | | |
| --- | --- | --- |
| 1 | 80 | Brent Nelson |
| 2 | 71 | Jerod Brougher |
| 3 | 41 | Andrew Kostelnik |
| 4 | 40 | Toby Grynewicz |
| 5 | 53 | Lauren Butler |
| 6 | 14 | Mike Potter |
| 7 | 18 | Jeff Zillweger |
| 8 | 22 | Marc Jones |
| 9 | 3 | Jason Schue |
| 10 | 27 | Hayden Brothers |
| 11 | 75 | Bob Schacht |
| 12 | 42 | J.P. Crabtree |
| 13 | 35 | Bill Ashton |
| 14 | 77 | Kevin Kromer |
| 15 | 33 | John Komarinski |
Pole - N/A
Laps Led - 80, 75
Halfway - 80
Most Laps - 80
Hard Charger - 71
_________________________________________________________