_________________________________________________________
Records Could Be Broken During August SCSCS Twin 50s at Jennerstown Speedway
Statesville, North Carolina (August 21, 2018) – The largest field yet in 2018 is possible as the Super Cup Stock Car Series continues along their summer tour. The August edition at Jennerstown Speedway Complex will feature another pair of 50-lap races this coming Saturday.
The cars and stars left the Laurel Highlands region a little over a month ago with a mixture of highs and lows. J.P. Crabtree went on a tear after having to start July's second Twin 50 at the rear due to a mechanical issue that resulted in the brakes failing the race before. The convincing victory does not mean there is any easy relaxation in the Muncie, Indiana shop during the days leading up to the next one. The No. 42 USA Tire / J.R.'s Landscaping / Stagger Pros / Support The Troops / Don Gnat Racing Ford is undergoing some changes to the setup in hopes of improving even more upon past performances.
Crabtree is also aware that many will be poised to narrow the gap both on the track and in the Northern Division championship battle, which will proceed two more races toward completion. Kevin Kromer currently sits 49 points back and is confident that a solid baseline from numerous starts at the 1/2-mile and a drama-free top five finish last time out at Dominion Raceway can lead to a first win of the year or positive results in the No. 77 Lehigh Valley Cancer Institute / Mission R.A.C.E.R. / Warren Pallet / K2 Motorsports Chevrolet.
Much like the Walnutport, Pennsylvania driver, Ron Langdon led laps at Jennerstown in July and is loaded for bear at the facility in which he has seen the most success in a year of SCSCS racing. The Freeport, New York-based No. 17 National Appliance / Langdon's Automotive Chevrolet is only five markers back from Kromer in the Northern standings and will be sporting new Performance Fiberglass Products front bumper cover and fenders. Local favorites Bill Ashton and Jeff Zillweger round out the top five and are always factors at one of their home tracks.
Meanwhile, Mooresville, North Carolina's Bob Schacht could match or even surpass a series record if the right breaks were to go his way. If the current overall points leader were to set fast time for the fifth time it would tie for the most pole awards won in a single season. If the five-time 2018 race winner happened to sweep the night's races it would set a new mark for most wins in one year, at the moment held by Tyler Nuckles with a total of six during his championship season in 2009. The No. 75 Engineered Compenents / Bob Schacht Motorsports Chevrolet won the pole and the first Twin 50 back in July.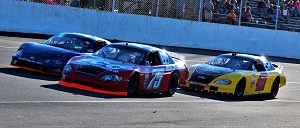 It will not be a simple feat by any means with additional competition working as hard as ever to achieve further success. Mike Potter turned in his two best career SCSCS results and led several laps in the most recent Jennerstown races. Brent Nelson is back on his game after contending for the win at Dominion. Toby Grynewicz and Andrew Kostelnik were able to adapt quickly in their first series starts in the July running. 2014 champion JJ Pack is slated to return in a driver role at Jennerstown for the first time in three years and Southern Division leader Ben Ebeling is considering making the trip north. John Komarinski, Lauren Butler, and Jason Schue continue to steadily improve as well.
All of the aforementioned components combine to make this weekend's races more than likely feature the closest competition seen so far in 2018.
Another tight battle is for the season-long Charlie Canterbury Hard Charger Award. There is a three-way dead heat between series rookie Marc Jones, Ron Langdon, and Mike Potter, all who are expected to be in attendance at Jennerstown and have received the honors twice in 2018 after eight races. In addition to an often crucial five bonus points being handed out to the driver who moves up the most positions from start to finish in each race, the driver with the most awards at the conclusion of the year receives a plaque for their accomplishment. Being fast is always the end goal, but this special award definitely can throw in an element of strategy.
One final record that will be broken once the green flag flies is the total number of drivers who have participated in at least one race in a given season. Scottdale, Pennsylvania's Jerod Brougher will be back and ready to go after nearly a year away from the race track. The 2017 Top Performing Rookie's latest appearance ended in victory lane, taking the checkered flag first in a non-winners dash at Dominion Raceway last September.
14-year-old Landon Brothers will officially become the 36th different starter, joining his Mount Wolf, Pennsylvania twin brother Hayden Brothers, who made his debut two weeks back at Dominion before the rains came. Landon is scheduled to qualify and race the No. 27 EHB Logistics / VFW Post 2493 / Brothers Leasing Company / Brothers Brothers Racing Team Chevrolet in the first 50-lap event while Hayden will take the wheel in the second.
Practice is slated to begin at 2:00 p.m. with qualifying taking place at 5:00 p.m. The first of the Super Cup Stock Car Series Twin 50s at Jennerstown Speedway will take the green flag shortly after 6:00 p.m. with an autograph session behind the grandstands for fans to meet their favorite drivers between races.
Most recent Jennerstown winner J.P. Crabtree will be doing a SCSCS_Racing Instagram 'takeover' on race day for something new that fans on their phones in the stands and those not able to make the trip will certainly want to check out.
For a complete weekend schedule and more information please visit the official web site at www.supercupstockcarseries.com. Interactive updates throughout race day will be available on the Super Cup Stock Car Series Facebook and Twitter.
_________________________________________________________