_________________________________________________________
Familiar Outcome but Different Story in SCSCS Second Dominion Visit of 2018
Thornburg, Virginia (August 12, 2018) – The end result on paper to Saturday's Patrick Miller Photography Twin 50s presented by Best Western Plus Thornburg Inn & Suites may look like a carbon copy to April's visit to Dominion Raceway, but the stories which unfolded leading up to the checkered flag varied greatly.
Super Cup Stock Car Series overall points leader Bob Schacht captured his fourth Pole Award of 2018, barely missing the track record he set earlier in the year. Redrawing the number four pill, the Mooresville, North Carolina driver had to patiently navigate and capitalize on the very few opportunities to reach the top spot.

Brent Nelson redrew the pole and was poised to turn his season around from the get go, accelerating out to an impressive advantage early on in his No. 80 Airtek Inc. / Steam Turbine Services / Precision Auto Collision / Atkinson Welding Chevrolet. By five laps in, Schacht had worked his No. 75 Engineered Components / Bob Schacht Motorsports Chevrolet to the runner-up position, but still had to chip away at the margin Nelson had gained.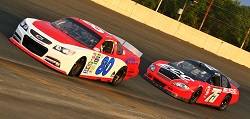 Schacht would do exactly that and coming to complete halfway, and a potentially very important five points up for grabs, found a way under Nelson to get the lead.
On a mission behind the lead battle was Southern Division leader Ben Ebeling, who was ordered to start at the back after the team made unapproved tire pressure adjustments while already gridded in his third starting position on the front straightaway. The No. 44 Startown Carpet and Flooring / SwannysAutoSales.net / Battery Specialists / Potter Racing Ford proved quick and marched through the field.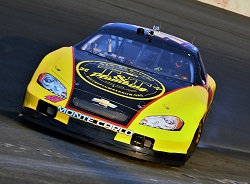 On lap 29, the only caution flag of the evening flew when Toby Grynewicz lost control of his No. 40 T&T Plumbing / Winsupply / Global Safaris Chevrolet at the apron of turn one. Nelson elected to restart on the inside line behind Schacht, which allowed Ebeling to choose the outside front row. It turned out to be the right decision for the Hickory, North Carolina racer, taking advantage of a subpar acceleration to green flag conditions for Schacht.
Little did eyes in the stands and infield know that trouble was brewing for Schacht.
"The right front tire started blistering and so I slowed down a little bit once I knew I felt something in the front of the car," Schacht indicated post-race. "I knew I had to get by (Ebeling) as quick as I could."
Schacht made that happen upon finding an opening between turns one and two on the 4/10-mile surface to maneuver inside of Ebeling and went on to lead the final 15 circuits. Nevertheless, he was not home free by any means with a final margin of victory of less than a car length.
"When I got by him I kind of stretched it out there a little bit and then I felt the tire just getting worse and worse lap by lap," Schacht continued. "Kind of tried to ease it into the corner and he started getting closer and closer, so the last lap I figured if it's going to break, it's going to blow, so here we go."
Schacht's fifth victory of 2018 also marks a perfect three-for-three record at the Thornburg, Virginia facility, dating back to a special event held in September 2017.
"I know they probably get tired of watching me win the race, but I just love this place," Schacht remarked, and additionally commended the fans for their support on a hot and humid summer day. "The track is fun to race on, you can race door handle to door handle and you don't have to beat up anybody to get by them. It's just an awesome place."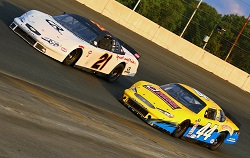 Although an up and down race, Ebeling remained satisfied with the runner-up finish.
"We just had a miscommunication on race control on when to set tires," Ebeling explained. "Not a big deal. We just made the best of it. I expect (Director of Competition) Joe (Schmaling) to treat us the same way as anybody else. That's the rule, we stick to it, and we dealt with the consequences.
"I hope it put a show on for the fans in the stands. We sure made it interesting at least. You're definitely driving a little bit more focused when you get kind of off your game there."
Ebeling showed the speed in the end despite having to rally from the rear, but had to admit it was all he had coming to the checkered flag.
"That was every last ounce I had to try and get to (Schacht)," Ebeling acknowledged. "We had one lucky restart and I got him when he missed a shift or something and then I screwed up a few laps later and drove in just a little too hard and he stuck that nose in there. I saw that little bit of red and I knew he kind of had me."
Nelson had a solid third place effort taking place until only a couple laps remaining. The Petersburg, West Virginia veteran would also be hindered by a right front tire, which finally came unraveled and relegated him to a seventh place finish.
Slipping by for the final podium position was Indianapolis, Indiana's Stephen Cox, who remains in the hunt for the Southern Division crown in the No. 21 STA-BIL 360 Performance / Impact Race Products / CR7 Motorsports Chevrolet despite missing the season opening Dominion race.
Mike Potter turned in a quiet but respectable fourth in his No. 14 Potter Racing Chevrolet while Kevin Kromer rounded out the top five in the No. 77 Lehigh Valley Cancer Institute / Mission R.A.C.E.R. / Warren Pallet / K2 Motorsports Chevrolet. Rookie competitor Marc Jones scored a best career sixth in his Office of Special Investigations Dodge and took home Hard Charger honors after starting 11th.
Unfortunately, much like in April, the stormy skies opened up shortly following the checkered flag and cancelled the balance of the night's activities. Currently, the remainder of the 2018 schedule continues unchanged with the next event in two weeks at Jennerstown Speedway highlighting a pair of Northern Division and overall SCSCS points races.
The third and final return trip to Jennerstown on Saturday, September 15 will feature the crowning of the Northern champion in the first Twin 50 while overall points are also on the line and the second race naming the overall champion. The final stop of the year back at Dominion on Saturday, September 29 will begin the evening by deciding the Southern Division champion followed by a second race with a special format in which details will be announced shortly.
While the overall lead margin continues to lengthen, the Southern Division gap becomes even narrower. Schacht holds only a five point advantage on Ebeling, setting up a first to the finish type of duel between the two North Carolina drivers next month.
"Ben is a good racer and a clean racer and I love racing with people like that," Schacht complimented. "I don't need to run into him and he doesn't need to run into me. We have fun doing it and I hope we can continue to race clean and have fun."
"It's definitely going to come down to the wire because it seems like one race we edge him out a little and then the next race he edges us out a little," Ebeling added. "We'll just try to win each race and let the points take care of themselves."
The first of the Patrick Miller Photography Twin 50s presented by Best Western Plus Thornburg Inn & Suites is scheduled to premiere on MAVTV in the near future. Stay tuned for an upcoming announcement regarding airdates, and please visit the official web site at www.supercupstockcarseries.com and the Super Cup Stock Car Series Facebook, Twitter, and Instagram for additional information.
_________________________________________________________