_________________________________________________________
Second 2018 Dominion Raceway Trip to Serve Up Many Storylines
Statesville, North Carolina (August 7, 2018) – The Super Cup Stock Car Series will be making their second appearance of the year to the Dominion Raceway complex sooner than originally scheduled. As the 2018 season crosses the halfway point, Saturday's Patrick Miller Photography Twin 50s presented by Best Western Plus Thornburg Inn & Suites will feature drivers bringing a wide variance of goals.
Bob Schacht comes into this weekend as undefeated in two previous races at the 4/10-mile and would like nothing more than to continue keeping that streak alive. Not only is the reason being the ongoing goal to win, but collecting maximum points possible will increase the comfortable lead the Mooresville, North Carolina driver already has in the overall SCSCS standings.
With at least a half dozen more points races to go, there is still very little room for error knowing that the veterans who trail Schacht in the standings will be eager to make up that margin. Mike Potter has steadily increased his performances in recent events, improving from a fourth place finish at Kingsport which also saw his first career Pole Award to a third and a runner-up result last time out a month ago at Jennerstown Speedway. There is only one better spot to achieve for the Johnson City, Tennessee veteran who has completed all but one lap in 2018 competition, and Dominion is a track in which the No. 14 Potter Racing Chevrolet won Hard Charger honors back in April for passing the most cars from start to finish.
In addition, Walnutport, Pennsylvania's Kevin Kromer and Petersburg, West Virginia's Brent Nelson are more than ready to put recent misfortune in their rear view mirror and capitalize on opportunities for their first victory of the season in the No. 77 Lehigh Valley Cancer Institute / Mission R.A.C.E.R. / Warren Pallet / K2 Motorsports Chevrolet and No. 80 Airtek Inc. / Steam Turbine Services / Precision Auto Collision / Atkinson Welding Chevrolet, respectively. Uniontown, Pennsylvania's Bill Ashton wishes to rekindle a career moment from nearly two years ago in his No. 35 Ashton Racing Chevrolet when he earned his only SCSCS win to date at Jennerstown.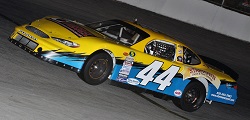 Further motivation comes from the title within a title, the Southern Division championship. After three races, the battle up top is almost as close as can be. At Kingsport in June, Ben Ebeling swept the night, catapulting the Hickory, North Carolina driver to a 15 point advantage over Schacht's No. 75 Engineered Components / Bob Schacht Motorsports Chevrolet. The No. 44 Startown Carpet and Flooring / SwannysAutoSales.net / Battery Specialists / Potter Racing Ford has finished top five in two previous appearances to Thornburg, Virginia and would certainly like to keep the momentum going and maintain the top spot.
Potter sits third in the South standings while teammates Larry Berg and Stephen Cox in their CR7 Motorsports prepared Chevrolets look to make up some ground heading into the season home stretch, which will also conclude at Dominion.
Others are going in with not a whole lot to lose. Toby Grynewicz will make his first ever stop to the facility which was only recently built a few years back. The Clyde, Texas racer was impressive in his series debut at Jennerstown with a runner-up finish and even took his turn out front for a lap. Larry Wilcox and Jason Schue are out of the points hunt after missing a show earlier on and will be set to build upon their previous efforts. Relative newcomers to the series Marc Jones and Lauren Butler will be focused on doing what they can to attain series experience on the speedway surface. North Carolina's Chris Barbeau, home state ARCA racer Willie Mullins, and teenage Pennsylvania twin brothers Hayden and Landon Brothers are each planning on making their SCSCS debut.
After a successful 2018 premiere on MAVTV during the month of July, the Sopwith Motorsports Television Productions crew will be on hand once again to film and produce the Super Cup Stock Car Series action at Dominion. Details regarding dates and times for these televised broadcasts will be announced in the near future.
First SCSCS practice is slated to begin at 1:00 p.m. with qualifying taking place shortly after 4:30 p.m. following the session for the local divisions. A Meet and Greet with the drivers will be part of the pre-race festivities with the first of the Patrick Miller Photography Twin 50s presented by Best Western Plus Thornburg Inn & Suites set to go at 7:00 p.m. An optional evening open practice session will be offered to teams from 5:00 to 8:00 p.m. on Friday as well.
As a bonus for fans, there are two opportunities to be involved in race day festivities. Dominion Raceway is running a promotion for two chances at waving the green flag for each 50-lap event. The Super Cup Stock Car Series in conjunction with K2 Motorsports is offering a "crew member fan experience" in which one winner (and optional guest) can spend the day in the pits and get an in-depth look at what takes place or even lend a hand to Kevin Kromer and team.
Each contest is being run on Facebook with specific directions to be eligible. Details can be found at www.facebook.com/SCSCSRacing and www.facebook.com/DominionRaceway.
For a complete weekend schedule and more information please visit the official web site at www.supercupstockcarseries.com. Interactive updates throughout race day will be available on the Super Cup Stock Car Series Facebook Twitter, and Instagram pages.
_________________________________________________________