First of Three 2018 SCSCS Stops at Jennerstown Long-Awaited for Many
Statesville, North Carolina (July 2, 2018) – The Super Cup Stock Car Series makes its always anticipated first trip of the year to Jennerstown Speedway Complex on Saturday. This year's July running at the Pennsylvania oval located in the Laurel Highlands region has been a long time coming for a few competitors expected to be in attendance.
The Super Cup Stock Car Series Twin 50s at Jennerstown Speedway will serve as the series debut for a couple racers who are familiar faces to the thousands of area fans. After numerous months of precise preparation and a recent visit to Midvale Speedway in Ohio to scout out the competition, past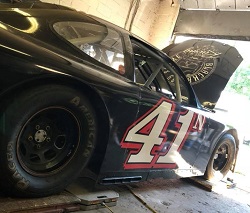 Jennerstown champion Andrew Kostelnik and the Minjock Racing team are ready to get on track.
With support from national recording artist Blackberry Smoke, the Braddock, Pennsylvania driver hopes to turn heads in his SCSCS maiden voyage in the No. 41 Chevrolet with additional sponsorship from Spherical Solutions, Waterway Fire Hose Testing, The Allegheny Group, Detroit Rock City Music Store, Evans Grafx, and Speedy Jim's Race and Rods.
Perhaps a crowd favorite come race day will be the defending Street Stock champion at the 1/2-mile oval. West Mifflin, Pennsylvania's Lauren Butler and her family-run Edlin Motorsports team have been eyeing a foray into the series for a few years. The noticeable pink and purple No. 53 Edlin Automotive Services / Cornwell Tools / Motive Parts of Homestead Inc. / Fleegle Graphics /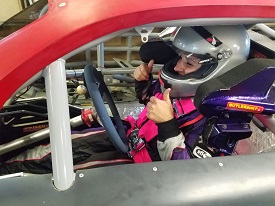 MyRacePass.com / #TeamChampion Chevrolet will be raring to go on Saturday.
Jeff Zillweger returned to the driver seat a month ago, but it has been nearly two years since visiting his home track in which the Pittsburgh resident has turned in three top five results including a best career third his last time there. Another local favorite, John Komarinski, returns from knee surgery that has sidelined him so far this season. Keystone State driver and 2013 champion Todd Peck may be making his first SCSCS Jennerstown start, but has a host of experience there in the former Pro Cup Series and even Allison Legacy cars as a teenager.
In the overall championship hunt, the leading two have not been the most fortunate in past Jennerstown appearances. Bob Schacht began the season with three consecutive wins, but the Mooresville, North Carolina driver has not visited victory lane at the track in the Keystone State in four starts. Mike Potter was involved in one of the scariest moments in recent memory last July when his No. 14 careened off the outside wall in violent fashion. The Johnson City, Tennessee veteran looks to rebound, coming off a best career fourth last time out at Kingsport Speedway.
Only two races have been held toward the North Division title, but the top five is exceptionally close. J.P. Crabtree currently holds a slim 20 point advantage heading into Saturday's event at the track the Muncie, Indiana driver picked up his first ever victory with the No. 42 USA Tire / J.R.'s Landscaping / Stagger Pros / Support The Troops / Don Gnat Racing Ford last August. Walnutport, Pennsylvania's Kevin Kromer is winless at Jennerstown, but is often strong in his No. 77 Lehigh Valley Cancer Institute / Mission R.A.C.E.R. / Warren Pallet / K2 Motorsports Chevrolet. He is expected to be in contention again, entering the races second in the North standings.
Sitting third is Edward Adams III, a 20-year-old from Front Royal, Virginia, who received positive attention at Midvale in his first oval stock car start. He hopes to do the same once again in the No. 16 IceBoxx Customs / JP Racing Toyota under the tutelage of 2014 Jennerstown winner and SCSCS champion that year JJ Pack.
Fourth is New York's Ron Langdon, who scored a podium result in his inaugural visit last year, while rounding out the top five a mere 43 points away from the lead is Pennsylvania's Bill Ashton, who gained his first victory and only to date at this home track in August 2016.
All of these drivers and several more will be looking to accomplish what Brent Nelson did with his No. 80 Airtek Inc. / Steam Turbine Services / Precision Auto Collision / Atkinson Welding Chevrolet in last July's running, sweeping both races, a feat that has been done twice in 2018.
Practice is slated to begin at 2:00 p.m. with qualifying taking place at 5:00 p.m. The first of the Super Cup Stock Car Series Twin 50s at Jennerstown Speedway will take the green flag shortly after 6:00 p.m. with an autograph session in the grandstands for fans between races.
For a complete weekend schedule and more information please visit the official web site at www.supercupstockcarseries.com. Interactive updates throughout race day will be available on the Super Cup Stock Car Series Facebook and Twitter as well as the new Instagram page.
_________________________________________________________