_________________________________________________________
Home Track Advice Assists Ebeling to SCSCS Sweep at Kingsport
Kingsport, Tennessee (June 16, 2018) – In the initial appearance for the Super Cup Stock Car Series at Kingsport Speedway, a vast majority of drivers on hand were navigating the tricky oval known as the "Concrete Jungle" for the first time. Hickory, North Carolina's Ben Ebeling was one of those, but adapted to the 3/8-mile rather efficiently leading into Operation: Johnson Kitty Friday Night Thunder at Kingsport presented by Racing Radios.
In qualifying it was Ebeling's team owner, Mike Potter, who scored a well-received first career SCSCS pole award as evidenced by the cheers from the local fans in the stands and team members in the pits with a best time of 15.516 seconds. The nearby Johnson City, Tennessee resident broke out into an impressive lead from the get-go in his No. 14 Potter Racing Chevrolet, his first laps led in series competition.
As the first of the twin 50-lap races progressed past halfway, Potter's advantage on second place Ebeling began to shrink. After a few laps of hounding the back bumper, the No. 44 Startown Carpet and Flooring / SwannysAutoSales.net / Battery Specialists / Potter Racing Ford peeked under Potter. After a couple circuits of side by side action, the first lead change of the event came on lap 38.
In the process, Bob Schacht, the winner of the first three races this season, had reeled in the front two. Although Ebeling would ultimately be able to pull away slightly, the No. 75 Engineered Components / Bob Schacht Motorsports Chevrolet challenged Potter. Contact was made between the two, who both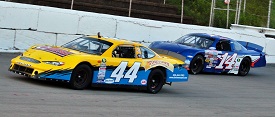 competed in the 1992 Daytona 500, going into turns three and four and ended in turns one and two when the result was Schacht spinning which triggered a caution.
A couple more yellow flags collected a few competitors such as contender Brent Nelson, making his 50th career and series leading 47th consecutive race. Stephen Cox, making his first start of 2018, suddenly saw himself on the outside front row for the restart after starting the feature from the ninth position. The No. 21 STA-BIL 360 Performance / Impact Race Products / CR7 Motorsports Chevrolet made a challenge late but was no match for Ebeling.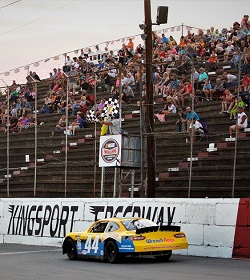 It was a particularly special victory for the 37-year-old driver, not only because it was his first SCSCS win away from Lonesome Pine Raceway, but because he had to pass one of his racing idols to get there.
"(Potter) wasn't going to give me any extra inches but he was going to run me clean and run me hard, and that's what I expect out of him and anybody else out here," Ebeling said. "I'm thankful for that and thankful to him for giving me this opportunity."
Cox held off Schacht to round out the podium with another Tri-Cities area legend Brad Teague and Pennsylvania's Kevin Kromer finishing fourth and fifth. Potter settled for sixth in the rundown and gave his take on what had occurred in the second half of the distance, both with the lead battle and the altercation for second.
"I had a tire going down is why Ben caught me," Potter commented. "I was about checked out on everybody and I started getting loose going off in the corner and I knew that a tire was going down. I held on for as long as I could. The 75 body-slammed me going off into three and I didn't appreciate it, so I just turned him around down there. That was the way it was."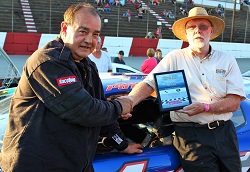 Potter recovered by redrawing the pole for the second race and jumped out to the early lead. It would not take Ebeling long to catch him, taking the top spot on lap three. Schacht made it past Potter for second a few laps later.
From there, Ebeling had to hit his marks every lap around the concrete oval with Schacht ready to pounce at any moment at his back bumper. Despite being nose to tail in the turns, Ebeling managed to keep nearly a one car length advantage on the Mooresville, North Carolina veteran on the straightaways each time by as both weaved through lapped traffic.
With three laps remaining, Larry Berg lost control out of turn two while running in third place, setting up a dash to the finish. Schacht motioned to choose the inside line for the restart, as did third place Potter, letting Cox to choose the outside starting position to Ebeling in a spitting image to the conclusion of the first event.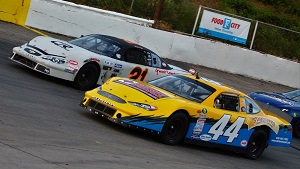 Once again, Ebeling held Cox off to sweep the evening and gained his fourth career series race win. Much of the success was thanks to the expertise and advice given to him by teammates as well as a former Kingsport Speedway Late Model Stock Car champion.
"Between Mike, Brad Teague, Jon Kerley, and even his dad Benny Kerley, they have all run a bunch of laps here," Ebeling indicated. "We also kind of made friends with Kres VanDyke and they helped us get some insights and stuff at the track."
Coupled with a strong third place showing at Dominion, Ebeling holds a slim advantage in defense of his Southern Division crown over Schacht.
"We'll see how it turns out in the end," Ebeling commented. "The thing with that deal is if you win races then you don't have to worry about that. That's what our goal is – to go out and win races."
Cox, a non-factor in the first half of the 50-lap race once again, took home a somewhat unexpected second runner-up finish in a row. The Indianapolis racer was quick to point out that it was not simply luck that led him to those results.
"That's half of the game in Super Cup," Cox noted. "These cars have way too much horsepower for way too little tire and if you go out and try to drive for the engine instead of the suspension and the tire you're going to spin yourself out, you're going to take somebody else out, you're going to have a bad night. When you have the patience and good sense to drive your tires, you've got a chance to make some things happen."
Schacht finished the night with a pair of third place finishes and maintains a comfortable overall SCSCS point lead, but had very little to say at the end of the night after ending up short of victory lane.
"It was a good race," Schacht remarked. "I had a flat tire at the end there. Nothing I can do about it."
Potter finished a best career fourth with Berg recuperating for fifth.
In three weeks, the Super Cup Stock Car Series makes its first of three appearances at the popular Jennerstown Speedway 1/2-mile Pennsylvania complex.
The first Operation: Johnson Kitty Friday Night Thunder at Kingsport presented by Racing Radios twin 50-lap race is scheduled to premiere on MAVTV on Thursday, July 12 at 12:30 p.m. while the second will air on Thursday, July 26 at the same time.
Please visit the official web site at www.supercupstockcarseries.com and the Super Cup Stock Car Series Facebook, Twitter, and Instagram for more information.
Twin 50 No. 1: