_________________________________________________________
Milestones to be Achieved during Operation: Johnson Kitty Friday Night Thunder at Kingsport presented by Racing Radios
Statesville, North Carolina (June 11, 2018) – Details are all set for what should be a banner Friday night of thunder at Kingsport Speedway. After Tropical Storm Cindy swept through the first attempt to compete at the Eastern Tennessee facility in 2017, the Super Cup Stock Car Series drivers and teams have been anxiously awaiting to make some noise on the "Concrete Jungle" racing surface.
Operation: Johnson Kitty, a non-profit organization based in nearby Johnson City, will serve as the primary partner for the night's activities. The SCSCS looks forward to supporting their mission to empower the community to advocate for every cat's right to be safe, healthy, and valued. Operation: Johnson Kitty will be on hand at the track raising funds for spays, neuters, and vaccinations for feral and community cats.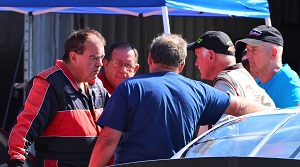 Also residing in Johnson City is a driver who will be making his third appearance with the series, but is no stranger to racing competition at near home and nationwide. In fact, Brad Teague is celebrating a milestone of his own – 50 years in motorsports.
Although Teague has not competed at the 3/8-mile oval since 1996, returning to a rather large following at one of his local tracks is something that will never get old.
"Anytime you get to run close to home, you like it," Teague, a veteran of 241 NASCAR Xfinity Series starts from 1982 to 2015 with a victory in 1987, remarked. "I am looking forward to seeing local fans that I haven't seen in a long time."
The veteran driver has turned in a couple solid SCSCS performances within the past year. In his series debut at Virginia's Lonesome Pine Raceway last August, Teague qualified in the top six and redrew the pole position. Unfortunately, he was sidelined mid-race with brake issues.
At the 2018 season opening event held at another Virginia track, Dominion Raceway, Teague started 12th but steadily moved through the pack to finish in the sixth spot. It was his first ever visit to the facility.
"It gives you more confidence," the driver of the No. 12 Potter Racing Chevrolet commented. "I ran pretty good at both places and was starting to catch a couple in the front at Dominion before the race was over. I was looking forward to the second race, but it got rained out."
Nevertheless, he knows that Kingsport will be an entirely different animal from the smooth new surface that Dominion presented.
"Kingsport is rougher than some of the tracks, and some may not be used to the concrete," Teague noted.
Memories from decades past will certainly be at the forefront, particularly a win at Kingsport that came before many running on Friday began their racing careers.
"We had a big national championship race there," Teague recalled. "We had a flat tire and went three laps down, but had a good enough car to come back and win it."
While navigating the short tracks was a venture filled with accomplishments for Teague, perhaps the biggest moment came where a majority of stock car competitors strive to make it at least once in their lifetime.
"I always wondered what it would be like to go to Daytona," Teague, a two-time starter in the Daytona 500, explained. "When I did that and first pulled out, I couldn't believe it. Those cars were like bullets and I thought that I better have my head screwed on straight. I will never forget that."
Teague is paired up with another frequent participant on the 2.5-mile high-banks as well as on short tracks like Kingsport in his heyday. In addition to Teague, Mike Potter will be fielding a car for himself, two-time SCSCS race winner and 2017 Southern Division champion Ben Ebeling, Hiddenite, North Carolina's Jon Kerley, and series newcomer Dale Schlobohm from Greeneville, Tennessee for a total of a five car assault.
Friday's festivities will serve as the second and third rounds for the 2018 Southern Division title and races four and five for the overall SCSCS championship.
Mooresville, North Carolina's Bob Schacht set a series record last time out by becoming the first driver to win three consecutive points races. Meanwhile, a number of racers encountering their initial trip to Kingsport will be seeking to embark upon achievements of their own in victory lane.
Brent Nelson from Petersburg, West Virginia currently sits second in points and has made repairs to the battle-scarred No. 80 Airtek Inc. / Steam Turbine Services / Precision Auto Collision / Atkinson Welding Chevrolet from the last event at Ohio's Midvale Speedway less than two weeks ago. Walnutport, Pennsylvania's Kevin Kromer has been working on the same with his No. 77 Lehigh Valley Cancer Institute / Mission R.A.C.E.R. / Warren Pallet / K2 Motorsports Chevrolet.
Making his first start of the year, Stephen Cox hopes returning to his winning ways is an approachable goal with the No. 21 STA-BIL 360 Performance / Impact Race Products / CR7 Motorsports Chevrolet. Cox's teammate and team owner Larry Berg will be searching for a strong showing as well.
Contenders Bill Ashton, Marc Jones, Mike Kurkowski, Jason Schue, Larry Wilcox, and more will additionally be among those to look for come Friday.
SCSCS practice is slated to begin at 2:00 p.m. with qualifying taking place at 7:30 p.m. The first of the Operation: Johnson Kitty Friday Night Thunder at Kingsport presented by Racing Radios twin 50-lap features will take the green flag shortly after 8:00 p.m.
There will also be an optional open practice session held from 3:30 to 8:00 p.m. on Thursday evening.
The Sopwith Motorsports Television Productions crew will be on hand for the first time in 2018 to film and produce the Super Cup Stock Car Series action.
Sopwith has purchased all new on-board camera systems and all new overhead cameras for a clearer, superior image with fuller color for 2018. In addition, a faster production turnaround for these taped programs will allow for each show to air much sooner than prior years.
Details regarding dates and times for televised broadcasts, once again in front of a national audience on MAVTV, will be announced soon.
For a complete weekend schedule and more information please visit the official web site at www.supercupstockcarseries.com. Interactive updates throughout race day will be available on the Super Cup Stock Car Series Facebook and Twitter as well as the new Instagram page.
_________________________________________________________