_________________________________________________________
From Front to Back to Front, Schacht Sweeps at Midvale
Midvale, Ohio (June 3, 2018) – Bob Schacht showed that he was the car to beat throughout Saturday's McInturf Realty Twin 50s presented by Patrick Miller Photography, but getting to victory lane was by no means the easiest of tasks once the green flag for each flew.
The Mooresville, North Carolina veteran driver shattered the track record in qualifying with a fast time of 14.473 seconds and the top six redraw went in his favor after pulling the number one pill for the first 50-lap feature. Schacht accelerated into the lead over 2017's Jennerstown Speedway finale winner J.P. Crabtree III until a caution was displayed 17 laps in.
Crabtree, making his first start of 2018, challenged Schacht on the restart. Motoring to the inside into

turn two, Crabtree slightly nudged Schacht, who was forced to take a higher exit out of the turn. As they approached turn three, even more contact was made which was enough to send Crabtree around.
Schacht pitted to repair damage to the right front and Crabtree, minus a rear bumper cover, stayed out but went to the rear of the field, handing the lead to 2014 SCSCS champion JJ Pack. However, it was two-time Midvale Speedway winner Kevin Kromer that took advantage on the restart and powered into the lead for the next few circuits.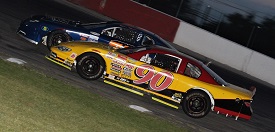 It was setting up to be a spitting image of a spirited battle for the top spot from a few years ago on the 3/10-mile oval nearing halfway, as Kromer and Pack dueled for the position. Meanwhile, both Schacht and Crabtree were making their way toward the front again. By lap 35, Schacht caught and passed both Pack and Kromer and his No. 75 Engineered Components / Bob Schacht Motorsports Chevrolet held on the rest of the way for win number two of 2018.
"Last year we broke in the first race, but I went home after Dominion and I studied the race track,"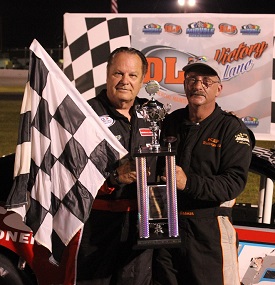 Schacht said in victory lane. "I watched every YouTube thing that was on Midvale, the bumps and stuff like that, how people raced. I like this race track. It's a good racey race track."
Schacht also announced that all of his winnings from the night will be generously donated to cancer survivor Kevin Kromer's Mission R.A.C.E.R. foundation.
Brent Nelson made a late race charge to within two car lengths of Schacht and finished runner-up, while Crabtree rounded out the podium. Kromer finished fourth while Ron Langdon, all the way from Long Island, New York ended up fifth in his No. 17 National Appliance / Langdon's Automotive Chevrolet. Pack exited the race track during a yellow with less than 10 laps to go and was done for the night with a leak in the rear of his No. 90 JP Racing Chevrolet.
For the second feature, Schacht had a little more work to do from the beginning after drawing the sixth starting position. Nelson started from the pole and led the first five laps in his No. 80 Airtek Inc. / Steam Turbine Services / Precision Auto Collision / Atkinson Welding Chevrolet.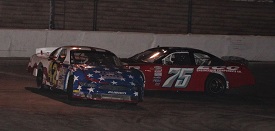 Behind the Petersburg, West Virginia racer, Crabtree and Schacht were patiently yet rapidly coming up fast on his rear bumper. Crabtree took the lead and held a comfortable margin for a number of laps until a red flag was displayed on lap 18 when Denver, North Carolina's Larry Wilcox expired an engine on the backstretch and made a hard impact with the turn three wall. Wilcox climbed out under his own power, but the No. 66 Denise Wilcox Real Estate Agent with Sellstate Select / ETGI / Daddy K's BBQ Chevrolet was much worse for the wear.
By this time, Schacht was up to second but elected to restart on the inside lane behind Crabtree. Nelson chose the outside and tried to make the line work, but Crabtree and Schacht surged ahead.
In a similar circumstance to the first feature, contact was made, this time in turn four, sending Crabtree around. Schacht was sent to the rear for the altercation, but quickly maneuvered toward the top spot and passed Nelson before the race crossed the halfway mark.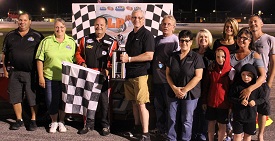 Despite a stoppage with 20 laps remaining and one more challenge from Crabtree, Schacht cruised his way to become the first driver in SCSCS history to win three consecutive races.
The Muncie, Indiana driver stopped the No. 42 USA Tire / J.R.'s Landscaping / Stagger Pros / Support The Troops / Don Gnat Racing Ford on the frontstretch following the checkered flag and the runner-up climbed out to have a word with Schacht. There was some disagreement between each driver regarding what had ensued.
"The first race was my fault," Schacht admitted. "I didn't figure he was going to slow down that much right in the middle of the corner like he did and I got into him. I'll take the blame or whatever you want to call it for that one there, but this last time he just kept trying to block me on the bottom. I got up in there and he just came down and then in the next corner I ran into him."
"I just got spun," Crabtree briefly explained." "That's all there is to it. I'm the leader and I'm protecting the bottom. I left the outside for him, but I guess he can't do that so it's whatever. We'll move on to the next one and go at it some more."
Nelson concluded a fairly satisfying night with a third place finish.
"We were close, but the car got tight on me," the 2016 Midvale winner noted. "The longer we ran, before the end of the first race, the car just wouldn't turn. The second race we made a little bit of an adjustment. The car was good until about halfway; same thing. I didn't loosen it up enough."
20-year-old series newcomer Edward Adams III from Front Royal, Virginia turned in an impressively respectable fourth place run in the No. 16 IceBoxx Customs / JP Racing Toyota. Walnutport, Pennsylvania's Kromer rounded out the top five in his No. 77 Lehigh Valley Cancer Institute / Mission R.A.C.E.R. / Warren Pallet / K2 Motorsports Chevrolet.
The Super Cup Stock Car Series teams have their tightest turnaround of the season with the next set of 50-lap features in less than two weeks at Kingsport Speedway in Tennessee. Due to the inaugural festivities being washed out a year ago, many will be seeing the 3/8-mile banked oval for the first time.
"I've never been there, so it will be a new experience for all of us," Schacht, who will enter the event with a commanding point lead after his hot start to 2018, commented. "We'll go home and try to fix the body up and everything, work on the car some more, and be ready for Kingsport."
Nelson sits second in the standings and although mainly unscathed from Midvale, there was some cosmetic damage sustained from hard racing, which he suspects will be a similar story at the "Concrete Jungle" on Friday, June 15.
"We've got a little bit of work to do to get it ready for Kingsport," Nelson said. "We're going to have to put a right side on it. The nose may stay. We may just patch it up and take it like it is because I understand Kingsport is a pretty tight little bullring and I'm sure there's going to be some more carnage down there. We'll come out of there and get it dressed and ready to go to Jennerstown (on Saturday, July 7)."
Please visit the official web site at www.supercupstockcarseries.com and the Super Cup Stock Car Series Facebook, Twitter, and Instagram for continued updates leading into the next event as well as throughout the season.
Twin 50 No. 1:
1 75 Bob Schacht
2 80 Brent Nelson
3 42 JP Crabtree
4 77 Kevin Kromer
5 17 Ron Langdon
6 16 Edward Adams III
7 99 Mike Potter
8 35 Bill Ashton
9 18 Jeff Zillweger
10 3 Jason Schue
11 90 JJ Pack
12 66 Larry Wilcox
13 22 Marc Jones
Pole - 75
Lap Leaders - 75, 77, 90
Most Laps - 75
Halfway - 90
Hard Charger - 99
Twin 50 No. 2
1 75 Bob Schacht
2 42 JP Crabtree
3 80 Brent Nelson
4 16 Edward Adams III
5 77 Kevin Kromer
6 35 Bill Ashton
7 17 Ron Langdon
8 99 Mike Potter
9 3 Jason Schue
10 22 Marc Jones
11 18 Jeff Zillweger
12 66 Larry Wilcox
13 90 JJ Pack
Pole - N/A
Lap Leaders - 80, 42, 75
Most Laps - 75
Halfway - 75
Hard Charger - 35, 22
_________________________________________________________