_________________________________________________________

Bob Schacht, Mother Nature Split SCSCS Duels at Dominion
Thornburg, Virginia (April 29, 2018) – Longtime racer Bob Schacht can now officially declare himself a Super Cup Stock Car Series points-paying race winner.
The North Carolina resident bested his previous track record set during September's special event held at Dominion Raceway in Thornburg, Virginia with a time of 15.872 seconds. After the six fastest qualifiers redrew for their starting positions for 2018's season opening Duels at Dominion, the No. 75 Engineered Components / Bob Schacht Motorsports Chevrolet would have to climb from fifth position to find its way to the front.
SCSCS newcomer Allen Purkhiser, making his first appearance in a stock car in approximately six years, showed that he could dust the rust off fairly quickly and jumped out to the early lead at the 4/10-mile facility. Schacht found his way to the runner-up position fairly efficiently and was knocking on the door as the competitors approached slower traffic.
On lap 20 of the first 50-lap Duel at Dominion, Schacht made his move.
"I was just waiting for them guys to make mistakes and when we came up on that lapped car I was kind of watching where they were going," Schacht noted. "(Purkhiser) went to the outside and I said, well, I'm going to the middle. I just got lucky because as I went through it closed up."
Schacht's march to the top spot in the opening laps did not come without incident. 2014 series champion JJ Pack was maintaining the second position early on in his return to SCSCS competition, but ended up going around bringing out the first of the evening's three cautions.
"Unfortunately with JJ Pack over there, we really didn't touch," Schacht explained. "I had my nose in there and he turned down."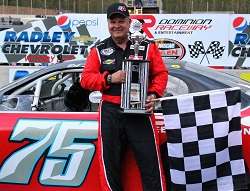 As it goes in short track racing deals, there was a difference in opinions and Pack pulled alongside Schacht during the yellow flag period to voice his displeasure.
"I was just trying to give Allen a chance to get settled in," Pack commented. "I was just waiting on him to make a mistake because he was doing a couple things I noticed that I had a little bit better car in the center of the corner, so I knew I would eventually get him. A little too early in the race to get too crazy, and I guess Bob Schacht had no patience and ran us right in the back and spun us out."
Pack's night would be cut short during the ensuing restart when the shifter broke, forcing the home state driver to park his No. 16 IceBoxx Customs / JP Racing Toyota.
Throughout the remaining distance, Schacht gradually proceeded ahead and Purkhiser was left to fight off numerous challenges from Hickory, North Carolina's Ben Ebeling to hold on for second in his first career SCSCS start.
"My car just got really tight and come to find out we blistered the right front," the driver of the No. 68 Clear Choice Auto Glass / Premiere Motorsports Chevrolet, whose next start will possibly be at Kingsport Speedway (TN) in mid-June, admitted. "It just took us right out of it. It wouldn't turn anymore and that's all I had for him."
Ebeling had to settle for third, and although not completely satisfied with coming up short, was pleased to bring the No. 44 Wrench Rags / Custom Graphics / Potter Racing Ford home in one piece with a solid finish.
"He was doing exactly what I would have been doing if I was in the same spot, protecting his line and trying to finish second," Ebeling recapped. "The 75 was obviously the class of the field, but I felt like in the second 50 lapper we might have had something for him."
Another experienced driver making his SCSCS debut, AJ Henriksen, finished fourth. The Sleepy Hollow, Illinois driver, who has recently been trying his hand at road course racing, was on board Schacht's winning car from September. Petersburg, West Virginia's Larry Berg rounded out the top five in his initial Dominion start.
Sadly, the final Duel at Dominion of the night would not occur, as rain unexpectedly began to fall. Despite a short period of the precipitation letting up and the track's positive efforts to get the show to resume once again, it would be no match for Mother Nature, who stole the second trophy of the night and canceled the remainder of the program.
Next, the teams look ahead to Midvale Speedway in Ohio on Saturday, June 2. While Ebeling would like to find some help from a sponsor to fill the quarter panel or hood of the car he pilots for veteran Mike Potter, he is hopeful they will be able to make the trip and carry on a respectable beginning to the season.
"Looks like a nice track and a lot of fun," Ebeling, a spectator and crew member at last year's event at the 3/10-mile, remarked. "It's one of those bullrings, but I like the challenge of going to new tracks and learning something new. I look forward to hopefully getting the opportunity to go race there."
For Schacht, Dominion was a favorable boost when it comes to the hunt for the 2018 championship, something that did not begin on such a high note a year back.
"We'll have to see if we can keep that going," Schacht, who was sidelined early in last year's running with a mechanical failure, said. "I really liked Midvale and it was too bad the car broke, so we're looking forward to getting back there."
Please visit the official web site at www.supercupstockcarseries.com and the Super Cup Stock Car Series Facebook, Twitter, and Instagram for continued updates leading into the next event as well as throughout the season.
1 75 Bob Schacht
2 68 Allen Purkhiser
3 44s Ben Ebeling
4 44n AJ Henriksen
5 7 Larry Berg
6 12 Brad Teague
7 40 Todd Peck
8 80 Brent Nelson
9 90 Tim Richardson
10 14 Mike Potter
11 9 Samatha Rohrbaugh
12 77 Kevin Kromer
13 66 Larry Wilcox
14 35 Bill Ashton
15 17 Ron Langdon
16 3 Jason Schue
17 16 JJ Pack
Pole - 75
Lap Leaders - 68, 75
Most Laps - 75
Halfway - 75
Hard Charger - 12, 14
_________________________________________________________