_________________________________________________________
SCSCS Duels at Dominion Kicks Off 2018 Season Saturday
Statesville, North Carolina (April 24, 2018) – At least seven months of hard work and determination in race shops up and down the eastern portion of the country all will culminate on Saturday, April 28. The Super Cup Stock Car Series 2018 season will begin at the site of their most recent race, Dominion Raceway in Thornburg, Virginia.
15 full-bodied stock cars invaded the 4/10-mile oval for a special event in September 2017. Heading in with perhaps the most momentum is the driver who took the checkered flag at the end of that 75-lap distance, Bob Schacht.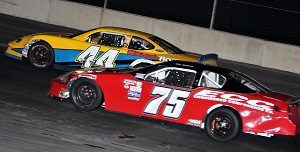 "I liked it a lot, especially because I won, but it's got good grip, it's super wide, and it's really a nice facility," the driver of the No. 75 Engineered Components / Bob Schacht Motorsports Chevrolet noted.
Schacht knows that the caliber of competition will be even heavier this time around given that it will set the stage for the championship battle in the 11th season of the SCSCS. The veteran driver whose home base is Mooresville, North Carolina will be going full bore for the first time in his short tenure with the series.
"We're going to run all the races and see how we do, and see what happens toward the end of the year," Schacht continued.
As part of the preparation, Schacht purchased a former NASCAR K&N Pro Series car from a few years back in an attempt to step things up. The car that won last time out at Dominion will not go by the wayside though.
"My sponsor's son A.J. Henriksen is going to drive the car," Schacht announced. "I raced with him when he was younger at some of the ARCA short tracks, so we're going to let him run Dominion and see how he runs there. He's got no excuses now since the car won, so we'll see how he does with it."
Joining Henriksen will be a number of drivers scheduled to make their SCSCS debut. Another racer with past stock car experience is Allen Purkhiser from South Carolina. His No. 68 was often seen near the front of the field in the Pro Cup series earlier in the decade. Marc Jones from Mocksville, North Carolina brings the first Dodge to compete in the series in many years after testing the waters in September.
Samatha Rohrbaugh, younger sister of six-time SCSCS winner Codie Rohrbaugh, will be seeking an positive initial outing after a couple successful tests. The Petersburg, West Virginia driver will be making the step up from years spent in the karting ranks. Home state racer Edward Adams III will drive for 2014 series champion JJ Pack in the second of the Twin 50s on the schedule.
Pack will pilot his rebranded Toyota in the first event, while another returning champion from 2013, Todd Peck, will dust off his old Pontiac for another ride.
While Schacht may have been victorious in September, a number of additional competitors contended for the top spot throughout the course of the event. One of them was Petersburg, West Virginia's Brent Nelson. The driver of the No. 80 Airtek Inc. / Precision Auto Collision / Atkinson Welding Chevrolet has become increasingly consistent in recent years and has not missed a race since early 2011.
N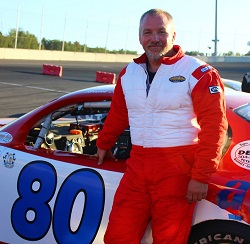 elson hopes that his current series leading 44th consecutive start is the beginning to his best season yet, and thinks that a runner-up finish back in September will be a good baseline.
"I think it'll help, knowing that we had a really good car last year," Nelson indicated. "(In September) we had a really good car in practice on Friday and it changed on Saturday. We've made adjustments trying to make sure it doesn't change again and I think we'll be better this time."
While he has not finished outside the top three in points over the last four seasons, there has always been some kind of factor that has eluded Nelson from the championship. The offseason preparations have been abundant to make sure an ideal outcome on the track can be put forth.
"Everything suspension and driveline wise has been freshened up and anything that was questionable we went and replaced," Nelson added. "Hopefully the gremlins will be gone."
Another one of the top five finishers from September was Hickory, North Carolina's Ben Ebeling. A late start to the 2017 racing season did not stop the No. 44 Wrench Rags / Custom Graphics / Potter Racing Ford from entering victory lane. Despite that, some extra opportunity this time around to go through the mechanical side of things and make sure everything is right has already helped going into 2018.
"We really found some stuff when we went in the fall that the car really responded well to," Ebeling mentioned. "Between that and the stuff we found in the offseason we're really looking forward to what we can do at Dominion and hopefully contend for the pole and the win again."
With his win at Lonesome Pine last August, it propelled Ebeling to the inaugural Southern Division championship. Dominion being the first South-designated points event of 2018, Ebeling is set to defend his crown and maybe more.
"We're definitely going to contend for the Southern championship again," Ebeling said. "We would like to be able to contend for the overall championship, but we'll just have to see how that works out."
Ebeling's car owner Mike Potter has a new car prepared for himself as well. Potter will also field his third place finishing car from September for fellow Johnson City, Tennessee NASCAR veteran Brad Teague. Additional drivers that will be making their second appearance at Dominion will include Pennsylvania's Kevin Kromer, Jason Schue, and Bill Ashton, New Yorker Ron Langdon, and North Carolina's Tim Richardson and Larry Wilcox.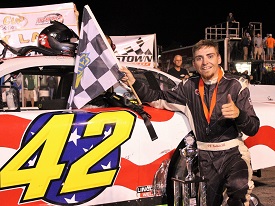 One driver bringing confidence into the new year but making his Dominion debut will be J.P. Crabtree. The Hoosier State native picked up his first career win in his most recent start at Pennsylvania's Jennerstown Speedway.
"I think I'm as prepared as I can be from watching countless videos from just about every class that has run Dominion to the point that I started taking screenshots of entry in and out to try to do all the practicing I can from all the way in Indiana," last year's runner-up in the standings explained.
Going into 2018, the driver of the No. 42 USA Tire / J.R.'s Landscaping / Stagger Pros / Support The Troops / Don Gnat Racing Ford remains poised to maintain the competitiveness he displayed in 2017.
"My goals have not changed from last year," Crabtree said. "I still want to be as consistent as possible and top fives are what I'm shooting for. Everything else should fall right in place like last year."
Other competitors who will see the rather new facility for the first time on Saturday will be one-time SCSCS winner Larry Berg and the entire Harrison family composed of Harvey Harrison and his two sons Brian and Brandon.
The impressive assembly of teams for the season opening Duels at Dominion is only the start to what should be the most exciting SCSCS year to date.
"What (Director of Competition) Joe (Schmaling)'s got going on here is really a good series for people that want to come out and not spend a lot of money but have a lot of fun," Schacht commented.
For those looking forward to being at the track on race day, first SCSCS practice begins at 1:00 p.m. with qualifying taking place shortly after 4:30 p.m. after the local divisions partake in their sessions. A Meet and Greet with the drivers on the frontstretch will be part of the pre-race festivities with the first of the Twin 50 races set to go at 7:00 p.m.
An optional evening open practice session will be offered to teams on Friday as well.
For a complete weekend schedule and more information please visit the official web site at www.supercupstockcarseries.com. Interactive updates throughout race day will be available on the Super Cup Stock Car Series Facebook and Twitter as well as the new Instagram page.
_________________________________________________________