_________________________________________________________
Guidance from Team Owners a Crucial Piece toward the Puzzle for SCSCS Success
Mount Joy, Pennsylvania (November 14, 2017) – In the race-to-race grind during the Super Cup Stock Car Series summer months the focus is mainly placed upon the individual behind the wheel. While in some cases in the grassroots short track atmosphere that person is also the one paying the bills, there are some other instances in which the potentially forgotten key to making an opportunity possible is the important aspect of the car owner.
One such personality who often works behind-the-scenes without requesting much recognition is Don Gnat. The current Indiana resident moved from South Dakota at a young age and tagged along to a Figure 8 race at what is now Anderson Speedway. The experience as a whole caught his interest and years of dabbling in the local short track world in various roles including as a driver eventually led to 2012 with an eventual SCSCS champion.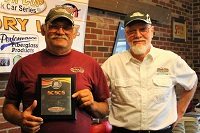 "Jimmie (Crabtree)'s the one that kind of brought me to Super Cup," Gnat explained. "He approached me about running to take some of the pressure off him, as they were looking to get his son (J.P.) into it with their car."
That first year, series newcomer at the time Tim McLaughlin joined for a two-car effort, resulting in a runner-up points finish for Crabtree and eighth place result for McLaughlin. A year later, Gnat became a two-time winning owner with Crabtree back in the primary seat while rookie Derrick Layne, currently a well-regarded tire specialist in the Super Late Model and NASCAR Truck Series ranks, turned in a reputable ninth in the standings.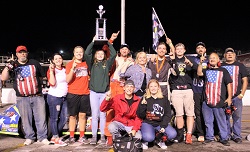 While Crabtree moved on for a few seasons Gnat stayed with it in SCSCS, providing competitors in the Hoosier State with a highly appreciated shot to navigate a stock car that they otherwise may never have been given the chance. Nevertheless, the gentleman who has amassed a total of 64 career starts between his multi-car efforts will be the first to tell that their positive results are thanks to a lot more than him alone.
"I really can't say enough about the people that helped me do this," Gnat said. "It's not all me, and I'm not going to take all the credit."
Working as an over the road truck driver, Gnat relies on his appointed drivers and any help they can receive from friends and family members between races. This past year some extra days were taken off from the day job to ensure the cars received the attention they needed, which paid off in a return to victory lane twice with two different drivers.
"We were real pleased with how the season went," Gnat recapped. "We did lose a car, but things happen in racing. It was an above average season, I will call it, and I think that says quite a bit about the people involved."
Trent Gossar picked up his first career win at Midvale Speedway to start the 2017 season and concluded full circle in a way with J.P. Crabtree, piloting a renumbered 42 in honor of his car owner's past racing endeavors, winning at Jennerstown Speedway to finish second in points. During the post-season trophy presentation, Gnat was recognized for his hard work with the annual Car Owner of the Year award.
Looking ahead to 2018, there is consideration to cut back to a single car campaign on a full-time basis with a more focused approach on achieving one position higher than being the bridesmaid in the championship at year's end.
In all, five different owners collected trophies throughout the eight regular season SCSCS events. In addition to Gnat's accomplishment of winning on more than one occurrence with multiple drivers, there was one other team that was able to do the same.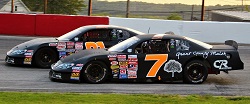 CR7 Motorsports got its start as a group out of Petersburg, West Virginia mostly new to the scene of stock car racing in 2013. In fact it was the first time Codie Rohrbaugh, a teenager at the time, made the jump from successful ventures in karting. The owner of the operation being his grandfather Larry Berg, they have expanded in recent years to field multiple cars at times including 'Pap' himself.
"It's tougher obviously with everything being double at the shop and once you're there, but when you have the crew's support it makes up for it," Berg remarked. "If it wasn't fun you wouldn't do it."
Under the tutelage of Mark Huff, a crew chief in the past for Pro Cup and Xfinity Series winner Johnny Rumley and longtime crew member for Ricky Benton Racing in the NASCAR Truck Series, the team is still mostly a family effort. The tight-knit group has won six times with Rohrbaugh in the seat, Berg broke through for his first victory in 2015, and at the beginning of the 10th Anniversary season Indiana's Stephen Cox made a long-awaited visit to winners circle.
The team has made a foray into the NASCAR K&N Pro Series East and ARCA Racing Series in the last few years, in which they have stuck together and held their own against an environment composed of some higher-dollar teams with full-time assistance and hired aspiring drivers.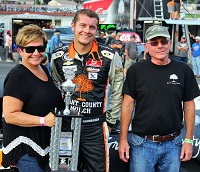 Involved in the turning of the wrenches with their preparation both away from and at the track is Rohrbaugh.
"I think a driver that's more than a driver and knows how to make a car go is important," Berg noted. "It gains him respect in the community and when we can go out and compete with them it is gratifying for us."
The Super Cup Stock Car Series features a landscape filled with a variation of sizes in quantity and knowledge when it comes to race teams. The independent driver/owner single-car family efforts of Brent Nelson and Jim Crabtree Jr. combined for three wins in 2017. In 2016, veteran driver Mike Potter witnessed his substitute for a race fulfill an accomplishment that could have only been dreamed of before, and parlayed it into a multiple car assault the following year winning again at the same track with that driver, Ben Ebeling.
Every group has its own story, and many entering into competition are in a similar situation as when Berg and the CR7 Motorsports team got their start. Berg spoke about the fairness the SCSCS displays despite being able to use the experience gained over the years across multiple series.
"We don't win every time we're there, even though I would like to think we are competitive every time," Berg, who indicated that they will be at the track with potentially up to three cars each event that does not interfere with additional schedules, added. "I think that shows the different levels we have here. It's diversified."
As the pieces continue to come together regarding participating teams and the 2018 schedule, check the official web site at www.supercupstockcarseries.com. In addition, visit the Super Cup Stock Car Series Facebook or Twitter for continued updates and information about drivers and teams plans for the new season as well as additional news.
_________________________________________________________