_________________________________________________________
10th Anniversary SCSCS Championship a "Long Time Coming" for Jim Crabtree Jr.
Somerset, Pennsylvania (September 5, 2017) – After ending up close to the ultimate trophy on multiple past occasions, 2017 went in Jim Crabtree Jr.'s favor enough to call himself a Super Cup Stock Car Series champion. The two times previous runner-up and a number of top supporters were recognized at the annual Awards Presentation the morning following the final event of the regular season held at Jennerstown Speedway Complex.
"It took me a few years, but we finally got one," an elated Crabtree, whose 10th Anniversary title was his first since 1994 when he competed on the local racing circuit back home in Indiana, said. "It's been a long time coming. Just happy it finally came."
It was the Muncie resident's return to the series for the first time since 2013 and preparation was the key in a year that saw one victory and no finish worse than fourth in eight starts.
"I worked hard all winter long from this time last year," Crabtree noted. "I wanted to make sure it was ready. A lot of hard work and it paid off."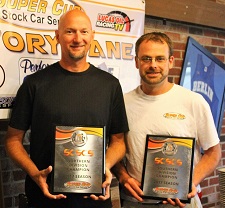 Crabtree, also a recipient of the inaugural Northern Division championship plaque, went on to thank the SCSCS Director of Competition Joe Schmaling for making it possible for competitors to enjoy some affordable stock car racing.
One of those competitors was his son JP Crabtree, who turned in his best ever effort including capping off Jennerstown in August with his first career victory, earning him a custom race-winner Boschett Timepiece. A one-two points finish is an incomparable accomplishment for the family's long line of success.
"That's one of those once in a lifetime things," JP Crabtree mentioned. "It's so hard to win races and win championships and run consistent. This is awesome."
The 2012 SCSCS Rookie of the Year also contributed to one of the best seasons for Don Gnat, who was awarded as Car Owner of the Year. Gnat opened 2017 in winners circle as well with 2016's Rookie of the Year Trent Gossar at Midvale Speedway, his first as an owner in the series since fielding a car for current champion Jim Crabtree Jr. in 2013.
In addition to each of the top 10 points finishers, many received special awards for their performance throughout each of the SCSCS events. Ben Ebeling, a winner for the second straight time at Lonesome Pine Raceway, became the first Southern Division champion and was recognized for his and the Potter Racing team's efforts.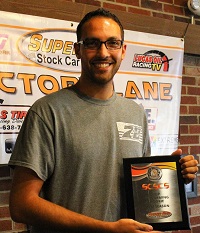 Top Performing Rookie honors went to Jerod Brougher, who finished a season best ninth in the final race after an up-and-down initial year. Ron Langdon, who made the long tow from Long Island New York, additionally came a long way during a couple of the Twin 50s earning him the season-long Hard Charger Award. The annual presentation is named in memory of former competitor Charlie Canterbury and was the tightest in series history with no repeat recipients at each checkered flag.
Jason Schue was named Sportsman of the Year for the second straight occasion and Most Improved Driver. Fellow Pennsylvania driver Brian Kaltreider received welding equipment from series partner Lincoln Electric. 2016 champion Harvey Harrison received the Racing Spirit award for continuously spearheading the support of a three-car team over multiple years and his gracious willingness to assist others in the pit area with his wealth of expertise.
Last but not least, PR Coordinator Aaron Creed and series photographers Patrick Miller and Cheryl Fleming presented Joe Schmaling with a special framed plaque for his 10 years of hard work and service. The design contained numerous names that have contributed to the series over the years and was signed by many in attendance during Jennerstown weekend.
The Super Cup Stock Car Series headlines the fall lineup on MAVTV with multiple occurrences of each show airing each week. Please visit mavtv.com for full listings of televised coverage of the 2017 SCSCS events.
As another regular season concludes teams have decisions to make as the months lead up to 2018.
"I don't know what next year holds," JP Crabtree commented. "We'll think about it this off-season and figure out what we're going to do."
One driver that has his sights set on the immediate future is third place points finisher Brent Nelson. Besides a broken rear end sidelining him at Midvale, the Petersburg, West Virginia driver won twice and never finished outside the top five in the remaining events.
"It wasn't something we could fix to get out for the second race and it really hurt us in the points," Nelson remarked. "Had we finished both races in the top five or better we may champions today, but it is what it is and we'll regroup and go from there."
Next up for the series is a special event at Dominion Raceway, a pristine facility in Thornburg, Virginia that opened at the start of 2016, on Saturday, September 23. Nelson has been anxious to compete on the 3/8-mile surface for a while now despite never seeing the track in person to date.
"We raced Grand Stock and Late Models at Old Dominion for numerous years and now we've got Dominion Raceway which has been relocated," Nelson said. "It's a new birth and looking forward to going there."
A full list of the final standings is available on the official web site at www.supercupstockcarseries.com. In addition, for continued updates regarding upcoming events visit the Super Cup Stock Car Series Facebook or Twitter for more information.
_________________________________________________________