_________________________________________________________
Championships, Race Wins, and Even More Up for Grabs in SCSCS August Jennerstown Twin 50s
Mount Joy, Pennsylvania (August 22, 2017) – The Super Cup Stock Car Series will be capping off the 10th Anniversary regular season in a big way this coming weekend in Pennsylvania. Three champions and many additional trophy recipients will be named over the course of the Jennerstown Speedway Complex Twin 50's presented by United Tire.
The most prestigious award on the line is the title of 10th SCSCS champion. Jim Crabtree Jr. is currently in the driver's seat after an incredibly consistent 2017 to date in his first full-time return to the series since consecutive runner-up points finishes in 2012 and 2013. The driver of the No. 63 Jim's Automotive / Judy's Apartments Chevrolet has not finished worse than fourth all year long and won a feature the most recent time out at Lonesome Pine Raceway earlier in the month.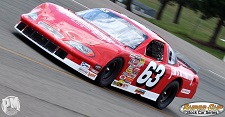 Despite an impressive 123 point advantage, the championship may not necessarily be sealed until the final lap of competition. With a record field expected, four additional competitors remain within a mathematical shot including the Muncie, Indiana resident's son J.P. Crabtree in the No. 42 USA Tire / For The Troops Ford. Only 11 points separate the 2012 SCSCS Rookie of the year and perennial series veteran Kevin Kromer and two-time winner at Jennerstown in July Brent Nelson in an extremely tight battle that could go down to the wire. Defending champion Harvey Harrison still has an outside chance as well but will need luck to be on his side for a potential repeat.
A ninth place result or better for Jim Crabtree Jr. in each of Saturday's 50-lap races will lock up the biggest trophy everyone has been shooting for.
I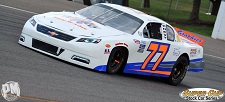 n addition to the overall title, the new Northern Division championship could be in his hands. The gap is only 40 points with the only remaining eligible driver being Walnutport, Pennsylvania's Kevin Kromer. The No. 77 Nobody Fights Alone / Racing for a Cure Chevrolet will be searching for every on-track position in order to capitalize on a winning opportunity.

The Southern Division is to be determined by an even closer margin. With a strong appearance at Lonesome Pine, two-time SCSCS race winner Ben Ebeling currently holds the advantage in the Potter Racing No. 44 Wrench Rags / Custom Graphics / Battery Specialists Ford. Nelson, J.P. Crabtree, Mike Kurkowski, Harvey Harrison, and Brian Harrison remain within striking distance.
Both the Northern and Southern Division titles will be decided exclusively at the conclusion of the first Twin 50, while both feature finishes will factor into the season-long overall champion.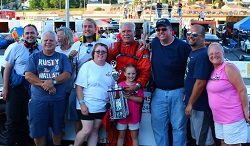 Not to be overshadowed, a bevy of racers either out of the running for a championship or making their initial appearance of 2017 will be looking for nothing less than a race victory. Uniontown, Pennsylvania's Bill Ashton made his mark a year ago at his home track with a breakthrough win and will be looking to do the same again. Indiana natives Stephen Cox and Trent Gossar have already won this year and want to add to that total.
Home state drivers Kyle Kromer, John Komarinski, and Jerod Brougher are each set to bounce back after being absent the last time out and have nothing to lose as they search for their best career SCSCS finishes. New York's Brent Cross and Jason Holehouse as well as North Carolina's Tim Richardson are slated to make their first starts of 2017.
Another seven or eight teams will mix it up on the 1/2-mile in what could perhaps become the most competitive event in series history.
SCSCS practice is scheduled to begin at 2:00 p.m. with qualifying taking place at 5:00 p.m. The first of the Jennerstown Speedway Complex Twin 50's presented by United Tire will take the green flag shortly after 6:00 p.m., and fans will be greeted with an autograph session in the midway behind the grandstands between races. The Sopwith Motorsports Television Productions crew will be on hand filming and producing for nationally televised broadcasts, which will premiere on Thursday, September 7 on MAVTV.
For the second straight year, a trophy presentation and breakfast buffet for teams and their families will take place in nearby Somerset, Pennsylvania on Sunday morning. While the regular season will be coming to an end, two more non-points special events are on the schedule for the autumn months.
For more information please visit the official web site at www.supercupstockcarseries.com. Interactive updates throughout race day will be available on the Super Cup Stock Car Series Facebook and Twitter.
_________________________________________________________