_________________________________________________________
10th Anniversary Season of SCSCS Racing to Premier on MAVTV Starting in September
Mount Joy, Pennsylvania (August 14, 2017) – The Super Cup Stock Car Series (SCSCS) and Sopwith Motorsports Television Productions are ready to once again bring the roar of 3,300 lb. 600hp stock cars to MAVTV, a television network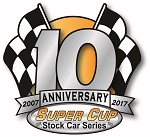 owned and operated by Lucas Oil Products with its roots deep in the automotive world. After enthusiastic reception from 2016 season broadcasts that were showcased throughout the past year in front of a national audience, new half hour long shows highlighting each of the races from 2017 will begin on Thursday, September 7.
"The series looks forward to being back with the MAVTV family for a second straight year as part of our 10th Anniversary season," said Joe Schmaling, SCSCS Director of Competition. "Fans and TV viewers witnessed a great 2016 from beginning to end that has resulted in a positive impact which has helped us grow the series with new teams and expansion into additional geographies for 2017 and beyond."

The grassroots racing series formed in 2007 as an affordable alternative for drivers looking to compete on short tracks across the eastern parts of the country. SCSCS events in three states consisted of twin 50-lap races, amounting to a total of eight rounds of competition to determine a national points champion. MAVTV coverage will begin with the first feature from Ohio's 3/10-mile Midvale Speedway with its standard 3:30 p.m. ET start time that fans became used to since the 2016 season premiered.
Visits at the popular 1/2-mile Jennerstown Speedway Complex in Pennsylvania and 3/8-mile Lonesome Pine Raceway in Virginia will also make appearances on episodes produced by Sopwith Motorsports Television Productions of Indianapolis.
For more information and to learn more about the Super Cup Stock Car Series and MAVTV please visit www.supercupstockcarseries.com and www.mavtv.com.
_________________________________________________________