_________________________________________________________
Pair of Races in Southwest Virginia Could Prove Pivotal toward 10th Anniversary SCSCS Championship
Mount Joy, Pennsylvania (August 1, 2017) – Super Cup Stock Car Series drivers and teams have been hard at work gearing up for a pair of opportunities offered this upcoming Saturday. The 10th Anniversary season continues its summertime pace as Lonesome Pine Raceway hosts the Extreme Awards & Personalization / Patrick Miller Photography Twin 50s presented by United Tire.
Last year's race at the Coeburn, Virginia 3/8-mile oval presented some thrilling battles all the way to the checkered flag. The first-time winner in his initial SCSCS start, Ben Ebeling, still vividly remembers how meaningful the special night that ranks up there as a career highlight was.
"It was unbelievable just because of so many things," the 36-year-old racer recapped. "Having my daughter there eight months after we adopted her for only the second race she was at and it was the first time my mom was present when I won a race. I wasn't even sure if I'd be driving and we unloaded that thing and it was pretty good right off the truck."
Ebeling absolutely feels the added pressure going into this weekend to repeat last year's performance. The first appearance of 2017 for the Hickory, North Carolina resident was originally set for June, but a postponement provided some extra time to prepare a newly purchased car out of the Potter Racing stables.
"I set the bar really high," Ebeling laughed. "We were 95 percent ready but it was great to take a step back and fine tune some more. There are a lot of unknowns again and this car hasn't even turned a lap, but I have no doubts that it's as good as anything out there. Hopefully we will be able to work on speed when we get to Lonesome Pine."
Ebeling once again will lean on two of his biggest influences for pointers, although one of them will not be in attendance at the track much like in 2016. Jon Kerley, who was Ben's instructor at the Catawba Valley Community College approximately 15 years ago as part of their motorsports program when he relocated south, provided the preferred setup and necessary advice to navigate the outside groove to his advantage last year.
The winning ride from that night will be piloted by team owner Mike Potter, who thankfully walked away from a wicked wreck last time out at Jennerstown Speedway Complex. The Johnson City, Tennessee veteran's experience in the region dates back to the 1970s when he won races in weekly competition and also scored top 10 finishes in the NASCAR Late Model Sportsman National Championship which preceded the NASCAR Busch/Xfinity Series.
In fact, Potter is one of four drivers entered that first raced at Lonesome Pine more than three decades ago. Brad Teague, a former track champion and veteran of 241 career NASCAR Xfinity Series starts from 1982 to 2015 with a victory in 1987, comes out of retirement to go for the win in a third Potter Racing machine.
Mike Kurkowski will make his first appearance of the season and competed at Lonesome Pine during his rookie year in the highly-regarded former American Speed Association back in 1983 with a ninth place result. Bob Schacht perhaps may be looking for the most redemption after being credited with a runner-up finish in an ARCA race that same year in which the Mooresville, North Carolina driver believes he should have won.
In regards to those in the running for the overall championship, current leader Jim Crabtree Jr. set fast time, led laps, and finished top five in his only previous SCSCS start at Lonesome Pine Raceway back in 2008.
Kevin Kromer hopes to narrow the point deficit as he travels south following an ARCA Racing Series debut at Pocono Raceway the past weekend. The Walnutport, Pennsylvania racer missed last year's event after undergoing a successful series of cancer treatments, but did compete at the southwest Virginia track four times from 2008 through 2010 with a best finish of third. The team owner he drove for at the 2.5-mile track, Brian Kaltreider, returns to the series at the site of his best run in 2016.
The hunt for the abbreviated southern division title begins with the two races this weekend as well. J.P. Crabtree III tops those eligible in the overall standings, and has been studying video of past events and inquiring about setup since the Muncie, Indiana driver has never competed at this particular racing surface.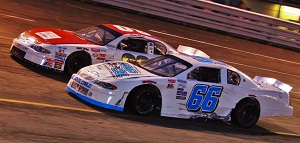 Brent Nelson is fresh off an evening sweep at Jennerstown and was quick at Lonesome Pine a year ago before gremlins under the hood sidelined him. Larry Wilcox could have something for his fellow counterparts, recording two top five finishes in the past at LPR.
The Harrison family composed of Harvey and his two sons Brian and Brandon will be tough to beat as always. Harvey set fast time a year ago and has never finished worse than fourth in five past LPR starts.
J.P. Crabtree's teammate and proven quick adapter Trent Gossar will bring back the same car he finished runner-up with one year ago after heavy damage was sustained to his Don Gnat Racing primary car last time out. Bill Ashton, Jason Schue, Ron Langdon, and more hope to improve on their past series results with two chances to do so.
SCSCS practice is slated to begin at 2:00 p.m. with qualifying taking place at 6:00 p.m. following local divisions. The first of the Extreme Awards & Personalization / Patrick Miller Photography Twin 50s presented by United Tire will take the green flag shortly after 7:00 p.m.
The Sopwith Motorsports Television Productions crew will be on hand once again filming the full Super Cup Stock Car Series season and producing nationally televised broadcasts scheduled to be shown on MAVTV at a later date to be announced.
For more information please visit the official web site at www.supercupstockcarseries.com. Interactive updates throughout race day will be available on the Super Cup Stock Car Series Facebook and Twitter.
_________________________________________________________