_________________________________________________________
Home State Drivers and More Focused for Successful "Night at the Races" at Jennerstown
Mount Joy, Pennsylvania (July 5, 2017) – The Super Cup Stock Car Series competitors are ready to shake off the recent wet weather and kick-start a summer filled with high speeds at the popular Jennerstown Speedway Complex nestled in the Laurel Highlands of Pennsylvania.
A majority of the thousands of fans that flock to the facility will be pulling for their fellow heroes from the home state during American Racer "Night at the Races" presented by United Tire. Walnutport's Kevin Kromer paid a visit to the speedway during their season opening weekend back in May to update the crowd on recent progress with his health and describe the excitement that will be witnessed this coming Saturday.
Kromer is coming off two solid runs at Midvale Speedway a month ago and looks to improve upon a Jennerstown personal best third place finish in his No. 77 Nobody Fights Alone / Racing for a Cure Chevrolet. His son Kyle had a strong top five run going last time out before mechanical problems sidelined him, and will certainly be focused on rebounding with a career effort in the No. 52 Kromer Plumbing, Heating and Air / Ed Yesik Trucking Chevrolet.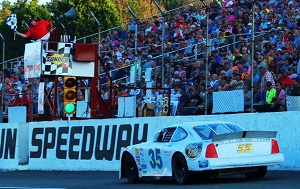 Last August was a highlight in stock car racing for veteran racer Bill Ashton. The Uniontown resident powered to the outside of numerous past SCSCS winners to gain his first ever victory at his home track. After a slow start to the season, the driver of the No. 35 Buck Stove / Buck's Tiny Houses / Ethel's Edibles Chevrolet will also be searching for success.
Jerod Brougher, a rookie in the series, is no stranger to Jennerstown. The former Street Stock feature winner was fast right out of the box debuting his No. 72 Donegal Auto Body / Parry Custom Homes Chevrolet and should be a force to reckon with at his home track. Another local racer for more than 30 years, John Komarinski will make his long-awaited introduction to the series and will be joined by fellow Keystone State driver Jason Schue as a contender.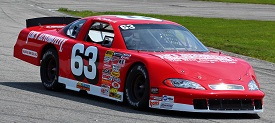 Jim Crabtree Jr. enters the event as the current point leader, but has only competed twice at Jennerstown back in 2006 with the Pro Cup Series. He hopes that despite limited experience on the 1/2-mile surface that the Hoosier State can continue their early season reign along with his son J.P. and Midvale first-time winners Trent Gossar and Stephen Cox.
Neighboring West Virginia cannot be counted out as five-time Jennerstown winner Codie Rohrbaugh will be splitting driving duties with his grandfather Larry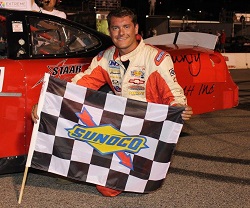 Berg in the No. 7 Grant County Mulch Inc. Chevrolet. The Harrison family has always been strong no matter what track they head to, but Harvey, Brian, and Brandon each will be searching for their first Jennerstown win at one of their favorite track configurations. In addition, Petersburg's Brent Nelson looks to turn around a dismal beginning of the season in his beautifully prepared No. 80 Airtek Inc. / Precision Auto Collision / Berg Construction Chevrolet.
In all, there will be competitors from at least six different states ready to go on Saturday. Mike Potter returns from Tennessee after a pair of top 10 performances at Midvale. Larry Wilcox and Bob Schacht will make the trip up from the heart of stock car racing in North Carolina. Long Island, New York racer Ron Langdon plans to make his series debut as well.
SCSCS practice is slated to begin at 2:00 p.m. with qualifying taking place at 4:00 p.m. The first feature during American Racer "Night at the Races" presented by United Tire will take the green flag shortly after 6:00 p.m.
The Sopwith Motorsports Television Productions crew will be on hand once again filming the full Super Cup Stock Car Series season and producing nationally televised broadcasts scheduled to be shown on MAVTV at a later date to be announced.
For more information please visit the official web site at www.supercupstockcarseries.com. Interactive updates throughout race day will be available on the Super Cup Stock Car Series Facebook and Twitter.
_________________________________________________________