_________________________________________________________
SCSCS Readies for Debut of Friday Night Heat at the Concrete Jungle
Mount Joy, Pennsylvania (June 19, 2017) – From the familiar surroundings of Ohio's Midvale Speedway the Super Cup Stock Car Series drivers and teams head south into previously uncharted territory for the Friday Night Heat Twin 50s presented by United Tire at Kingsport Speedway in Tennessee.
Only a handful of competitors entered for the event have prior knowledge of the characteristics that the 3/8-mile oval has to offer. Mike Potter's experience dates back to the 1970s when he won races weekly and also scored top 10 finishes in the NASCAR Late Model Sportsman National Championship which preceded the NASCAR Busch/Xfinity Series. The Johnson City, Tennessee resident most recently competed in Late Models at the track only a few short years ago.
Not only will his No. 14 Ford that recorded two top 10 finishes at Midvale be in attendance, but the Potter Racing team plans to field a four-car effort at their home track. No. 99 Jon Kerley rebounded from an issue in the first race earlier in the month to challenge for the lead from the back before fading to a seventh place finish. No doubt the Hiddenite, North Carolina driver will have the same Chevrolet in which Ben Ebeling drove to the win at nearby Lonesome Pine Raceway last August dialed in.
Ebeling will join Potter and Kerley in a new car No. 44 in his initial appearance at the speedway. Rounding out the fleet is another driver that is not a stranger to Kingsport. Brad Teague, a veteran of 241 career NASCAR Xfinity Series starts from 1982 to 2015 with a victory in 1987, will come out of retirement to give one of his home tracks another run in the No. 12 Chevrolet. Also from Johnson City, Teague won a NASCAR Late Model Sportsman event at the facility back in 1980.
In addition to the track being a debut appearance for the remaining drivers entered, it will also be a first for many to navigate a concrete surface in a full-bodied stock car. The tight corners with 11 degree banking will also have teams swiftly thinking through the best setup to be a contender for the win.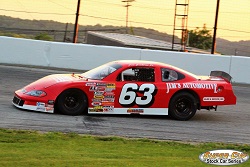 Don't count out any of these racers though, such as Jim Crabtree Jr. who enters Friday with the early season points lead in the No. 63 Jim's Automotive / Judy's Apartments Chevrolet. The Muncie, Indiana native was victorious during the only previous year in which the SCSCS competed in the Volunteer State at Newport Speedway in 2008. Larry Wilcox from Denver, North Carolina joins Crabtree as the only other driver scheduled to be at Kingsport who previously competed in a SCSCS race in Tennessee as he tries to better a third place run in that same event Crabtree won.
Fellow Indiana driver Trent Gossar has adapted quickly to tracks new to him, including a runner-up finish at Lonesome Pine last year. The driver of the No. 71 Gossar's Towing / Don Gnat Racing Chevrolet carries momentum after grabbing his first career victory earlier this month. J.P. Crabtree III may also be from Indiana, but turned in the best combined results last time out among drivers eligible for the southern division title, which begins its campaign at the "Concrete Jungle".
Many additional competitors will be looking to put a stop to the Hoosier State sweep so far this year, including Harvey Harrison and sons Brian and Brandon who have the opportunity to race closer to their West Virginia home. Pennsylvania's Kevin Kromer is off to good start to 2017 and searches for more success, while West Virginia's Brent Nelson and North Carolina's Bob Schacht look to turn their slow start to the season around after mechanical issues sidelined them at Midvale.
SCSCS practice is slated to begin at 5:30 p.m. with qualifying taking place at 7:30 p.m. The first of the Friday Night Heat Twin 50s presented by United Tire will take the green flag shortly after 8:00 p.m.
There will also be an optional early practice session held for all divisions competing on Friday from 2:00 to 4:30 p.m.
The Sopwith Motorsports Television Productions crew will be on hand once again filming the full Super Cup Stock Car Series season and producing nationally televised broadcasts scheduled to be shown on MAVTV at a later date to be announced.
For more information please visit the official web site at www.supercupstockcarseries.com. Interactive updates throughout race day will be available on the Super Cup Stock Car Series Facebook and Twitter.
_________________________________________________________