_________________________________________________________
First-Time Winners, Young and Experienced, Tackle Midvale Twin 50s
Midvale, Ohio (June 4, 2017) – Saturday night's Skipco Auto Auction Twin 50s presented by United Tire & Service exhibited the incredible amount of effort required in order to power to the front and win a Super Cup Stock Car Series race.
With a series record 20 cars on hand at the Midvale Speedway 3/10-mile oval, qualifying initially showed how tight of a fight it would be later on the track surface. 2015 event winner Larry Berg claimed his third career pole award, but only five-hundredths of a second separated the Petersburg, West Virginia driver from Jim Crabtree Jr. and Harvey Harrison.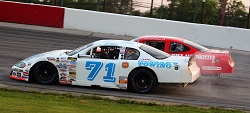 Crabtree, returning to the series for the first time since 2013, shot into the early lead in his No. 63 Jim's Automotive / Judy's Apartments Chevrolet. Behind him, last year's rookie of the year Trent Gossar was making moves using the outside line. By lap 10, Berg had found his way under Crabtree once again with Brent Nelson and Gossar following by.
Nelson, the defending Midvale winner, would have a short-lived top five run as drivetrain issues sidelined him for the remainder of the night. During a yellow flag around the same time, Gossar was ordered to the pits to inspect some noticeable smoke that began billowing from the back of his No. 71 Gossar's Towing / Don Gnat Racing Chevrolet the prior green flag run.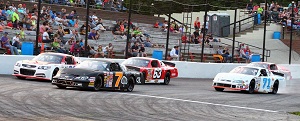 The Markleville, Indiana 24-year-old advanced back through the pack with Berg, Crabtree, and defending SCSCS champion Harvey Harrison mixing it up for the lead. Once Crabtree regained the lead, Gossar then powered around him on a restart with 13 laps remaining. Crabtree kept the leader in his sights, but it was Gossar that took the checkered flag for the first time in his SCSCS career.
"It's definitely a big goal and accomplishment and hopefully there will be more to come," Gossar, a contender for victory twice in his first full season in 2016, said.
It was also the first win for Don Gnat Racing since 2013, when runner-up Crabtree drove for the team. The team acquired a new car and started working on it only a few weeks ago. Altogether, it was a never give up attitude that showed how hard work pays off.
"They got me upset and a little worked up when they made me go to the tail because I thought I should have got my spot back," Gossar noted. "I guess a mad driver is a fast driver."
Berg, Harrison, and JP Crabtree completed the top five in race No. 1.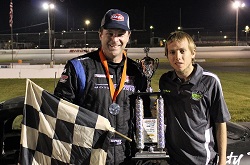 Last year's fast qualifier and runner-up finisher Stephen Cox was never a factor for the win in the first race. Salvaging a 10th place result, the Rohrbaugh Racing team discovered an issue with the rear end and had to park his No. 21 STA-BIL 360 Performance / McGunegill Engine Performance / Impact Race Products Chevrolet.
Luckily for Cox, a fatigued teammate Berg graciously opened up the seat of his No. 7 Grant County Mulch Chevrolet, ironically the same car in which the Indianapolis driver piloted a year prior. As a result of the driver change, he would have to start from the back of the field for the second Twin 50.
After the first race's top finishers redrew for starting position, son and father Brandon and Harvey Harrison started from the front row with Brandon jumping out to the early lead. With eight laps complete, Jim Crabtree Jr. made his way to the front once again and began to pull away.
Gossar eventually followed into second spot, but race No. 2 was short-lived for the season opening winner due to a rear seal leak in the transmission.
With misfortune for a couple of the frontrunners, Cox suddenly found himself in the top five and maneuvered his way to second position prior to halfway.
Crabtree and Cox broke away from the rest of the field during the closing stages and began their own battle for the win. Cox chased down Crabtree and with eight laps to go was able to get a nose under him coming down the backstretch to gain the lead.
After coming close to victory multiple times in past SCSCS starts, Cox was thrilled he could seal the deal a year after returning to racing following a fiery accident in a road race the previous February.
"I feel like we've had this coming for a while," Cox mentioned. "It is impossible to express how the planets aligned tonight. I came back after being hurt so bad in 2016. We had this real high and then a crushing disappointment and to come back and get my first Super Cup win after being denied a couple times when I really think we should have had it is just more than you can put into words."
Cox also summed up how tall a task it is to come from back to front with only 50 laps to get the job done.
"It is so hard to go from last to first because no matter what series you're in, the last five guys in front of you will kill or die to stay out front, and they're really good," Cox continued. "Thomas Rohrbaugh, my spotter, came over the radio and said 'Stephen, there's 10 to go. Do what you do.' I just flat-freaking stood on it and I was overdriving the car a little bit, but I think that Jimmie had to overdrive so much more to stay ahead of me and we just wore him down."
For Jim Crabtree Jr., it was a spot short of the win in both races but a good start to the season as the Muncie, Indiana has the early points lead for both the northern division and overall championship.
"The car just wouldn't turn in the middle and then we'd lose forward bite off, so that's where we were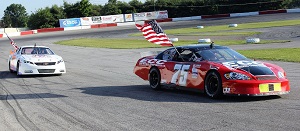 getting beat," Crabtree explained. "We'll work on it and get it better for the next one."
JP Crabtree made it a one-two-three sweep for the Hoosier State in the second race with two-time Midvale winner Kevin Kromer turning around his recent bad luck, recording his best finish since 2014 in fourth. Harvey Harrison held on to round out the top five.
The next Super Cup Stock Car Series event takes place at Kingsport Speedway in less than three weeks with Twin 50-lap races on Friday, June 23. It will be the first ever visit to the concrete 3/8-mile for the series and the first time competing in the state of Tennessee since the inaugural season in 2008.
Among those looking forward to their debut in the Volunteer State is the first trophy and 10th Anniversary season medallion recipient of 2017.
"I hear it's the sister track to Lonesome Pine, and I did pretty good there last year, so hopefully we'll be good there," Gossar, who finished second in last August's event at the Virginia facility less than an hour from Kingsport, commented.
The Skipco Auto Auction Twin 50s presented by United Tire & Service will air at a future date on MAVTV and LucasOilRacing.TV.
Please visit the official web site at www.supercupstockcarseries.com, the Super Cup Stock Car Series Facebook or Twitter for more information on the 10th Anniversary season.
_________________________________________________________