_________________________________________________________
10th Anniversary SCSCS Season Kicks Off with Twin Features at Midvale
Mount Joy, Pennsylvania (May 30, 2017) – For the second straight year, Eastern Ohio's Midvale Speedway will launch the Super Cup Stock Car Series summertime campaign. This year's festivities will be headlined with some new distinct formats for fans to enjoy at the facility which has hosted the stars in their full-bodied stock cars since 2011.
The Skipco Auto Auction Twin 50s presented by United Tire & Service will put teams to the test with two features, each counting toward the season-long championship. The first 50-lap race will be run before the sun goes down while the second will take place under cooler track conditions at night. In addition, teams will have to compete on the same tires they qualify on earlier in the day throughout the evening, putting equipment conservation at a premium.
If the twin races format that will be utilized during the entire season is not enough of a challenge, 2017 will also see two mini-series within the competition for the title. It was announced during the off-season that northern and southern division champions will be named in addition to the driver who accumulates the most overall points. Midvale is designated as a northern division event in which drivers that opted to run in the north are eligible to score points toward that award as well.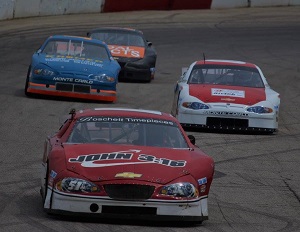 Although running for south points, Harvey Harrison leads the pack into the 2017 season and will be the first driver since 2013 that returns to defend his name as the SCSCS champion.
"We're basically doing what we've done before," the Renick, West Virginia veteran explained regarding maintenance over the months away from the track. "I've always just taken it one race at a time and roll with the flow."
While it was an incredible run toward a first career championship in the 3,300 pound, 600 horsepower machines, the season did not start off on the best foot for Harrison. Nevertheless, three previous top five finishes at the track and a front-running car last year have him optimistic for this year's running.
"Last year we got caught up in a wreck, but thought I had a car that could win," Harrison said. "It's going to be tough. It's important to start out without having a lot of bad luck so we'll see how it goes."
With a steepened field of contenders expected on an already difficult track layout, Harrison knows Saturday will not be an easy assignment.
"I like competition," the driver of the No. 51 Southern Coal Corporation Chevrolet admitted. "Midvale's a little different track and it makes it a challenge. It's so small that the trick is to rotate in the corner well. I know (Jimmie) Crabtree was always good at that, and he'll be running up front."
Crabtree as well as his son J.P. are among the drivers returning to the series after a few years away. It will be the first experience for both at the twin feature format.
"The main thing in that first race is to finish," Harrison suggested. "There's not a lot of room for error. You have to go in with a different mindset and have a car for the second race."
Meanwhile, Harrison has had a lot going on between assisting his sons prepare to be race ready and working at the Harrison's Motorsports headquarters. Brandon and especially Brian had their share of misfortune in 2016 and hope to turn it around.
"The workload in the shop has been busy," Harrison noted. "It's a task to keep three cars going. I hope Brian gets the monkey off his back. I've been preaching to the boys to be patient."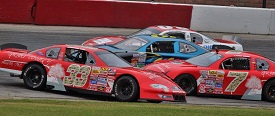 Joining the aforementioned competitors will be Stephen Cox, who set a new track record and led the most laps in 2016's 75-lap event. Unfortunately, at race's end he was one spot short of the victory.
"The tough part about the 2016 Midvale race is that we had a perfect car--not a good car, but a perfect car," the Indianapolis driver commented. "The kind of car you might get once every two or three years if you're lucky."
While leading, Cox found himself facing the wrong way after contact from the car behind.
"You can't afford to have a car that good and not win, because nailing the perfect setup is more art than science," Cox continued. "You may not have another truly perfect car again for years. It's like getting to the Super Bowl and losing. It's so hard to get there that when the opportunity comes, you can't afford to lose it. We had the race won twice but still managed to lose."
Cox now looks strictly ahead to 2017 where he will be searching to start off at a track he feels there is some unfinished business. However, he is aware that success a season ago may not directly translate into a winning effort this year. Adjustments may be necessary.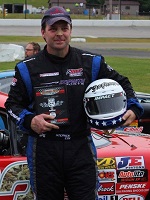 "We're going back this year with a new car and of course we'll use the same setup," the driver of the No. 21 McGunegill Engine Performance / Impact Race Products Chevrolet for Rohrbaugh Racing said. "But track conditions and weather are so fickle that there's no guarantee that you're going to have a great car again."
The big picture for Cox is the rare opportunity to run for the championship, something that due to scheduling conflicts with his full-time work was not possible in 2016. In fact, for Midvale weekend the co-host of the Mecum Auctions television broadcasts will be flying in overnight Friday from a show in Las Vegas.
"This is only the second time in my 30 year racing career that I've had a chance to run for a championship," Cox indicated. "The first time was in 2004 and we won the GT Challenge Series road racing title and the rookie championship. I'd like to go two for two by winning a championship this year. Midvale owes me, but it's the season title I'm really after."
Cox's teammate Larry Berg, who found himself in victory lane at Midvale in 2015, will be among the stellar list of racers back for another go. Defending event winner Brent Nelson and two-time trophy recipient at the track Kevin Kromer will be mixing it up with perennial series regulars Jeff Zillweger, Bill Ashton, Trent Gossar, Jason Schue, Tim McLaughlin, Kyle Kromer, and more.
Mike Potter, Brent Cross, Larry Wilcox, and Bob Schacht bring a host of stock car racing experience, but will be making their first starts on the 3/10-mile oval. In all, drivers from seven different states will converge on Saturday.
The Sopwith Motorsports Television Productions crew will be on hand for the second straight year filming the full Super Cup Stock Car Series season and producing nationally televised broadcasts scheduled to be shown on MAVTV at a later date to be announced.
For those looking forward to being at the track on race day, SCSCS practice begins at 3:30 p.m. with qualifying taking place at 5:00 p.m. after the local divisions partake in their sessions. An on-track autograph session will follow qualifying with the first of the Skipco Auto Auction Twin 50s presented by United Tire & Service set to go shortly after racing begins at 6:30 p.m.
A four hour optional open practice session will be offered to teams early Friday evening as well.
For more information please visit the official web site at www.supercupstockcarseries.com. Interactive updates throughout race day will be available on the Super Cup Stock Car Series Facebook and Twitter.
_________________________________________________________