_________________________________________________________
Kromer Reenergized with New Partnership for a Good Cause in 2017
Mount Joy, Pennsylvania (May 25, 2017) – Walnutport, Pennsylvania's Kevin Kromer, the K2 Motorsports team, and family have run into their share of various obstacles at the track the last couple seasons. With that said, no Super Cup Stock Car Series race would prepare them for the battle they would face beginning midway through 2016.
Kromer received a cancer diagnosis immediately prior to the July event at Jennerstown Speedway and the short track racing community rallied around him. After weeks of chemo and radiation treatments that followed and recovery from a major surgery, the 52-year-old driver can now call himself a cancer survivor.

With a revitalized outlook on life, Kromer plans for the 2017 season focus to be on paying the support they have received forward to the Northeast Pennsylvania region they call home and more.
"The model for this year is to give back," Kromer explained. "What we're doing is partnering with the Lehigh Valley Health Network with proceeds to raise funds for the continued research at the Lehigh Valley Health Network Cancer Institute."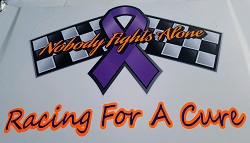 At Jennerstown's recent opening night, Kevin and his wife Kelly Kromer were in attendance to help promote this July's SCSCS event at the ½-mile and describe his progress as well as the Nobody Fights Alone / Racing for a Cure message that will adorn his No. 77 Chevrolet this year.
At each of the SCSCS events, shirts and other items will be available along with opportunities to bring awareness and marketing to benefit the good cause throughout the season.
In addition, there is no doubt that Kromer still has the competitive drive to turn around his racing luck for 2017 and beyond in the SCSCS and another racing endeavor to be announced at a future time.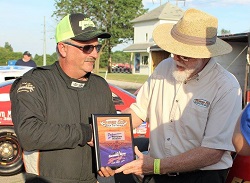 "I'm 100 percent and we're on our game this year," Kromer noted. "We went through the car front and back and are going for it all. Looking at this to win the championship and putting all my effort into it."
Kevin's son Kyle Kromer will return for his fifth season as well in the familiar No. 52 Kromer Plumbing, Heating and Air / Ed Yesik Trucking Chevrolet in which he hopes to continue improving upon prior results. Kevin set a track record that will stand forever driving Kyle's car at Columbus Motor Speedway last year.
With his health back, Kevin's optimism has him riding high entering the season opener at Midvale Speedway, a track in which he has won at on two occasions.
"I'm feeling better than I did 10 years ago," Kevin Kromer said. "I'm really fortunate to have what I have to keep going."
The Race Day Schedule and Entry List for Saturday, June 3's season opening Skipco Auto Auction Twin 50s presented by United Tire & Service are now posted. For more information about the Super Cup Stock Car Series and its partners, please visit www.supercupstockcarseries.com or follow along on Facebook and Twitter.
_________________________________________________________