_________________________________________________________
2016 Podium Points Finishers Poised for Further Achievement
Mount Joy, Pennsylvania (May 16, 2017) – Although they came up short in a close race for the Super Cup Stock Car Series title, 2016's second and third place points finishers showed that they can remain in contention throughout their best season to date.
Brent Nelson admits it was not easy realizing he was only 31 points away from his first ever championship, but can reflect on what he has accomplished in his years with the SCSCS as a step in the right direction.
Aware of an expected increased number of quality racers and teams to contest with at each event in 2017, the Petersburg, West Virginia driver knows what he needs to focus on going in.
"The competition is going to be really stout," Nelson commented. "All I have to do is worry about myself and pick up where we left off last year."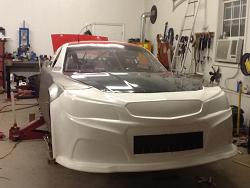 Nelson enters the season opening Skipco Auto Auction Twin 50s presented by United Tire & Service at Midvale Speedway as the defending race winner. Unfortunately, luck would not be on his side in its entirety during the remainder of the season when involvement in a hard wreck at Jennerstown Speedway in July and motor issues at Lonesome Pine Raceway sidelined him early.
With the off-season to prepare, Nelson now has the No. 80 Chevrolet in pristine condition.
"Right now we have a brand new engine in since the old motor was tired," Nelson explained. "Went over the entire car and worked on putting some new body panels on once we finally got the new nose."
The 2017 design presented by series partner Performance Fiberglass Products involved lots of long nights spent assembling parts together, but being the first to go through the steps Nelson hopes that his expertise can translate to a simpler process for those that follow.
"It's a really nice piece," Nelson remarked. "I think it is going to set the series up as far as getting cars looking more modernized."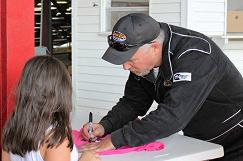 No matter how nice the car looks on the outside and under the hood, things still have to go a driver's way each race day to put together a winning performance.
"We have to be at the right place at the right time and finish every lap," Nelson said. "Every year we seem to progress and we have only one spot to go."
In addition to chasing victories during the regular season, Nelson also looks forward to the special event slated to take place in September at Virginia's Dominion Raceway, a short distance from where he began much of his local racing career at the former Old Dominion Speedway.
Additionally within striking distance of the championship up until the final race was third place points finisher Jeff Zillweger. 2016 was a banner year and a major turnaround for the Pittsburgh, Pennsylvania driver, after engine woes sidelined him for most of the 2015 season.
Despite being the example of consistency in 2016 completing all but two laps with no finish worse than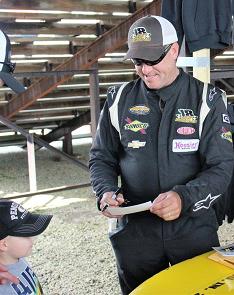 sixth, Zillweger's No. 18 Chevrolet still was in need of some care over the off months.
"It's like going to the dentist for a checkup," Zillweger described. "Make sure we are on the same page so we can start the year off fresh."
The two-time most improved driver of the year took his car to upstate New York during the winter to get some help and advice from the gentleman he originally purchased the car from, former Pro Cup and current Late Model racer Sam Fullone.
"We went over the whole thing since my dad was sick in the fall and couldn't do the bodywork," Zillweger said. "Sam's a guy if I throw a question or two to him he'll give you more information than you think you're going to get. He's been a big influence and a real big help for me. You don't usually get that after you buy a car from someone. It means a lot."
With his father, SCSCS advisory board member Rich Zillweger, feeling better the team is ready to handle the increased competition in the form of returning racers he has learned from in the past for 2017.
"To have a good year and finish it in third running with Brent bumper to bumper, it's a big confidence builder," Zillweger recapped. "With first-class guys like JJ (Pack) and Jimmie (Crabtree) coming back, maybe I can beat them now."
Zillweger's best race result to date of third came at the final race of last season at his home track of Jennerstown Speedway. A trophy is next on his list and would be even bigger in front of friends and family.
"A win would be the most important thing for me," Zillweger said. "To win there and to do it for my dad would be really special. It would be icing on the cake."
Race Day Schedule and preliminary list of entries for the Saturday, June 3 season opening Skipco Auto Auction Twin 50s presented by United Tire & Service at Midvale Speedway are now posted. For continued updated information and to learn more about the Super Cup Stock Car Series and its partners, please visit www.supercupstockcarseries.com or follow along on Facebook and Twitter.
_________________________________________________________