_________________________________________________________
Schacht Signs On for 2017 SCSCS Schedule
Mount Joy, Pennsylvania (May 7, 2017) – 19 career ARCA victories, numerous NASCAR starts, and success across numerous other racing divisions and sanctioning bodies – now add a planned full season in the Super Cup Stock Car Series for accomplished racer Bob Schacht.
The Mooresville, North Carolina resident made his debut in July 2016 at Jennerstown Speedway (PA), shortly after being informed about the series.
"Somebody came over to my shop looking for parts and I asked what he was looking for them for," Schacht explained. "He told me about the series and with that I called (Director of Competition) Joe (Schmaling). He said bring what you've got and we'll adjust and you can go race. It's the most fun I've had in 20 years."
That enjoyment came in the form of a pair of third place finishes his first time out, an experience that has Schacht coming back for more in 2017.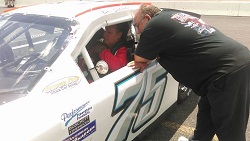 "I like the format, practicing that day and running one 50 lapper, then having the opportunity to work on your car between races," Schacht said. "The guys we race with, they race fair. I raced side-by-side with (2015 SCSCS champion Dan) Bainey for 15 to 20 laps without even touching each other."
While the Chicago area born and raised driver has frequented countless facilities over multiple decades, most of the SCSCS schedule consists of tracks he has yet to visit. Nevertheless, Schacht is confident after working on the car over the winter that his team can contend anywhere. The team plans to shake down their No. 75 Engineered Components / Bob Schacht Motorsports Chevrolet at Hickory Motor Speedway and translate any feedback to the first event of the season at the 3/10-mile Midvale Speedway.
One event Schacht has circled on his calendar is Lonesome Pine Raceway in August. He feels the Virginia 3/8-mile track owes him one after last competing there back in 1983.
"I won that race," Schacht claimed, despite the stat sheet showing him with a second place finish. "I had just passed (Bob) Dotter coming out of one and the lights at the race track went out. We raced back to the line with me in the lead but because of the transformer going out we couldn't finish the race, and they reverted back to the last lap."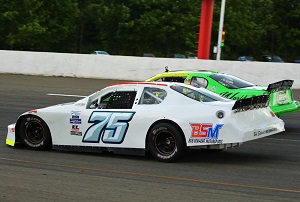 "The place is probably a whole lot different from when I was there. The other difference is I'm racing now to have some fun."
Race Day Schedule and preliminary list of entries for the Saturday, June 3 season opening Skipco Auto Auction Twin 50s presented by United Tire & Service at Midvale Speedway are now posted. For continued updated information and to learn more about the Super Cup Stock Car Series and its partners, please visit www.supercupstockcarseries.com or follow along on Facebook and Twitter.
_________________________________________________________