_________________________________________________________
Hoosier State Family Heads Back to SCSCS for 2017
Mount Joy, Pennsylvania (April 11, 2017) – The state of Indiana has always had a presence since the inception of the Super Cup Stock Car Series. That will continue to increase during the 10th Anniversary season with the return of the Crabtree family beginning with the first race at Midvale Speedway (OH) in less than two months.
Jim Crabtree Jr. is no stranger to short track racing and success in the series with a win and third place finish in the standings during the inaugural year back in 2008. Most recently, the Muncie resident won twice and finished runner-up in points in 2013 driving a car owned by Don Gnat.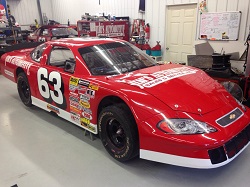 This year he will be in a Chevrolet entirely owned and prepared out of his own shop. Despite his past success, Crabtree could not give any single particular reason that led to why he decided to come back.
"I don't know; we came across a pretty good deal on some cars and decided to give it another whirl," Crabtree answered. "I always had a good time running the series, and my daughter and wife still like to travel."
As the 45-year-old driver looks for his third SCSCS tenure to be a charm, he did point out the affordability of the series as why it had continued to be a consideration.
"For what we spend, it's cheaper than anything we have done," Crabtree said. "When we won Shenandoah (in April 2013) after travel and expenses we still had $300 leftover."
The process to prepare for 2017 started early in the winter for Crabtree, with the No. 63 already nearly good to go following the need to square the machine up and ready the setup.
"We completely went through the whole car and went through the motor and brakes," Crabtree mentioned. "There were a few things found and had to take apart. All I have left to do is take the rear end out and rebuild the detroit locker."
Aware of the steepened competition since 2013, Crabtree remains exceptionally confident given his past accomplishments as well as the early and ongoing preparation.
"My expectations are to come out and win every race," Crabtree added.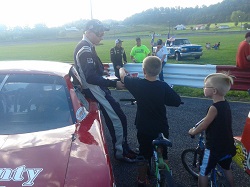 Crabtree's son J.P. also eyes a return to the series, and the roles have been reversed for the racer who drove for his family last time out.
"Don Gnat bought two cars and I worked out a deal with him to drive one," J.P. Crabtree explained. "Preparing the car in-house and we have an engine for it."
The 2012 SCSCS Rookie of the Year as a teenager has a bit more work to do on the car he will be driving compared to his father, but intends to be set to race at the season opener. Now 22 years old, J.P. provided why he looks forward to coming back as well.
"It's affordable and I actually prefer these over Late Models," J.P. Crabtree said. "Better grip on these and they are easier to work on. Two weeks and we'll have it ready to go."
In addition to the overall championship, J.P. plans to run for points in the South-designated races at
Kingsport and Lonesome Pine. While saying it would be neat to win the south and for his father to win the north, he mentioned that a top three in the south points and top five overall would certainly be realistic, certainly an attainable goal given his past points finishes of fifth and fourth.
"The competition level has doubled so I will have to bring my 'A' game, that's for sure," J.P. Crabtree, who has only raced before at one track currently on the series schedule, admitted. "We'll take it race by race and see where everything falls. We'll see how the car reacts. It's a new car to me. I would like to run consistent across the board and would definitely want to get my first win."
Things will look slightly different from his past seasons. The paint scheme has not been decided yet, but instead of his previous No. 83 it will be No. 42, a tribute to his car owner, a former Street Stock competitor.
"It was Don's number back in the day when he raced," J.P. Crabtree indicated. "I wanted to show how thankful I am for the opportunity."
Aside from the usual racing action, J.P. has been working on a fun and unique side project that involves a car that has a history with the series. The machine in which Jimmie competed and unfortunately was involved in a wreck with in his last start at Motordrome Speedway in 2013 is being converted for a much different use.
"Don was just going to take it to a scrapyard, so I decided to play around with it at a drift track," J.P. Crabtree explained. "I had an old parts car that was a V8 Lexus and the Super Cup chassis. I took basically everything out and put it into dad's old car."
Entries continue to file in for what should be a stellar field on Saturday, June 3 at Midvale Speedway for the running of the Skipco Auto Auction Twin 50s presented by United Tire & Service. For continued updated information and to learn more about the Super Cup Stock Car Series and its partners, please visit www.supercupstockcarseries.com or follow along on Facebook and Twitter.
_________________________________________________________