_________________________________________________________
After Strong 2016 Finish, Ashton Intending to be Back with SCSCS
Mount Joy, Pennsylvania (December 15, 2016) – Bill Ashton had his best year to date in 2016. His third full season in the Super Cup Stock Car Series was capped off with a big win at his home track and a career best fourth place finish in points. Nevertheless, at the time the Hopwood, Pennsylvania veteran hinted that it could be his final year competing.
Fast forward a few months and the current intention is to return for another slate of races as another page of the calendar turns.
"Finally got the car to where I'm less likely to have problems, so why quit now?" Ashton remarked. "I couldn't have asked for a better season, finishing every race without tearing it up."

The 63-year-old driver is anxious to get rolling once again, and since the conclusion of the SCSCS season has already competed in a Street Stock he also owns at a couple tracks down south. Almost immediately after the New Year rings in, Ashton plans to motor down to Dillon Motor Speedway in South Carolina to race again.
"We'll get back at it in January," Ashton said. "I'm trying to have as much fun before I get too old."
Following the winter months, the preparations will build and the time dwindles before the new SCSCS season. Perhaps the place Ashton looks forward to most will be Pennsylvania's Jennerstown Speedway in July and August, the site of his recent and only win in the series. That summer night was certainly an exceptional moment for many, including his crew members and his wife and two sons, who have all stood by him through several years of racing and cheered from the pit area.
"I'm just not used to crossing the finish line first," Ashton, an occasional frontrunner locally over the last few decades, commented. "That was pretty special, especially at Jennerstown. There were a lot of people I knew; old school friends watching in the stands."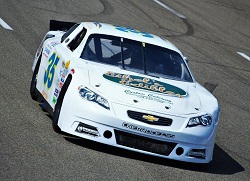 It was momentous for the series as well, as it displayed the fact that a high-dollar motor or operation is not necessarily always the deciding factor. Ashton uses a CT 525 spec engine that runs on standard pump gas, a legal and now winning combination in SCSCS. Even at a 1/2-mile oval like Jennerstown, sometimes the key is all about mastering the right setup.
"Not only were we under power, but had only two (fresh) tires," Ashton indicated regarding the race where he maneuvered to the outside of current series champion Harvey Harrison and multiple-time winner Brent Nelson. "I've been thinking about hitting the setup for 30 years, and never hit on it like that. It was one of the easiest jobs of driving I've had to do."
Whether he finds his way back to victory lane or not, look for the No. 35 group to contend and have a good time while making their best effort in 2017.
"We have fun even the races we don't do well," Ashton said. "The car is actually good to go. I've put the springs and shocks back in it. All we have to do is fill up at Sheetz and we're good."
To learn more about the Super Cup Stock Car Series and its partners, please visit www.supercupstockcarseries.com or follow along on Facebook and Twitter.
_________________________________________________________