_________________________________________________________
United Tire Signs On as Presenting Sponsor for 2017 SCSCS Races
Mount Joy, Pennsylvania (November 16, 2016) – United Tire and Service, which is based in southeastern Pennsylvania, has agreed to be a presenting sponsor for all races in the Super Cup Stock Car Series for 2017. For well over three decades, United Tire has been comprised of a network of 18 auto repair and tire facilities across the Delaware Valley.
Super Cup Stock Car Series competitor Steve Harvilla is one of the founding members of United Tire. He looks forward to showcasing the brand to a wider audience through the partnership from behind the wheel of the Bobby Gerhart Racing stock car, which he debuted at Lonesome Pine Raceway (VA) in 2016. Steve has been a member of the Bobby Gerhart Racing team for the past 26 years and has assisted with the construction of the race cars and work in the pit crew. The Super Cup Stock Car Series has allowed Steve to fulfill his lifelong dream of becoming a racecar driver.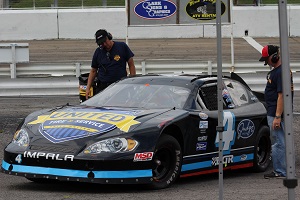 "I'm grateful to have been approached to be a presenting sponsor and that I am able to combine my passions both in and out of the office into one. Our team at United Tire is thankful for the opportunity." says Steve
Steve splits his time between two of United Tire's locations in Lower Merion and Rosemont. There are 16 more locations across the Delaware Valley that offer a wide range of tires to their customers. On top of repair and maintenance for foreign and domestic cars, some stores specialize in classic car restorations, Jeep and 4WD modifications, high-performance work, commercial vehicles, and big trucks.
The Super Cup Stock Car Series formed in late 2007 as an affordable alternative to existing full-bodied stock car racing tours. The series features 600 horsepower, steel-bodied stock cars that were formerly associated with similar racing divisions. SCSCS enters its 10th full season of "Racin' the Way It Used To Be!" in 2017 with events at pavement short tracks throughout the Midwest and Mid-Atlantic.
For more information about SCSCS, please visit www.supercupstockcarseries.com or follow along on Facebook and Twitter.
For more information regarding United Tire's wide range of services, please visit www.unitedtire.com as well as their Facebook and Twitter.
_________________________________________________________