_________________________________________________________
New Champion Harvey Harrison and More Receive Accolades at 2016 Trophy Presentation
Somerset, Pennsylvania (September 6, 2016) – The best among the Super Cup Stock Car Series converged one more time in 2016 the morning after the finale event for an awards breakfast and annual trophy presentation. The gathering, held at Hoss's Steak and Seahouse in Somerset, Pennsylvania, nearby Jennerstown Speedway, featured several competitors and their teams rewarded for a successful season.
Harvey Harrison took home the highest achievement with the 2016 champion's trophy, the first in his more than eight year career in the series.
"It was a great night for us all and it means a lot to the family because racing is so up and down and you have so many tough times along with the good times," Harrison documented the night before. "Nights like tonight overshadow it all and it feels pretty good. Everybody's happy."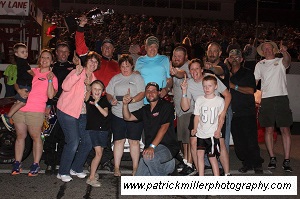 The season did not start off on a good foot for the Renick, West Virginia veteran, failing to finish the opening race at Midvale Speedway. In fact, one of the first things that Harvey pointed out upon being asked about his championship season was the bad luck that occurred at many races for his sons, Brandon, who still accomplished a best career sixth in the final points, and Brian, who finished eighth.
"It's been a rough year for my boys," Harvey Harrison noted. "It started out real rough for all of us. At Midvale it was demolition derby night and we brought all our cars home all tore to pieces. But racing with Brent (Nelson) and Bill Ashton and all these guys, no one wants to tear their stuff up and it's cool as heck when you can run side by side with people."
Despite the joyous celebration from the tight-knit family, one key member was not physically there due to other commitments.
"Summer, she wasn't here," Harvey Harrison mentioned about his daughter, who they Skyped with while rejoicing on the frontstretch at Jennerstown. "She's the team owner and the colonel of the whole bunch and keeps everybody straight."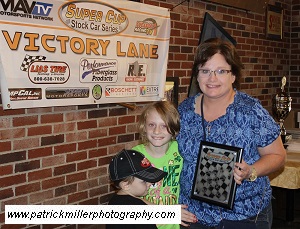 Harvey's wife, Mary, and grandchildren accepted the Car Owner of the Year award not only for their performance, but for their willingness to assist each other and various teams when in need.
Fellow West Virginia racer Brent Nelson improved upon his back-to-back third place points finishes, but came up one position short of his ultimate goal in the 2016 final standings. Perhaps one race for the Petersburg driver swayed the championship in the other's favor.
"We got snake bit there at Lonesome Pine," Nelson said. "A two dollar part cost me the championship, literally, but it gives us momentum. We are coming after number one next year. We will be back. If I had to give the title to anybody, it would have to be Harvey."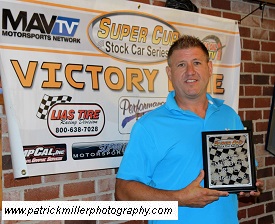 Jeff Zillweger from outside Pittsburgh was the most consistent throughout the year, being the only competitor never to finish outside the top 10. The third place points finisher also received Most Improved Driver honors for the second time in his SCSCS career.
"I hope I get a trophy for the cleanest car this year," Zillweger joked. "We got a couple scrapes and bumps out of this, but I'm just really glad to be out here. I'm really proud of my team."
Zillweger was returning to the series after sitting on the sidelines most of 2015 due to motor issues.
"It feels so good to be back," Zillweger remarked. "The car's in one piece for the winter and we'll be back next year so keep an eye on us."
A popular first career victory the night before propelled Bill Ashton to a career best fourth place finish in points in what could be his final year of racing. He and Lonesome Pine winner Ben Ebeling received their own custom first-time winners watches compliments of Boschett Timepieces.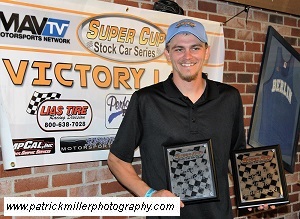 Rounding out the top five was also 2016's Rookie of the Year, Trent Gossar. The Indiana driver challenged for the win at Lonesome Pine and showed development throughout the season.
"It makes me feel good, with (owner) Don (Gnat) giving me the opportunity to drive the car," Gossar, who also added the annual Charlie Canterbury Hard Charger Award to his accomplishments, indicated. "It's a big improvement in my life and in racing. It feels good to be getting awards and know that you're doing great at what you want to do."
Jason Schue finished seventh in the standings in his first full season of SCSCS racing, and received Sportsman of the Year honors.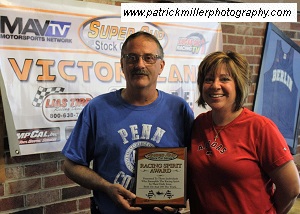 Brian Kaltreider rounded out the top 10 in points, and bottles of his sponsor Grip Clean's product, which was also the presenting sponsor of the final night of racing, were handed out to each award recipient.
Perhaps the biggest honor was given to K2 Motorsports, Kevin and Kelly Kromer, with the second annual Racing Spirit Award. The plaque is presented to individuals who exemplify the "racing spirit" in their daily lives both on and off the track. Kevin Kromer managed to keep his streak of consecutive top 10 points finishes alive despite missing a race and battling through weeks of radiation and chemo treatments.
The Super Cup Stock Car Series headlines the fall lineup on MAVTV with each race airing on multiple occasions each week. Please visit mavtv.com for full listings of televised coverage of the 2016 SCSCS events.
For news and developments over the off-season leading into 2017 please be sure to consult the official series web site at www.supercupstockcarseries.com, Super Cup Stock Car Series Facebook at www.facebook.com/SCSCSRacing, or Twitter @SCSCSRacing.
_________________________________________________________