_________________________________________________________
Ashton and Rohrbaugh Win Season Finale Twin 50s; Harrison Achieves First SCSCS Championship
Jennerstown, Pennsylvania (August 29, 2016) – A wide variety of storylines paired with differing sets of goals were ready to be played out entering the Heritage Coal / Farmer's Union Co-Op Night at the Races presented by Grip Clean. A new Super Cup Stock Car Series champion was certain to be crowned by the end of the night, but some feel good tales involving some unexpected familiar faces would take place up front as a series record number of competitors graced Jennerstown Speedway on Saturday evening.
Larry Berg started off the day continuing the streak of no repeat fast qualifiers in 2016 in his No. 7 Grant County Mulch, Inc. Ford. Bill Ashton, for the second time this season at the 1/2-mile facility, redrew the pole starting spot.
Ashton proved to have his car dialed in better on this occasion from the start. He and championship contender Brent Nelson fought for the top spot early on. The Hopwood, Pennsylvania driver of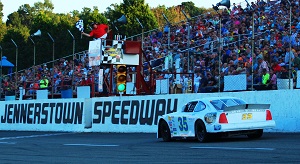 the No. 35 Ethel's Edibles / Medved Moving & Storage Chevrolet led early on but drifted back to fourth in the middle stages of the race.
Points leader Harvey Harrison made his first presence known near the front of the field early on, after narrowly avoiding a multi-car incident involving series newcomers Steve Harvilla and Clair Zimmerman. He would get by Nelson for the lead after another restart following the halfway point.
Nevertheless, lurking on the outside line was Ashton, who worked around Harrison for the top spot again with 15 laps remaining.
Ashton previously had a decal graphic on his car that read "But I'm Gonna Be a Diamond Someday" after a country song from the early 1980's titled "I'm Just an Old Chunk of Coal". Saturday was that day for the 62-year-young's driving career, as he went on to pull away and claim his first SCSCS victory.
A crowd of cheers erupted from the packed house of area fans that have watched him wheel a Street Stock at the speedway over several years.
"This car never lost its grip," Ashton mentioned following a celebration filled with both jubilation and exhaustion. "It seemed like everyone else's cars were going away and mine just kept getting better, especially after a caution. The tires would cool a little bit and it was great."
The meaningful win turned out to be slightly on the bittersweet side as well.
"It's real big because I'm thinking about this being my last year," Ashton emotionally noted. "Being my home track and all, a win here, I can't even explain how it feels. It's just that cool."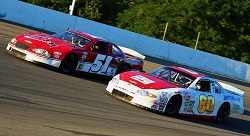 Harrison, Nelson, Berg, and Stephen Cox rounded out the top five finishers in the first event of the evening.
In between 50-lap features there was a noticeable adjustment in the lineup. Codie Rohrbaugh, who spent the first race in a crew chief role for Cox, was picked to compete in place of his grandfather, Berg. As a result of the driver change, the Petersburg, West Virginia racer had to start from the rear of the field.
It would not take the already four-time Jennerstown winner long to find his way to the lead. On lap 10, Rohrbaugh dove inside to make it three wide under redraw pole starter Nelson and Jeff Zillweger for the top spot.
From there it was all Rohrbaugh as he pulled away to a convincing victory by a large advantage, becoming the first and only repeat winner of 2016.
"I had no intentions to (race tonight)," Rohrbaugh admitted. "We run here so much that it kind of just comes natural. It doesn't matter what you do or how many times you do it, winning always feels good."
Rohrbaugh additionally indicated that the car did not have the handle that it needed for Berg in the first race. In fact, the team only assembled the ride within the previous day and a half in preparation to bring the late entry to the track on Saturday.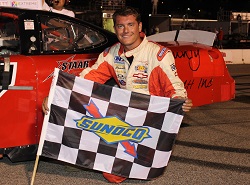 "We made a lot of major changes between the races, and it luckily worked out for us," Rohrbaugh said. "I really hate that I didn't have a better car for Pap. I wish that he was in it the second time and I was in it the first time, but that's how it works."
The battle for the championship was a close one on track behind Rohrbaugh. The margin remained the same, 46 points, as it did entering the first event. That meant if Harrison finished sixth or better he would lock up his first SCSCS title no matter where Nelson finished.
Nelson came home in the runner-up position after fighting hard with Zillweger, who finished a best career third. Harrison finished right on the tail of those two though, clinching the championship.
It certainly was not easy; however, throughout the day for the Renick, West Virginia veteran.
"We fought the car because we changed the whole setup trying to get some forward bite," the driver of the No. 51 Southern Coal Corporation Chevrolet explained. "Our car has been really fast but it would just spin so much, and when you're dirt trackin' out on these asphalt tracks it looks cool and believe me it's a blast, but it's not fast.
"That's why I was practicing so much today. It wasn't to pick up speed, but I was trying to get the car to turn. The first race, I had such a bad push that I had to keep it on the bottom of the track and use the whole race track to run."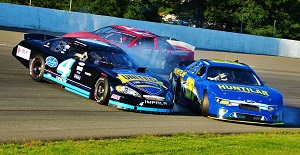 Improvement was the key going into the final event of the season, but at the same time Harrison knew he had to play things somewhat on the conservative side instead of racing hard for the win.
"We worked on it a little bit and made it better for the second race," Harrison continued. "It was one of those deals where I felt like I really could have abused the car and made the passes in front of me, but to stand a chance at wrecking I had to make a decision and try to win the championship."
Nelson came up only 31 points short of his first career title in his No. 80 Airtek Inc. Chevrolet, but it certainly was not due to a lack of effort.
"I gave it all I had," Nelson commented. "I knew that Harvey was going to be strong. We did what we needed to do, but it just wasn't good enough."
More first-hand analysis recapping the 2016 season as well as a summarization of the weekend's awards breakfast and trophy presentation will follow in the coming days.
Both Heritage Coal / Farmer's Union Co-Op Night at the Races presented by Grip Clean features will air nationally at a future date on MAVTV. Please visit mavtv.com for full listings of televised coverage of SCSCS events, which are slated to begin on Thursday, September 1 with the season opening Midvale Speedway event from early June.
For news and developments over the off-season leading into 2017 please be sure to consult the official series web site at www.supercupstockcarseries.com, Super Cup Stock Car Series Facebook at www.facebook.com/SCSCSRacing, or Twitter @SCSCSRacing.
_________________________________________________________