_________________________________________________________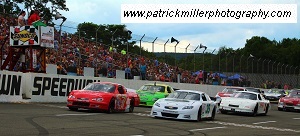 With Time Running Out, SCSCS and Rockingham Speedway Unable to Make 2016 Date Reality
Oviedo, Florida (August 23, 2016) – The Super Cup Stock Car Series regrets to inform its fans and teams that SCSCS and Rockingham Speedway have not been able to solidify a date for a Fall 2016 event. The recent change in ownership negated an agreement with previous track management. Regretfully, the ability to properly organize as well promote an event in such a short term would not reflect the professionalism of neither the series nor the speedway.
"The change in ownership and management of the historic facility has proven to be a major task," states series director Joe Schmaling. "We thank the people of Rockingham Speedway for their efforts and extend them the best wishes in reopening the track in 2017 as well as welcome the possibility to explore hosting a SCSCS event in the future."
The Super Cup Stock Car Series will conclude it's 2016 schedule this weekend at Jennerstown Speedway in Jennerstown, Pennsylvania with twin 50 lap events.
MavTV's tape delayed televised coverage of SCSCS events begin September 1st at 12:30 pm.
For more information leading up to all the excitement during Heritage Coal / Farmers Union Co-Op Night at the Races presented by Grip Clean, please visit the official web site at www.supercupstockcarseries.com. Race day updates will be available on the Super Cup Stock Car Series Facebook at www.facebook.com/SCSCSRacing or on Twitter @SCSCSRacing.
_________________________________________________________