_________________________________________________________
New SCSCS Champion to be Decided in Jennerstown Twin Finale
Mount Joy, Pennsylvania (August 23, 2016) – The Super Cup Stock Car Series concludes its regular season for the third straight year at Jennerstown Speedway Complex. Three drivers are focused on being named the 2016 champion, but the road to the ultimate trophy is far from determined.
Two 50-lap races headline Heritage Coal / Farmers Union Co-Op Night at the Races presented by Grip Clean, and with five different winners in as many events the competition will continue to be tougher than ever.
Harvey Harrison catapulted into the points lead after a strong showing at Lonesome Pine Raceway last time out, which included bonuses for winning the pole award and leading the most laps. It has been quite the turnaround since the start of the season, when the Renick, West Virginia driver's No. 51 Southern Coal Corporation Chevrolet was sidelined with overheating issues.
"We started out with a rough season, beating our cars all to pieces," Harrison said. "They're rough looking, but we only have two to go so we'll work on our setups and go up to Jennerstown and have a bunch of fun. That's what it's all about."
Harrison's lucky opportunity to be in the driver's seat with a 46 point advantage going into the finale came when fellow Mountaineer, Brent Nelson, faced an increasing amount of gremlins under the hood in Virginia. Harrison knows that Nelson will be back on top of his game at the ½-mile track in Western Pennsylvania.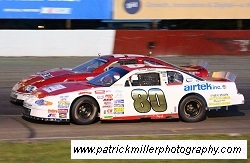 "Racing is so up and down, it's so tough," the Columbus Motor Speedway winner acknowledged. "So many highs and lows, but he'll come in there strong. That's close to home for him. We'll probably finish this thing up pretty tight and we're going to have a lot of fun doing it."
Nelson, who won at Midvale Speedway to begin the season and has four top five finishes at Jennerstown, is set on overcoming bad luck in his last two starts in hopes of achieving the title in his No. 80 Airtek Inc. Chevrolet.
"We're switching the motor out for Jennerstown and will be ready for the next two," the Petersburg, West Virginia driver, who ended up in better shape when Harrison lost a couple positions late in the Lonesome Pine event, indicated. "There's no doubt that we have to go for the win in at least one if not both."
While the two veteran racers have fought hard for points finishes inside the top five and for the lead on the track on many occasions before, they remain great sportsmen off the track.
"You've got to go in with your game face on," Harrison said. "It's really tough because of the way this shook out here at the end of the year. Brent and I are really good friends and have raced side by side a lot. Whoever finishes first, one man will be happy for the other man."
Sitting third in the standings only 62 markers back, Jeff Zillweger has not finished worse than sixth all year in his No. 18 Jeff Zillweger Landscaping Chevrolet and comes in as the silent contender with a realistic shot at the championship. If Harrison and Nelson were to run into problems, there is no doubt the Pittsburgh area driver will be ready to pounce at the facility in which he cut his teeth at.
"I love that track," Zillweger noted about the speedway where two of his three best career results have been accomplished. "I've been around it a lot, and it's fun being here and just running up with the top guys. It will feel good to get back."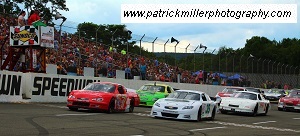 While many eyes will be set on where these three competitors are running, several series regulars and infrequent visitors will be searching to play the spoiler in winners circle.
Indianapolis racer Stephen Cox will pilot the lone machine in the field for Rohrbaugh Racing, which has been victorious in four out of six SCSCS appearances at Jennerstown with Codie Rohrbaugh behind the wheel. The Midvale fast qualifier has the utmost optimism despite never competing at the track, but knows things partially have to go according to plan to win at least once.
"I have every bit of confidence every time these guys take to the track that they are going to give me a winning car," Cox, whose lead-contending run at Lonesome Pine ended with a flat tire, noted. "The lesson here is when you have the perfect car you have to win that night. You've got to have the perfect car and then you have to have the decisions go your way."
One of the more feel good stories will be the return of Walnutport, Pennsylvania father and son duo Kevin and Kyle Kromer as well as the entire K2 Motorsports team. Kevin recently underwent a series of cancer treatments, which forced him to miss his first race weekend a few weeks back at Lonesome Pine since the initial season of SCSCS racing in 2008. Tied for the most career starts with Harrison, a return to top form on the racetrack would have fans and competitors alike cheering on Saturday night.
The return of July podium finisher Bob Schacht, Mike Potter in the most recent race winning No. 14 Kingsport Iron and Metal Chevrolet, track debuts for Steve Harvilla and Larry Wilcox, series debuts for Clair Zimmerman and Jason Holehouse will all be happenings to follow. In addition, the battle among rookies Trent Gossar and Jason Schue has not been settled as well as numerous jockeying for top 10 points positions between the likes of Bill Ashton, Brandon Harrison, Brian Harrison, and Brian Kaltreider.
Practice kicks off festivities at 2:00 p.m. with qualifying taking place at 4:00 p.m. Fans will be in for a treat as the stars of SCSCS report to the grandstand area at approximately 5:00 p.m. to sign autographs. Racing gets going around 6:00 p.m. with the first feature being run in daylight, and the second run for the checkered going green after the sun has set.
For more information leading up to all the excitement during Heritage Coal / Farmers Union Co-Op Night at the Races presented by Grip Clean, please visit the official web site at www.supercupstockcarseries.com. Race day updates will be available on the Super Cup Stock Car Series Facebook at www.facebook.com/SCSCSRacing or on Twitter @SCSCSRacing.
_________________________________________________________