_________________________________________________________
Mid-Season Update:
Through It All, Harrison Still 'Having a Blast'

Mount Joy, Pennsylvania (July 21, 2016) – The 2016 season has seen a resurgence of veteran drivers in the win column after a brief dry spell the year prior. One of the perennial contenders that has returned to victory lane is Renick, West Virginia's Harvey Harrison for the first time since 2012.

Harrison has been competing in the Super Cup Stock Car Series since the conclusion of the inaugural 2008 season, and has only missed one event since then. He is one race behind Kevin Kromer in the most career series starts category and has two past runner-up finishes in the year-end standings.

Despite being present at nearly every race, Harrison has certainly overcome his share of struggles. Not only have the ups and downs involved his own racing program, but assisting with the efforts of his two sons Brian and Brandon that both race regularly in SCSCS once again in 2016 has been a juggling of tasks.

"We're digging and trying," Harrison said. "It's tough the way we're doing it, but we love it and we have a great time."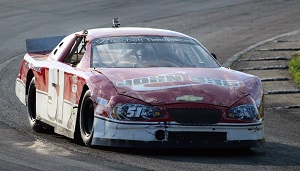 No matter if it is a good day or bad, Harrison is one of the personalities that always will manage to maintain a positive outlook. Much like for every team this year so far, the full spectrum of short track racing luck has been experienced. Through it all, their never give up attitude has stood the test of time.
"Brian tore his car all to pieces (at Columbus) and people would have never thought that he would have brought that car back," Harrison noted. "He rebuilt it, and then the poor boy goes out (at Jennerstown) and has another bad night. And Brandon's car, it's a fast car, but we've got it off.
"There are just a couple of us at the shop, and you're strung between the three cars without a big team. We have Steve (Stiedley) who has been helping me for years, and most of our help comes to the track instead of the shop. It's hard to keep a three car team going, but we're having a blast."
Next up on this year's schedule is a return to Lonesome Pine Raceway in Virginia, the site of Harrison's first career SCSCS victory. The win at that venue as well as his latest, this season in Ohio, both hold a very special meaning and in a way brings his series career full circle.
"At Columbus Motor Speedway the first race out (in 2009), the accelerator hung and the place hurt me," Harrison recalled. "It was great to win a race at Columbus because it felt like I finally conquered the beast.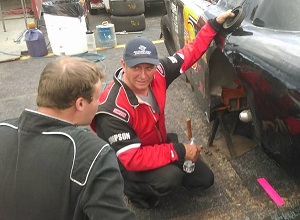 "When that happened the first time Super Cup went to Columbus then they went to Lonesome Pine next and the very first time out we won the race. We came back from Columbus, went up there and, shoot, we pulled it off. It was one of those nights when people had bad luck, and their bad luck was my fortune."
After four points races in 2016, Harrison is amidst an intense battle for the championship, only eight markers back from friend and fellow West Virginian Brent Nelson. Although setbacks for others can sometimes result in one's own success, Harrison will be one of the first to prefer battling door to door for a title as evidenced last time out at Jennerstown after Nelson took a hard hit when collected in a wreck.
"I hate what happened like that," Harrison commented. "I hate to see people have misfortune, but Brent will come along and he'll get his car back together. They're sharp, good people, they've got resources, and that's what it takes."
There's no doubt that the two veteran racers will be approaching the final events methodically, but with some hard yet clean racing for the final finishing and points positions beginning in a few short weeks on the 3/8-mile.
For more information about the upcoming Lonesome Pine Raceway event as well as additional series news that is expected, stay updated by visiting the official web site at www.supercupstockcarseries.com, the Super Cup Stock Car Series Facebook at www.facebook.com/SCSCSRacing, or on Twitter @SCSCSRacing.
Sponsorship and marketing opportunities remain available for the 2016 season, including events scheduled to air on MAVTV and LucasOilRacing.tv. Organizations interested learning more information can contact brucescscs@gmail.com.
_________________________________________________________