_________________________________________________________
Rohrbaugh and Mohelski Split Thrilling Jennerstown Twin 50s
Jennerstown, Pennsylvania (July 10, 2016) – In front of a standing room only crowd on Saturday night at Pennsylvania's Jennerstown Speedway Complex, two drivers competing in their first Super Cup Stock Car Series races of 2016 hoisted the American Racer Tire "Night at the Races" presented by Patrick Miller Photography trophies.
Petersburg, West Virginia's Codie Rohrbaugh picked up where he left off last August by slightly eclipsing his track record with a lap time of 20.118 seconds around the 1/2-mile track. After the top six qualifiers redrew for their starting positions, Rohrbaugh started outside the front row but secured the top spot from Bill Ashton immediately heading into turn one.
The three-time series and Jennerstown winner would only have to contend with Dan Bainey during the first 50-lap feature. The 2015 SCSCS champion challenged Rohrbaugh on the outside during restarts and would nip him at the line to lead a lap early on.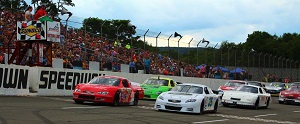 Rohrbaugh pulled away in the closing laps as Bainey was pressured by Bob Schacht, a multi-time ARCA winner making his series debut, for the runner-up position. Bainey was able to fend Schacht off for the remainder of the distance followed by championship contenders Brent Nelson and Harvey Harrison rounding out the top five.
"We always run well here," Rohrbaugh said. "We have a good setup and had a good car."
The top six finishers in the first feature redrew for their starting positions in the second Twin 50, putting Harrison and Schacht on the front row. Rohrbaugh started fifth, but maneuvered his way quickly to second before passing Harrison for the lead nearing the completion of 10 laps.
The first 33 circuits were clean and green, but things completely changed as nature would get involved. A small rain shower began to fall causing the cars to come to a stop on pit road. Although the race had reached a distance that could be declared complete, track and series officials made the decision to put every effort into concluding the race for the fans.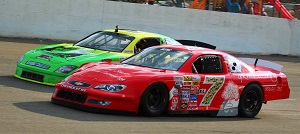 Following a brief delay, the race resumed and it only took until turn three on the restart lap for controversy to strike. Contact was made between Bainey, who had advanced up to second by that time, and Rohrbaugh. Rohrbaugh was sent toward the wall and collected Nelson and Brian Harrison.
In a rivalry that stemmed from last August when both were gunning for the victory at the same track, Bainey gave his point of view at the end of the night about what had occurred.
"I'm sure this is going to be the question of the week here, but no, I did not drill him on purpose," Bainey explained. "Yeah, he ran across the front of my car again. Going into the corner, and Bob (Schacht) just came over and said 'hey, you know he locked up his brakes getting in there' and I said 'yeah, he did,' I dove in to cross under him and when it did, geez, I launched him. If I was going to wreck him I wouldn't wreck myself, and I really feel bad for (Nelson) and (Brian Harrison) who got in it, and I apologize to those guys. That wasn't the plan."
Rohrbaugh kindly declined to comment following the race regarding what had transpired.
When the smoke cleared, Harvey Harrison was back in the lead with Schacht and Jeff Zillweger in tow. Emerging from seemingly nowhere though was Michael Mohelski Jr., making his first SCSCS start since his rookie season in 2009 after regular driver Mike Kurkowski turned the driving duties over following the first Twin 50.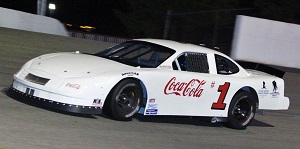 The Maryland racer, driving the car that won with Kurkowski behind the wheel July of last year at Motordrome Speedway, smoothly diced through the field in the remaining laps. Coming to two laps to go, Mohelski made his move under Harvey Harrison for the lead and went on to win his second career SCSCS feature.
"A week ago I would have never thought I would have been back behind the wheel of a stock car," an elated Mohelski noted. "Even to think that we would have a shot to be in victory lane it's just an awesome feeling.
"With probably 10 to go, once that restart had finally panned out, I really started realizing how good the car really was. It was just holding up really nice and I could tell that some of the leaders were starting to lose it a little bit. I guess probably with five to go, I really thought I had a shot to win this thing."
Mohelski had shaken down the car briefly in practice, but did not receive the indication from car owner Kurkowski to suit up until between the features.
"I appreciate that Mike would even think of me to be able to come out here and drive his racecar," Mohelski continued. "He's got awesome equipment and is a great guy. I really appreciate the opportunity."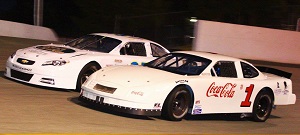 Without a front bumper, Bainey came back to finish fourth and was still in good spirits despite coming up short of winning.
"It was good to be back with the series and I said 'hey, good job' to Codie when he won," Bainey indicated. "Tore the hood off, fought back up there, and raced clean with everybody that was out there. I passed (Zillweger) but just didn't have enough laps to get up with those others guys. All in all, an honest-to-good night for me."
Schacht concluded the night with a pair of podium results, which was acceptable for him in his first series starts.
"We had fun and that's what we wanted to do," Schacht, whose car had noticeable battle damage on both sides, remarked. "For what went on tonight and the way the car was, I'm happy with third place. We didn't have a good car in the second one, but we'll be back and we'll make it better."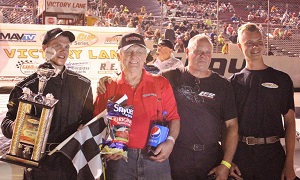 Harvey Harrison held on for a second place finish despite narrowly avoiding the wall coming out of the final turn toward the stripe. The night's results and Nelson's bad luck inch him even closer to the points lead.
"The car was so loose (the first race) it was like I was on dirt," Harvey Harrison described. "If there would have been a caution my car was awesome, but the longer I ran the worse it got. It would not stick, and got to where it was skating up off the corner. I look forward to going to Lonesome Pine and we're going to have a blast."
Even with the misfortune, Nelson continues with an eight point advantage over Harvey Harrison. Zillweger picked up sixth and fifth place finishes at his home track and remains only 35 points out from the lead going into the second half of the 2016 season.
The Super Cup Stock Car Series returns next to Lonesome Pine Raceway in Coeburn, Virginia on Saturday, August 6, the first time back to the 3/8-mile after a five year absence.
Both American Racer Tire "Night at the Races" presented by Patrick Miller Photography features will air at a future date on MAVTV and LucasOilRacing.TV. Please visit the official web site at www.supercupstockcarseries.com, Super Cup Stock Car Series Facebook at www.facebook.com/SCSCSRacing, or Twitter @SCSCSRacing for an announcement of dates and times as well as additional information.
Sponsorship and marketing opportunities remain available for the 2016 season. Organizations interested in learning more information should contact brucescscs@gmail.com.
_________________________________________________________