_________________________________________________________
Champions and More Return for Jennerstown Twin 50s
Defending Race Winner to Make First Start of the Season
Mount Joy, Pennsylvania (July 5, 2016) – An immense amount of excitement has been building heading into the fourth Super Cup Stock Car Series visit to Jennerstown Speedway Complex located in the Laurel Highlands of Pennsylvania.
The American Racer Tire "Night at the Races" presented by Patrick Miller Photography will feature two opportunities for fans to see drivers compete for the win in 50-lap races, each awarding points toward the 2016 series championship. Past events and energizing developments, including the recent agreement between SCSCS and MAVTV, have the track staff enthusiastic about 2016's appearances.
"The fact that television is coming back to Jennerstown and Super Cup is bringing them here is a pretty honoring experience," track co-general manager Bill Hribar recently said. "We truly hope to think that the big event at the end of last year, the crowd, and the highest car count in the nine years of the inception of the series had something to do with building that boost."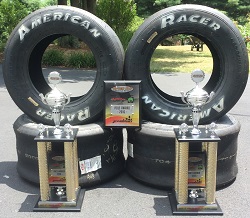 Drivers representing the local contingent like Jeff Zillweger, who is off to a consistent start to the season right behind the first two race winners in points, and Bill Ashton, whose best career results have come at Jennerstown, contribute to getting the supporters out and into the stands.
"To have some local guys with a horse in the race is going to be interesting as well, so we're really excited to have them," Hribar added. "They put on a heck of a show. We have an excellent venue that we can provide."
Another team located not too far away leads a resurgence of some previously successful competitors in SCSCS, stock car racing, and at the 1/2-mile facility that will be throwing their hat into the ring. 2015 champion Dan Bainey plans to make his first start of 2016 and after a fourth and two runner-up finishes in his past Jennerstown starts the home state driver wants nothing less than a victory on Saturday night.
"This is huge for me," Bainey indicated. "Both my dad and brother have won races there and I want to be able to add to that. I always put 100 percent into anything I do, but after the way things ended there last time, I have a little more focus for this race."
Three-time and defending Jennerstown winner Codie Rohrbaugh will also be back. The West Virginia driver makes his first SCSCS start of the year on Saturday.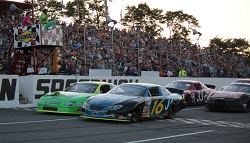 JJ Pack won at Jennerstown to cap off his 2014 championship season and returns to the series following a third place finish at Midvale Speedway in early June. The Virginia racer will certainly be one of the favorites after contending for the win early on in the 2015 twin races as well.
In regards to the 2016 standings, teams will not necessarily be content with a good points day despite finishes on this night having such an impact on the year-end outcome.
"We want twin 50 wins, and if I can't get both of them then we'll win one," points leader Brent Nelson, who added that he plans to come back harder than ever after a late race mishap at Columbus Motor Speedway, remarked.
In addition to Nelson, second place in standings Harvey Harrison has led laps in the past at Jennerstown and looks to go for a second and third victory in a row after being successful last time out at Columbus.
Drivers such as Trent Gossar, Jason Schue, and Brian Kaltreider will be seeing a track on a second occasion for the first time in their SCSCS career after making their debuts at Jennerstown last August. Coupled with Kevin Kromer, Brian and Brandon Harrison, and Mike Kurkowski, Saturday will present a stellar turnout of stock car racers. Kurkowski is expected to break out the machine that he won with at nearby Motordrome Speedway last July for the first time since then.
But that's not all. A host of new and returning racers look to be a wild card among the regular competitors. Larry Wilcox from Denver, North Carolina has been a part of the series since the beginning, fielding cars for various drivers along the way. On Saturday, the past Tri-Star Motorsports team member in the NASCAR Xfinity Series will make his first start as a driver since 2009 in hopes to add to a total of eight career top five finishes.
Although making his SCSCS debut, Mooresville, North Carolina-based Bob Schacht by no means lacks experience and is not a stranger to success. According to records, the veteran racer originally from Illinois has never competed on the Jennerstown grounds, but brings 23 NASCAR Sprint Cup Series starts and 17 ARCA Racing Series victories to his credit, multiple of which were in the Keystone State at Pocono Raceway. Schacht could immediately become a factor when practice kicks off at 2:00 p.m. Saturday afternoon.
Qualifying will roll at 4:00 p.m. with racing beginning at 6:00 p.m. The first of two chances at a trophy and top prize for SCSCS teams will go green in the daylight, while the second feature is scheduled to take place as the sun has set.
For more information leading up to all the excitement for American Racer Tire "Night at the Races" presented by Patrick Miller Photography, please visit the official web site at www.supercupstockcarseries.com. Race day updates will be available on the Super Cup Stock Car Series Facebook at www.facebook.com/SCSCSRacing or on Twitter @SCSCSRacing.
Sponsorship and marketing opportunities remain available for the 2016 season, including events scheduled to air on MAVTV and LucasOilRacing.tv. Organizations interested learning more information can contact brucescscs@gmail.com.
_________________________________________________________