_________________________________________________________
Harvey Harrison Gets 'Last Laugh' in SCSCS Columbus Closer
Columbus, Ohio (June 19, 2016) – The Final Lap 71 at Columbus Motor Speedway presented by Performance Fiberglass was decided by a final lap game changer. When the smoke cleared, Harvey Harrison became the last driver to etch his name in the Super Cup Stock Car Series history books at the Central Ohio facility.
It was a night and day result compared to the Renick, West Virginia driver's initial appearance on the 1/3-mile in 2009.
"This place beat me so hard the first time I ever came here," Harvey Harrison, who had never finished better than eighth at Columbus before, said. "It was a bad crash with the throttle hanging wide open. The thing is I didn't feel like coming up here, but I've always come back. The place has always bit me, but tonight I feel like I got the last laugh. The ol' 51 John 3:16 / Southern Coal Chevrolet Monte Carlo done good tonight."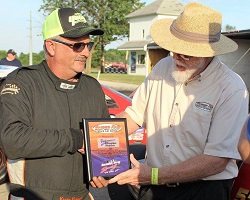 Kevin Kromer won his first career SCSCS pole award earlier in the afternoon, a series track record of 15.151 seconds that will stand forever. Kromer passed Brent Nelson for the lead early on in the No. 52 his son Kyle normally drives, but unfortunately was sidelined 20 laps in when the engine started skipping. It turned out to be an issue with the rocker arms on the opposite heads from what caused the machine to fall out of the previous race at Midvale Speedway.
"We had the field covered tonight," a disappointed Kromer commented.
From there, an incredible battle for the top spot was displayed for nearly each of the next 50 laps of the 71-lap distance. Harrison continuously fought on the outside and would not let Midvale winner Nelson get away on the inside. As the two veteran racers waged on, Columbus first-timer Larry Berg entered the fray.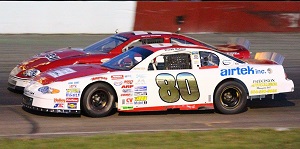 With Harrison's tires beginning to show their wear, Berg would pass him for second in the closing laps and set his sights on fellow Petersburg, West Virginia resident Nelson. Upon taking the white flag, Nelson and Berg were side by side, but did not make it through turn one unscathed after contact between the two.
Harrison suffered damage to his car, but maintained his speed when the caution was displayed to inherit the lead. He would hold off all challenges behind him in a restart that involved his sons Brian and Brandon in a wreck, and went on for his first Super Cup Stock Car Series victory since 2012 during the following restart.
It turned out that despite the front end being banged up; the late yellow flag was exactly what Harvey Harrison had wanted in order to have a shot for the win.
"I needed that to cool the tires down," Harvey Harrison noted. "I went on the high side so long that I felt like I was cooking the right rear tire plum off of it. It got so loose that it was like skating on ice, but that little bit of a cool down that caution was exactly what I needed. I just had a blast tonight. The car was working good."
The conclusion, on the other hand, left others like Nelson and Berg more on the dejected side.
"Going into three my spotter told me Larry's coming and he's on your bumper," Nelson, who recovered to finish in fourth, explained. "When I crossed the start-finish line and took the white flag I didn't know he dove under me. I did not have a clue that he was inside. If I cut down on him then I cut down on him. I certainly didn't mean to. If I knew he was there I would have went high and we would have fought it out going down the backstretch, but gosh that was a hard one to lose."
Berg finished the night in eighth place and did not take the blame for the contact.
"I went under him, he came down, we hit quarter panels, and spun out, basically," Berg said. "It's the way it is. I hated it, but I wasn't at fault."
Misfortunate for some led to opportunity for others as the race came to an end. Indiana teammates Tim McLaughlin and rookie driver Trent Gossar capitalized with their best career performances to round out the podium in that order.
"I'm happy," McLaughlin, driver of the No. 21 Don Gnat Racing Chevrolet, said. "I'm a little old for this, but it felt good."
Gossar moved to the heavy steel-bodied stock cars late in 2015 after mainly running in four-cylinder compact cars most of his young career. It was a team effort that allowed the No. 71 Gossar's Towing Chevrolet to make it through the final two altercations.
"My spotter kept saying hit the brakes and go low, and I just saw a hole, got in the gas, and made it through there," Gossar mentioned. "I don't even know what to say about it. It's a big difference coming from what I've been in coming into this, and being able to run up front with these guys, this is a lot of hard competition and it means a lot."
Nelson recovered to a fourth place finish and holds onto the early season point lead. Despite an unfavorable result, the driver of the No. 80 Airtek Inc. / Precision Auto Collision Chevrolet will be looking forward to the next one perhaps a little more than usual.
"It's one of the things where we're going to go home and do what we always do," Nelson said. "We're going to go through the car to see if we got any damage. We're going to fix it and we're going to come back harder than ever to win Jennerstown."
Jeff Zillweger rounded out the top five and sits third in points behind Nelson and Harvey Harrison thanks to a consistent first two races to start off 2016.
Twin 50-lap features at Pensylvania's Jennerstown Speedway will give drivers two chances at scoring points and victories on Saturday, July 9.
The Final Lap 71 at CMS presented by Performance Fiberglass will air at a future date on MAVTV and LucasOilRacing.TV. Please visit the official web site at www.supercupstockcarseries.com, Super Cup Stock Car Series Facebook at www.facebook.com/SCSCSRacing, or Twitter @SCSCSRacing for an announcement of dates and times.
Sponsorship and marketing opportunities remain available for the 2016 season. Organizations interested in learning more information should contact brucescscs@gmail.com.
_________________________________________________________