_________________________________________________________
SCSCS Stars to Tackle Columbus One Final Time
Mount Joy, Pennsylvania (June 14, 2016) – Super Cup Stock Car Series competitors will receive a last chance at putting their name in the Columbus Motor Speedway record books. This Saturday's bittersweet event will be dubbed The Final Lap 71 at CMS presented by Performance Fiberglass.
The number of laps represent the Central Ohio facility's years of operation, 2016 being the 1/3-mile's final year hosting short track racing. Coincidentally, the first ever SCSCS appearance in 2009 saw the No. 71 in victory lane with Tyler Nuckles, son and nephew of the track owners, wheeling the racecar that night.
"We are pleased to have had the opportunity to race at this historic track," SCSCS Director of Competition, Joe Schmaling, remarks. "The Nuckles family has been supporters of our series from the beginning."
One former event winner will be looking to repeat. Not only was Brent Nelson the most recent SCSCS winner at Columbus in 2014 (due to the 2015 event being rained out), but the Petersburg, West Virginia driver comes in with momentum as the 2016 season opening race winner at another bullring.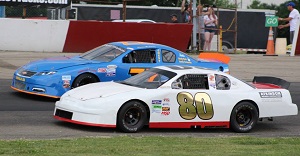 "We're going to go home, we're going to go through it from front to back, put our Columbus setup under it, and see what we can do," Nelson noted after the Midvale race.
Making his first start at Columbus, Larry Berg, also from Petersburg, enters with confidence after a top five finish earlier in the month.
"We never got to run there because of the rain," Berg, who only previously received a limited amount of practice time at Columbus, indicated. "I think it will be a lot like (Midvale). We'll be alright."
Additional contenders such as Brian, Brandon, and Harvey Harrison, Kevin Kromer, Jeff Zillweger, Bill Ashton, Jason Schue, and more will all look to send off Columbus Motor Speedway's years of SCSCS support with a top finish.
A 45-minute practice begins for SCSCS cars at 3:30 p.m. followed by a short scuff session at 4:45 p.m., qualifying at 6:00 p.m., and The Final Lap 71 at CMS presented by Performance Fiberglass after local division racing at 7:00 p.m.
For more information leading up to the Super Cup Stock Car Series sendoff for the track, please visit the official web site at www.supercupstockcarseries.com. Race day updates will be available on the Super Cup Stock Car Series Facebook at www.facebook.com/SCSCSRacing or on Twitter @SCSCSRacing.
Sponsorship and marketing opportunities remain available for the 2016 season, including events scheduled to air on MAVTV and LucasOilRacing.tv. Organizations interested learning more information can contact brucescscs@gmail.com.
_________________________________________________________